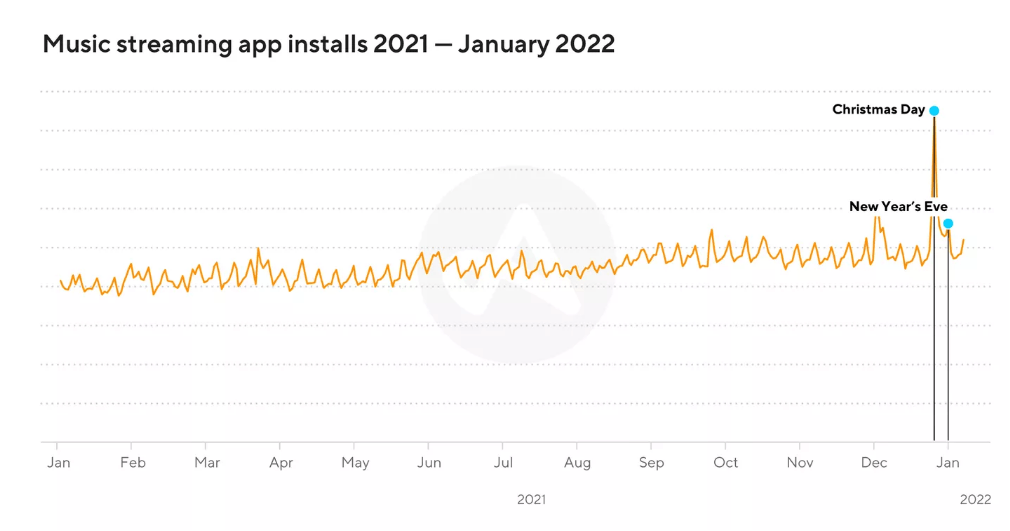 The holidays are always a particularly interesting time when it comes to mobile app usage behaviours. Understanding these shifts in habits helps advertisers and mobile marketers to make informed decisions about their campaign setup and spending. 
In 2021, streaming app usage surged during the holidays right up to the new year with installs for music streaming apps 86% higher than the annual average. 
Music streaming spiked during the new year by 24% compared to the month's average of 15%.
At the same time, food delivery app usage dropped, according to new data from Adjust. Installs were 9% below the annual average in December, however, they quickly recovered in January – up 16%. 

Health and fitness apps were also on a bit of a break with the 24th of December marking the worst day for installs for the vertical, 48% below the annual average. 
As expected, users shifted back into gear with the change of the year and installs rose 39% during the first year of 2022 compared to the 2021 average. 
Gaming apps, on the other hand, performed consistently strong throughout the year as users are playing games with friends and family. 
Gaming app installs were 28% higher on December 25th and 26th compared to the average.