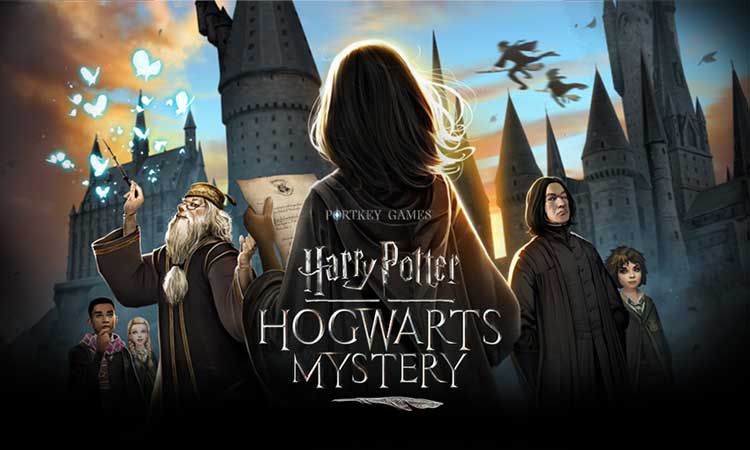 Harry Potter took the world by storm when it was first published leading The New York Times to create a separate bestseller list for children's fiction in 2000. Since then, mobile games based on the popular characters created by J.K. Rowling have been added to the Apple App Store and Google Play regularly. 
New data reveals that Harry Potter-themed mobile games generated a combined $1 billion from player spending globally. 
Top-grossing Harry Potter titles
The game generating the single highest revenues was Harry Potter: Hogwarts Mystery created by Jam City. According to Sensor Tower, it has generated over $400 million in revenues since it first launched back in 2018. The second top earner was Harry Potter: Magic Awakened by NetEase with $358 million. It's an impressive result given that the game is only available in China, Taiwan, Hong Kong and Macau. A whopping 91% of its revenue comes from China alone.
Harry Potter: Puzzles & Spells from Zynga comes in third at $218 million, followed by Harry Potter: Wizards Unite from Niantic at $39.6 million.
Harry Potter mobile app titles attract over $1 billion in combined player spending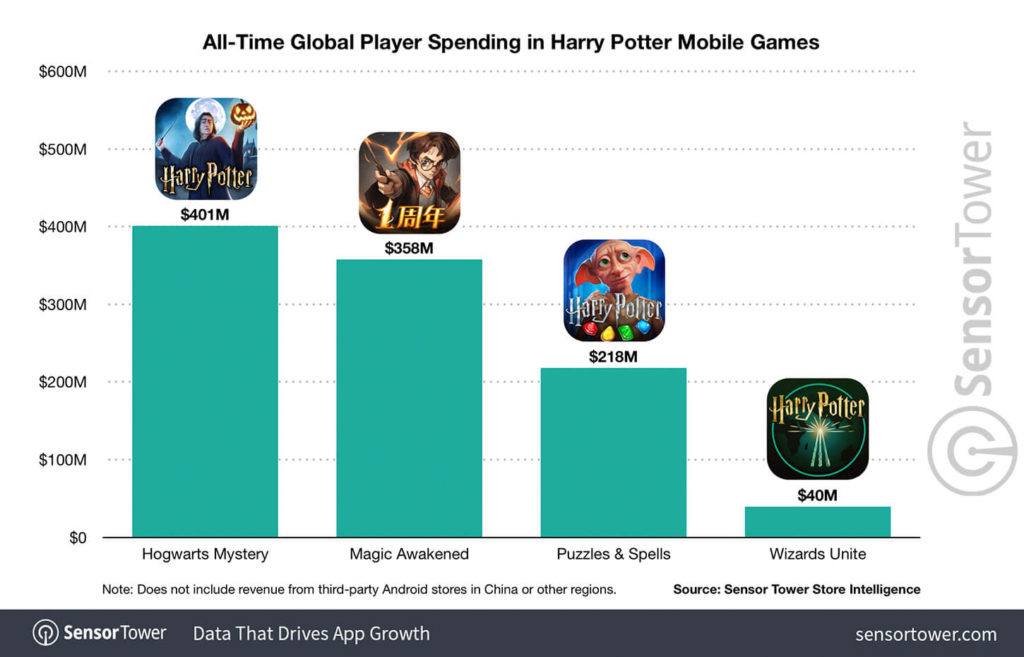 Source: Sensor Tower
Scoring in the top 50 intellectual property games
When measured against other intellectual property (IP) mobile game apps, Harry Potter: Magic Awakened ranked 31 for revenues globally in 2022. So far, the app has generated $85.4 million in revenues, ranking ahead of titles such as FIFA Online 4M and Game of Thrones: Conquest.
However, it ranks tops for titles based on books.
Players in the US and China are spending more
The US ranks top for Harry Potter games by player spending. The country accounts for almost 37% of total revenues. That's $374.8 million. China follows closely at $324.3 million or 31.6% based on iOS data alone, and Germany comes third at $51.6 million or 5% of total player spending.
Player spending on Harry Potter has steadily increased. Harry Potter: Hogwarts Mystery was also a top-grossing mobile simulation game app in 2021.
Harry Potter was a top-grossing mobile simulation game app in 2021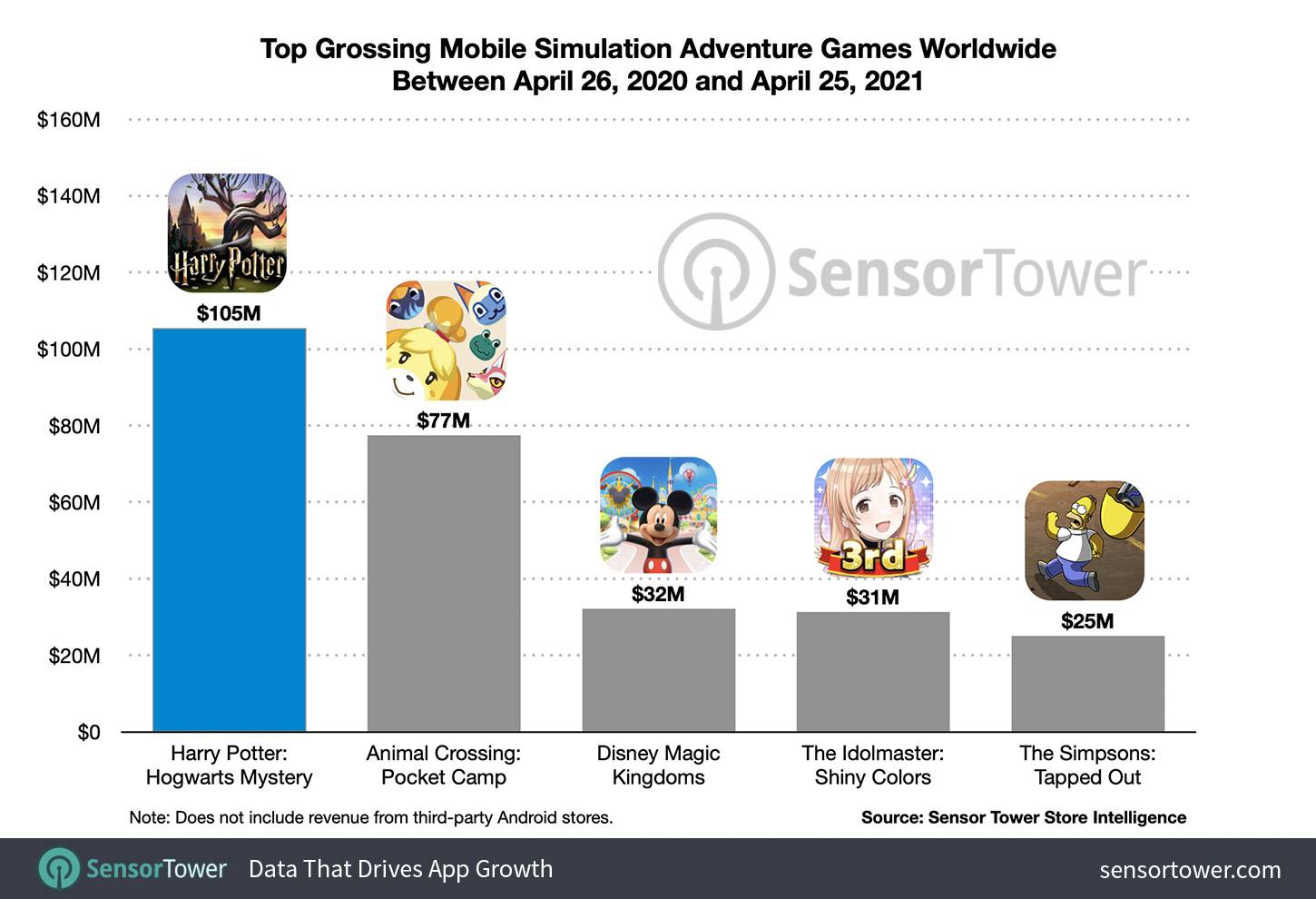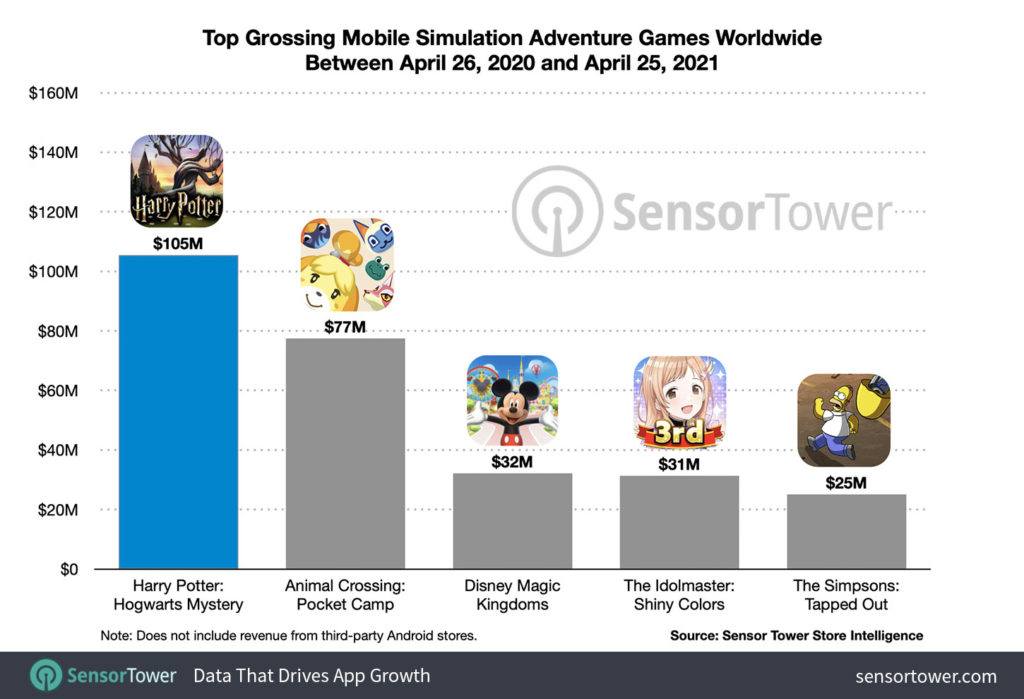 Source: Sensor Tower
When factoring in China, the App Store accounts for the majority of revenues at 66.6% of revenues or $683 million, while Google Play accounted for 33.4% or $342.5 million. However, outside of China revenues were split more evenly between the stores with Google accounting for 49% and Apple for 51%.
Wizarding worlds attract 156 million downloads
To date, Harry Potter mobile games have reached over 156 million installs globally. The US ranks top for downloads at 31.8%, followed by China and Brazil. Google Play accounted for 54% of total installs while the App Store accounts for 46% or 72 million. 
Key takeaways
Harry Potter mobile games reach $1 billion in global player spending

 

Harry Potter: Hogwarts Mystery generated over $400 million in revenues

 

US player spending accounts for 37% of total revenues followed by China at 32%
App Store accounts for 66.6% of revenues (including China, 51% excluding China) while Google Play accounts for 33.4% (including China, 49% excluding China)