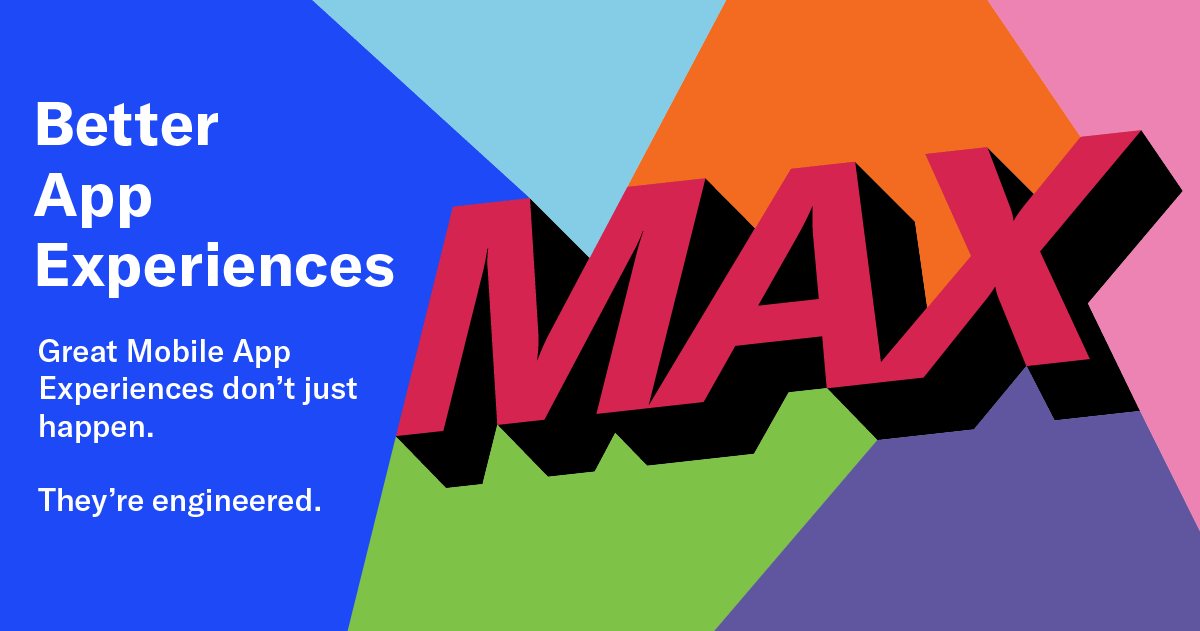 Meet MAX
Last month, Thomas Butta, Chief Strategy & Marketing Officer at Airship, spoke at a Business of Apps webinar on how consumer app behaviors are changing and what brands need to do to adapt.
Mobile apps have quickly become the preferred destination for a transparent and functional value exchange between brands and consumers. It is indisputable that mobile app experiences are becoming the digital center of customer experience. Yet, some brands treat their mobile apps as just another promotional channel. They're driving customers to the app, but not holding on to them. After all, driving customer engagement and retention is hard as it calls for native app experiences that are tailored to the individual so one can build loyalty and generate revenue. This is why brands are embracing a new leading practice they need to master — mobile app experience. We call it MAX, for short.
This article was first published on airship.com.
It wasn't so long ago that MAX didn't even exist. Sure, many companies have long had mobile versions of websites and there have been many iterations of mobile apps. But among all these, only a few have been focused on seamless customer experiences.
Today the world is different. It's mobile. And anyone involved in any way with customer performance now understands that mobile apps are the key to unlocking growth, loyalty, and revenue.
Why? Because loyal app customers produce 3.5 times more revenue than other shoppers and are 3 times more likely to make a repeat purchase.
Other facts are equally compelling, but the real value of MAX shines most of all on the frontlines of business. Just take a look at these recent earnings statements from some of the customers we work with:
"Incredibly, our full-year digital sales of $3.4 billion is nearly 3.5x what we did pre-COVID in 2019. Digital has proven to be sticky as it's a frictionless and convenient experience that has been aided by continuous investments."
Brian Niccol, Chairman and CEO, Chipotle
"It's been incredibly exciting to see our mobile app grow into such a strong shopping portal for our customers … App-based customers are the most engaged digital shoppers, spending 2.5 times more annually than our web customers and transacting with us 3 times more throughout the year. They are also more likely to be multichannel and multi-brand shoppers."
Michael Rempell, Executive VP and COO, AEO Inc.
"Our focus and commitment to our mobile apps and user experience continue to support changes in consumer ways of spending. Very.co.uk mobile sales continued to be a significant channel, remaining at 82% of the brand's sales."
Ben Fletcher, Group Chief Financial Officer, The Very Group
The possibility of driving these kinds of business outcomes brings with it the burden of responsibility. And when it's your job to build customer loyalty and revenue, the question isn't whether to invest more in your mobile app, the question is how.
For many companies, there's no single person responsible for answering this question. Responsibility is often shared by diverse teams from brand marketing, mobile product and CX, e-commerce and digital marketing, IT and development.
Who is actually responsible also varies by industry. In some cases, it's the Chief Marketing Officer. In others, it's the Chief Experience Officer, Chief Digital Officer, or Chief Revenue Officer.
And in some cases, the burden of responsibilities goes directly at the top, with the Chief Executive Officer squarely on point for driving the company's mobile agenda.
MAX Facts
Data.ai, formerly known as App Annie, found that consumers spent a third of their waking hours on mobile in 2021, up 30% from 2019. They also spent 30% more on in-app subscriptions year-over-year.
Airship's platform data across thousands of brands and tens of thousands of apps shows active mobile users increasing by 31% in 2020, nearly double the growth in 2019.
According to a recent Airship survey, two-thirds of consumers will use retailers' apps in-stores to meld digital and physical experiences. In most countries and across most generations, the likelihood of using a retailer's app while shopping in-store is only a few percentage points behind visiting the retailer's website, despite the need to first download the app.
Eighty-one percent of millennials have used retail apps more or about the same since the pandemic began, followed by 77% of Gen X, 74% of Gen Z and 66% of baby boomers.
When good enough isn't good enough
According to leading tech analyst Benedict Evans, "there's digital and there's good digital." Said another way, a poor app experience is equivalent to a poor in-store experience. Which can spell trouble for brands that neglect MAX.
Today's consumers know what best-in-class experiences look like. That's why brands need to beat benchmarks set by their industry competitors, as well as by mobile-first leaders like Amazon and The Home Depot.
"Forrester's Customer Experience Index (CX Index™) data shows companies that deliver superior CX grow revenues five times faster on average than their competitors with inferior CX. … companies with superior CX have customers who are willing to pay a higher price for products and services" (Forrester Research, Inc., Transform Customer Processes and Systems to Improve Experiences, February 22, 2021).
Retention and monetization aren't just about getting consumers to open an app. They're about what people do afterwards. That's the secret to mastering mobile app experiences. Good enough isn't good enough.
MAX innovation
There's a complementary relationship between driving customers into an app and ongoing in-app engagement. The personalized experiences brands create must reflect what you're trying to accomplish and what the customers have told you about themselves.
With ongoing pressure from customers who are remembering their last best experience, a MAX platform requires a commitment to continuous innovation.
Such innovation has been difficult or impossible for brands, given their ongoing reliance on development resources and app update cycles. This is why at Airship, we have invested deeply in our App Experience Platform (AXP), the only enterprise SaaS platform focused 100% on helping brands master the full lifecycle of mobile app experience. AXP not only gives non-technical users full control to create, automate and adapt native and innovative app experiences at the speed and scale of mobile, but it also enables them to continuously analyze and improve results based on real-time customer behavior and feedback. As a result, development teams are freed up to innovate market-differentiating app features.
Here are highlights of some of the recent innovations we've created to empower our customers.
AXP Scenes allows marketers and mobile product owners to easily create, edit and manage native full-screen, interactive walkthroughs that showcase the latest ways the app will make customers' lives better.
AXP Surveys allow marketers and mobile product owners to collect granular feedback from customers while they are engaged with the app, resulting in actionable insights to improve app experiences without developer involvement.
AXP Preference Center encompasses the app and all re-engagement messaging channels (SMS, email, web), enabling customers to control how, when and where they receive content – all in one place.
The collective benefit is huge: AXP enables your entire team to continuously onboard and understand customers – and drive greater mutual value every moment, every day.
This kind of specialization deserves its own seat in the C-suite, not just something tacked onto some other role, function, or platform. A big seat at the big table acknowledges the extraordinary revenue associated with the mobile app experience.