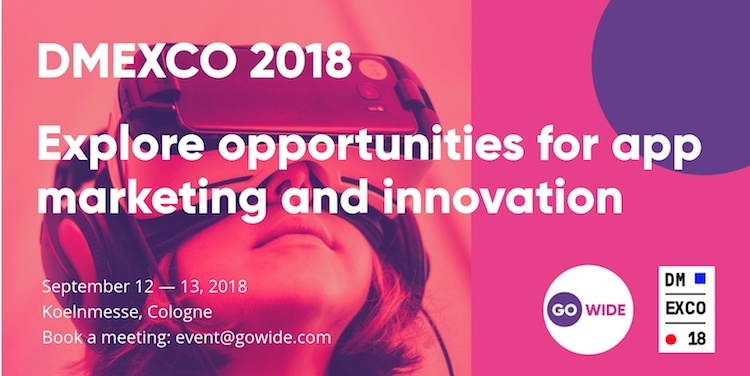 Meet our mobile advertising team at the most transactional digital marketing event worldwide — DMEXCO 2018 in Cologne (Germany), September 12-13.
Organizers of the conference are predicting that this year will have attendance record: 1k exhibitors, 570 speakers, 40k visitors, 105 countries. This is impressive, right?
So, let's make it happen!  Meet us at the conference and discuss possibilities of growing your business together with GOWIDE. 
Book a meeting with us at event@gowide.com or submit a meeting request.
What to expect from DMEXCO this year
Chief Advisor of DMEXCO Dr. Dominik Matyka says that this year it will not be only a pure trade fair but also a platform approach with special content and services.
Apparently DMEXCO 2018 will be partly transformed from being a trade fair to a medium conference. The new corporate identity and visual branding will ensure better navigation and orientation, which is a good sign  for new visitors and exhibitors.
The program of the conference will cover five areas: Marketing, Media, Technology, Business, and Future. You can find us on the Marketing area. We'll be there meeting with clients and friends and discussing business opportunities.
Artificial Intelligence will be one of the most discussed topic. How fast will AI continue integrating into the digital marketing ecosystem? How does automation change the industry? Is it possible to automate programmatic advertising completely? Let's talk about it at the conference.
Is it possible to provide user acquisition and monetization services without a human hand?! We will be glad to meet and help those who needs professional app marketing services and mobile traffic.
DMEXCO is just about here and we are inviting you for a business meeting or just a cup of coffee. Those are just 3 reasons to speak with us:
An advertiser looking for high-grade traffic, GOWIDE will help boost your app installs and engagement campaigns.
An affiliate or publisher looking for fast and high payouts, GOWIDE will be a good partner to monetize your traffic at competitive eCPMs.
A startup or ad tech company looking for technology-based partnerships, we welcome you to discuss innovation-driven areas of app marketing.
Don't be shy and do come and say "Hello" to us! Discuss your business with us. We will be holding meetings at the section of marketing ready to help you. Make your business perspective.