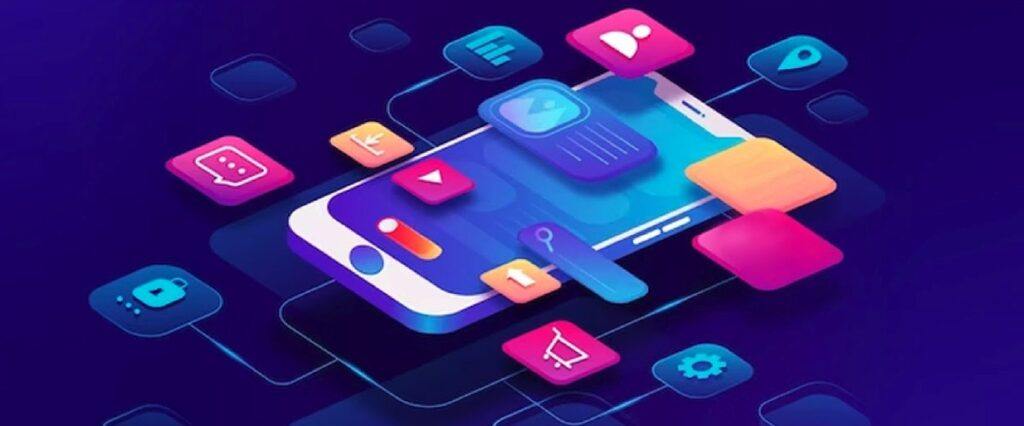 It appears mobile is starting to bounce back after the initial economic downturn following the COVID pandemic and the war in Ukraine. Global in-app spending grew to a whopping $67.5 billion during the first half of 2023, according to the latest data from mobile experts data.ai.
Glimmers of hope
The global app market seems to have recovered somewhat following the challenges posed by the macroeconomic headwinds of 2022. The first half of 2023 saw a robust resurgence, with $67.5 billion in consumer spending and a staggering 76.8 billion app downloads worldwide, encompassing both iOS and Google Play platforms.
The findings from data.ai also suggest that consumer spending growth, which rebounded in the latter part of 2022, continued its upward trajectory in the first half of 2023.
App spending rises during H1 2023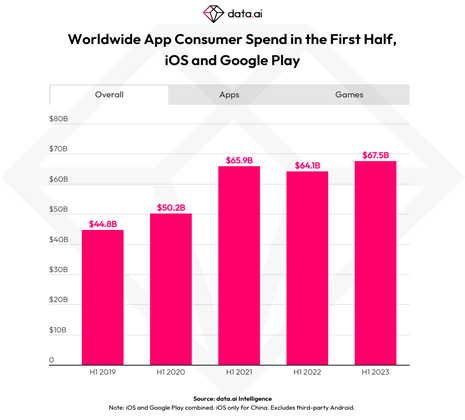 Source: data.ai
In total, consumer spending increased by 5.3% compared to the previous year, with a 16% growth specifically in the app sector. However, spending in the gaming category has remained relatively stable year-over-year.
The resurgence of positive growth in the first half of the year offers a glimmer of hope, suggesting that the downturn in mobile consumer spending during 2022 may have been a momentary blip in the sustained expansion of the mobile app market.

Both app stores benefit…
The resurgence is notable across both Apple's App Store and Google's Play Store. iOS consumer spending increased by 5.8% year-over-year, while Google Play experienced a 4.3% growth.
Notably, iOS generated an impressive $43.5 billion in revenue, while Google Play grossed $24 billion in the first half of 2023. It is worth mentioning that iOS users consistently outspend their Google Play counterparts.
iOS accounts for nearly 65% of the total app store expenditure, and this figure rises even higher to 71% in non-gaming apps.
App spending by platform
Source: data.ai
TikTok remains a standout in terms of consumer spending outside of games with growth of 31% year-over-year.
Other subscription-based apps like Disney+, YouTube, and Duolingo have also achieved solid growth rates of 33%, 39%, and 48%, respectively. These apps continue to capture the attention and spending of consumers.
In the gaming sector, engagement and growth remain strong. Global consumer spending in gaming apps has reached $40.9 billion in the current year, marking an increase from $32.8 billion in H1 2019. Additionally, gaming app downloads reached 30.4 billion in H1 this year, up from 21.6 billion in H1 2019.
Notably, in May 2023 alone, global consumer spending on games exceeded $94 million, surpassing the previous high set in May 2020, three years prior.
But Google ranks top for downloads
In H1 2023, app downloads demonstrated consistent growth, reaching a total of 76.8 billion, marking a 3.2% year-over-year increase.
While Google Play remains the dominant platform for downloads, iOS experienced faster growth, with a remarkable 10% year-over-year increase and surpassing 18 billion installs.
App downloads in H1 2023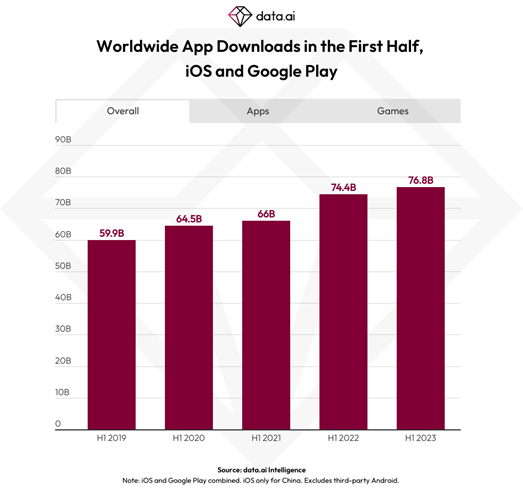 Source: data.ai
Among the top markets for Google Play downloads were India, Brazil, and Indonesia, while China, the United States, and Japan emerged as the leading countries in iOS downloads. Notably, Brazil, China, and the United States exhibited substantial growth compared to the second half of 2022 on the iOS platform.
Key takeaways
Global in-app spending reached $67.5 billion in H1 2023, signalling recovery in the mobile app market
TikTok surpassed $2.1 billion in consumer spending in H1 2023 – a 24% YoY increase
Gaming apps saw significant growth, with $40.9 billion in consumer spending and 30.4 billion app downloads in H1 2023