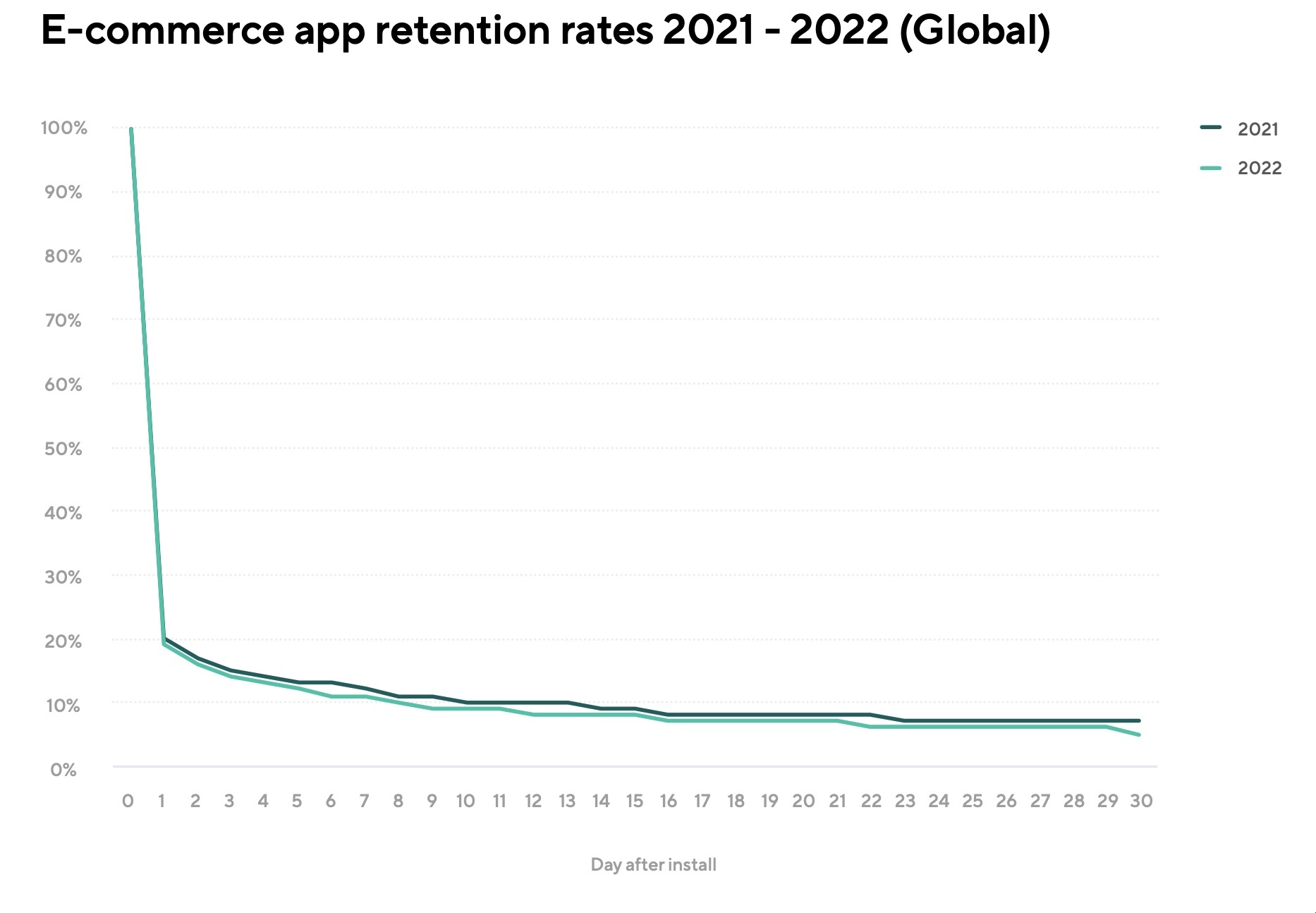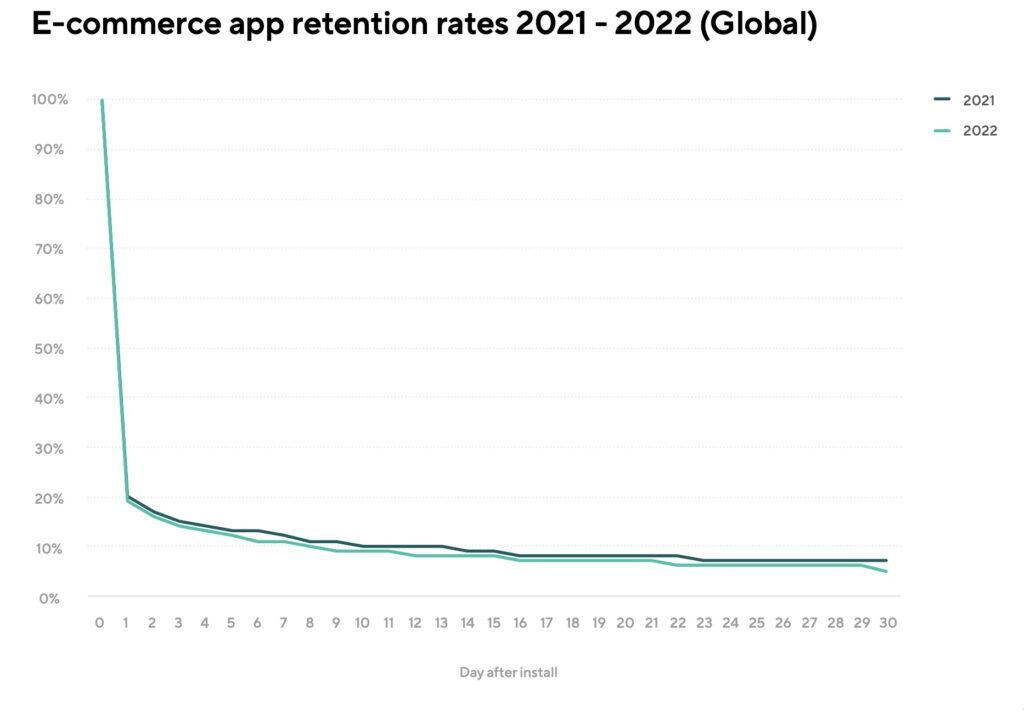 Despite an initial slowdown in 2022, the mobile app industry is experiencing a bit of a resurgence in 2023, with early indicators showing an upward trend in mobile app installs for eCommerce (+4%), fintech (+13%), and gaming (+10%), compared to their 2022 averages. We'll start with eCommerce today.
Apple's ATT opt-in rates rise
Based on an analysis of over 100,000 apps, Adjust analyzed long-term trends in installs, sessions, time spent in-app, retention, re-attribution rates, and more, across the globe for its annual Mobile App Trends report. It found that the opt-in rates for Apple's App Tracking Transparency (ATT) feature have once again increased.
As data-privacy becomes more prevalent, users are becoming more informed about the issue, leading to a steady rise in opt-in rates. In Q1 2023, the overall industry average for ATT opt-in rates rose four percentage points year-over-year, reaching 29%. The gaming sector achieved a new high of 36%, while fintech saw a significant increase from 11% to 18%.
ATT opt-in rates by app category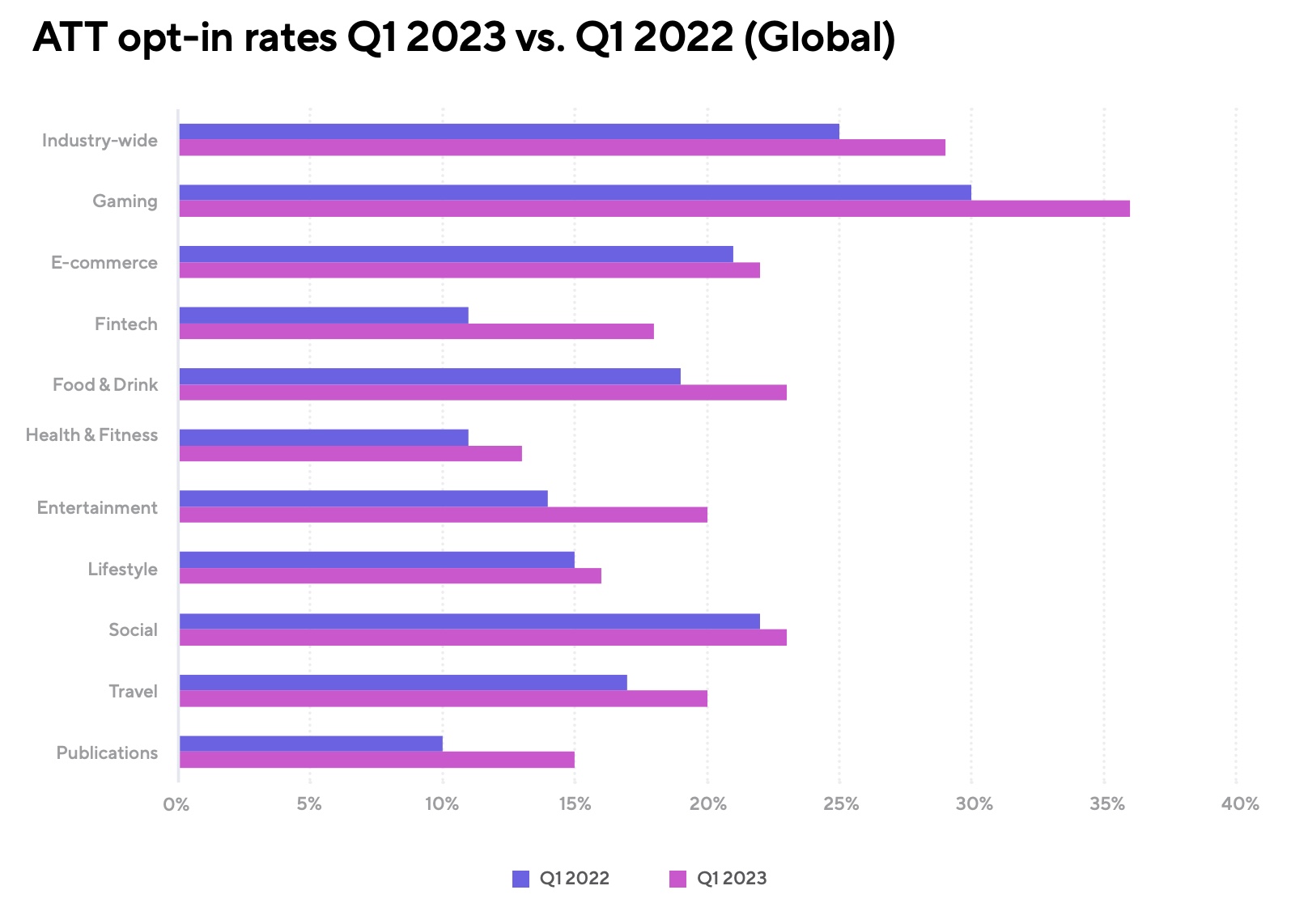 Source: Adjust
"Global conditions and user needs are evolving rapidly, but the need for growth and ROI in the mobile app marketing industry remains the same," said Simon "Bobby" Dussart, CEO of Adjust. "Delivering highly customized, seamless user experiences, executing on cross-platform campaigns, and tapping into the potential of new channels, such as connected TV, will prove invaluable for marketers and developers seeking sustained and strategic growth in 2023 and beyond."
Installs up, retention down
In 2022, global eCommerce app installs decreased 0.6% compared to the previous year. The report indicates that EMEA and LATAM saw the most impressive growth for eCommerce in 2022 with 3% and 6%, respectively, while North America followed with a 1% increase. Come November, APAC installs were up by 19% compared to the 2022 average, while EMEA's installs surged by 25%, LATAM by 11%, and North America by 15%.
eCommerce app sessions rise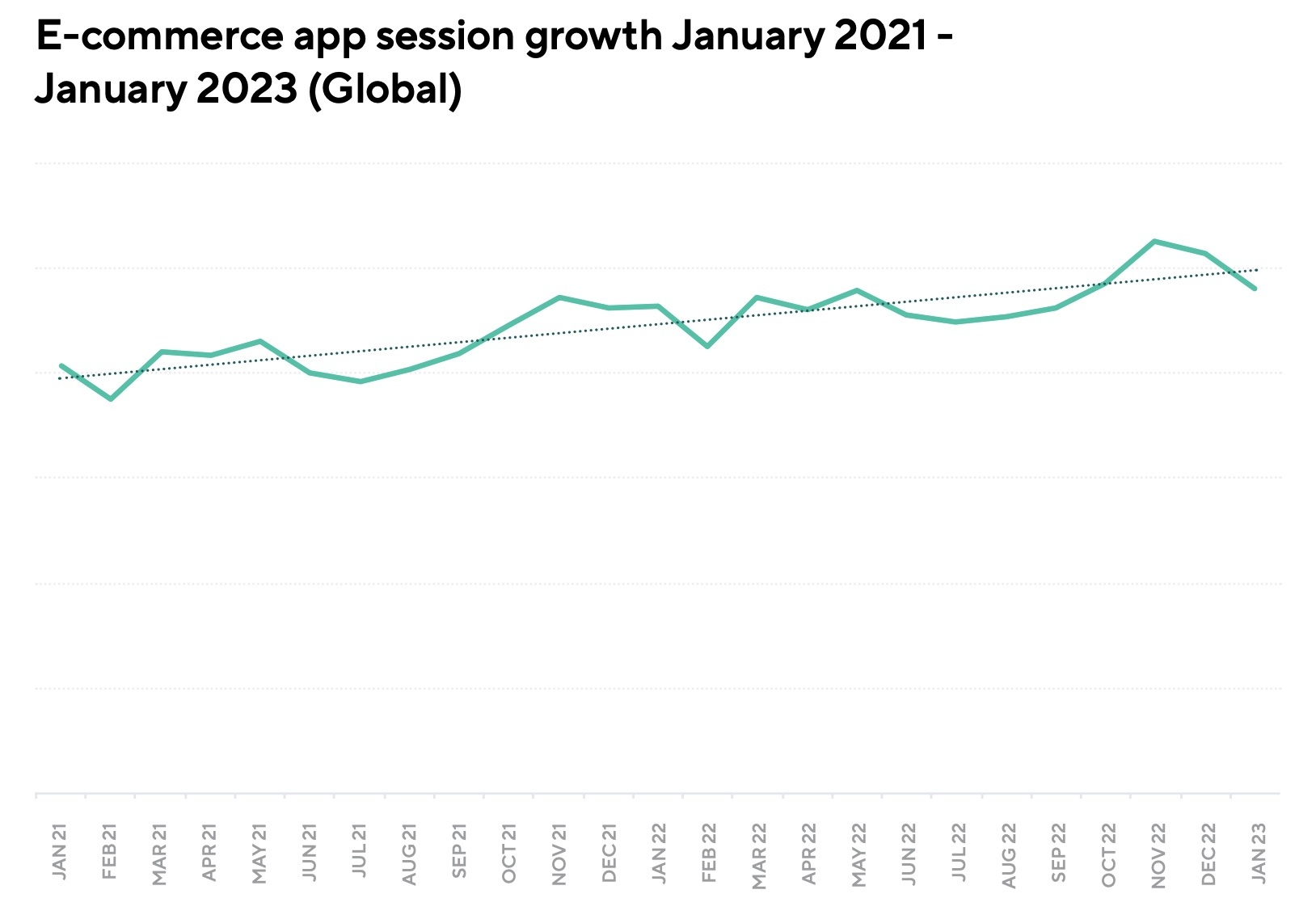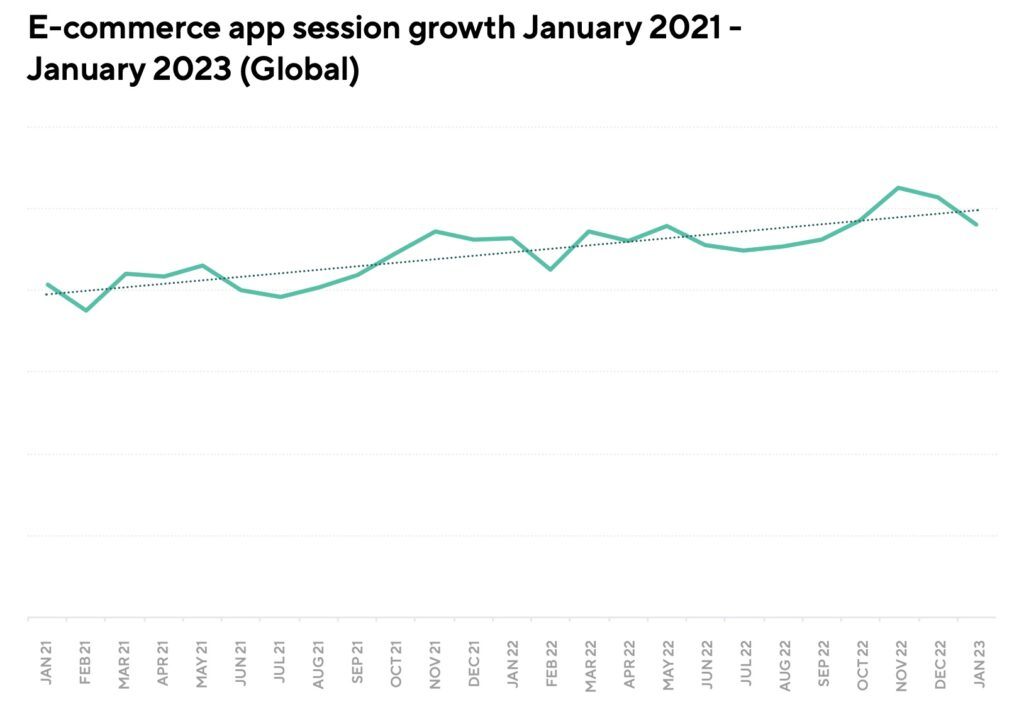 Source: Adjust
Shopping apps dominated the e-commerce market in 2022, accounting for 58% of all installs, while marketplaces made up 35%, deal discovery apps represented 6%, and ticketing apps scraped in with just 1% of the total share.
2022 had significantly fewer paid installs compared to the previous year, despite installs remaining consistent at a global level and even growing in many markets. 
Although there was a rise in reattributions, organic installs, and channel diversification, retention rates experienced a slight decline in 2022. The Day 1 rates decreased from 20% to 19%, and Day 14 rates reduced from 9% to 8%.
eCommerce app installs were relatively lackluster in 2022, but sessions made up for it by performing exceptionally well. This trend is continuing into 2023 with global mobile eCommerce sessions growing by 12% YoY. 
Notably, the pandemic fuelled the massive surge in eCommerce growth in 2021 and 2020. Session growth was highest in LATAM (20%), followed by EMEA (16%) with marketplace apps accounting for the highest share of sessions at 62% compared to shopping (34%) and deal discovery (4%) apps.
Session growth by region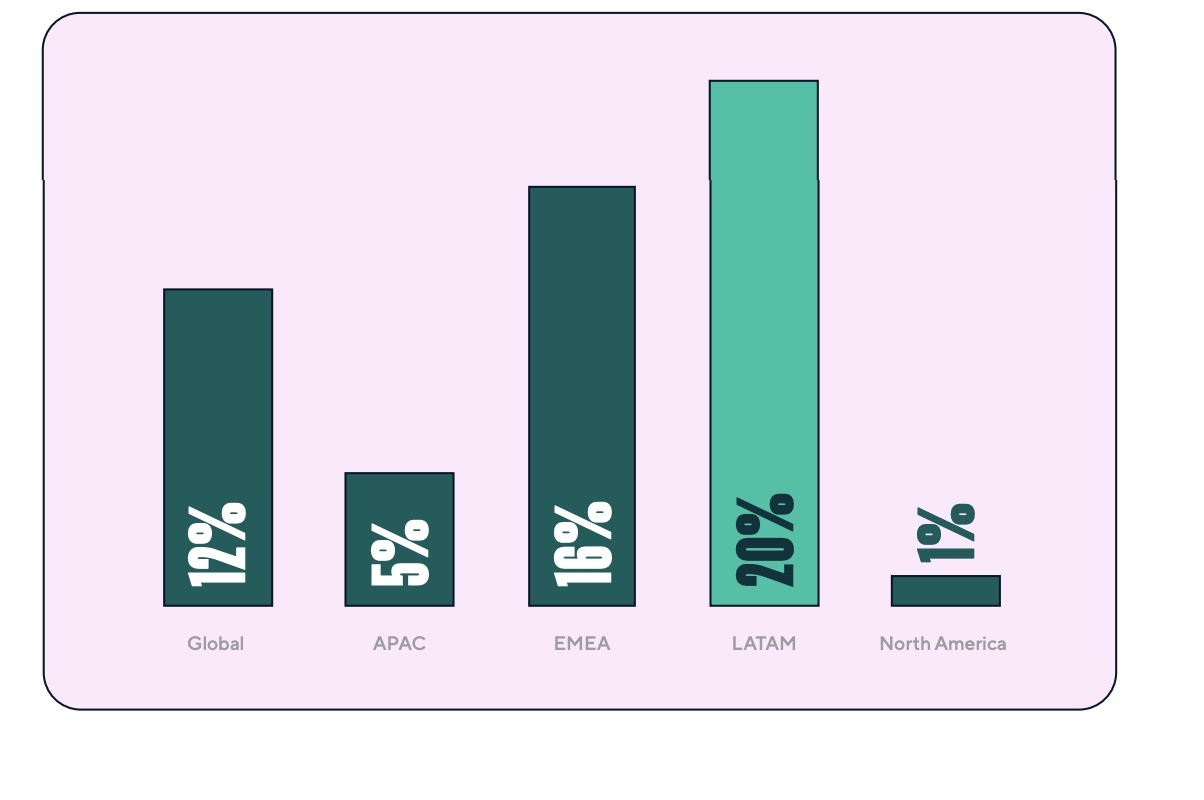 Source: Adjust
App stickiness is trending down from 17% in 2021 to 15% in 2022. 
To thrive in today's economic climate, eCommerce apps must keep users happy and convert them into high LTV customers. This strategy maximises return on investment and capitalises on increased user engagement, making a customer-centric approach and prioritising user retention critical.
Key takeaways
ATT opt-in rates rose four percentage points year-over-year to 29% in 2022
Global eCommerce app installs decreased by 0.6% compared to the previous year but EMEA and LATAM saw 3% and 6% growth, respectively
Shopping apps dominated and accounted for 58% of all shopping app installs