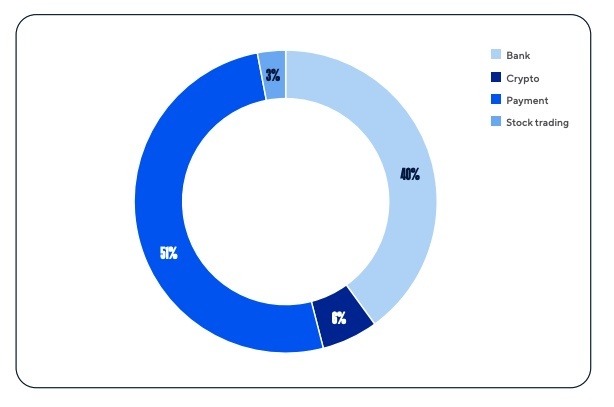 Global mobile payments are projected to surpass $2 trillion by 2023, driven by increased smartphone access, QR code utilization, digital wallet adoption, and the prevalence of payment applications. Based on an analysis of over 100,000 apps, Adjust found that finance is going digital. 
Fintech app installs jump 6%
In 2022, the fintech app sector faced considerable obstacles, including the cryptocurrency crash and subsequent downturn, a stock market decline, and widespread economic unease. 
Nevertheless, fintech app installations experienced a 2% global growth, reflecting the sector's resilience and the persistent significance of mobile financial services and solutions across the globe. 
According to its annual Mobile App Trends report, Adjust found that the upward trend has continued into 2023, with January showing a 6% year-over-year increase and a 13% rise compared to the 2022 average.
Fintech app install growth January 2021 – January 2023 (global)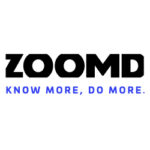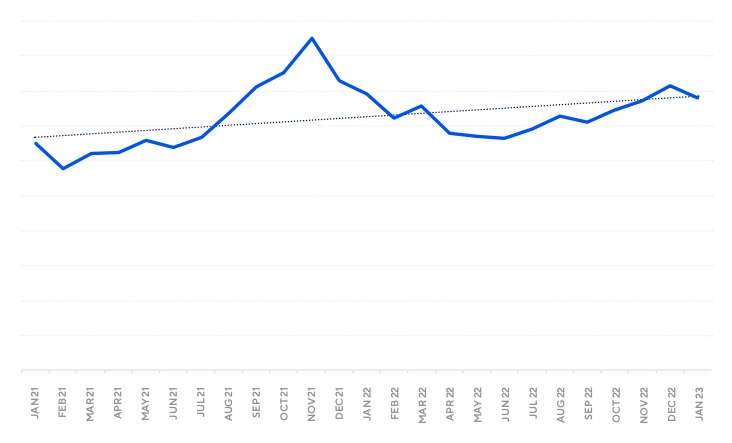 Source: Adjust
Payment apps grabbed a 51% share of installs, with banking apps at 40%, crypto at 6%, and stock trading at 3%. Notably, fintech's paid installs share edged up in 2022, from 0.15 in 2021 to 0.16, while banking and payment apps held steady. Stock trading, however, nosedived from 0.8 to 0.46, revealing a massive drop in paid campaigns.
First week after install is crucial
A rise in paid installs often leads to lower retention rates, and 2022 mostly followed suit. Day 1 and Day 7 rates held steady at 22% and 14%, while Day 3 climbed to 17% from 16%. But by Day 14 and Day 30, rates dipped by one point. It all underscores the first week's crucial role in mobile fintech. 
App developers should focus on experiences that drive retention and lifetime value – think gamification, loyalty programs, and push notifications for engagement.
Fintech app session growth January 2021 – January 2023 (global)
Source: Adjust
Users spend a little more time on apps
When it comes to session growth, there's optimism for 2023 for fintech apps.
After a 19% year-over-year increase in 2022, January 2023's sessions have risen by 7% compared to the 2022 average.
Banking apps made up 54%, payment 33%, crypto 6%, and stock trading 7% in sessions. It's a slightly different distribution compared to install share, where payment outpaced banking and crypto surpassed stock trading. 
Fintech app stickiness 2021 – 2022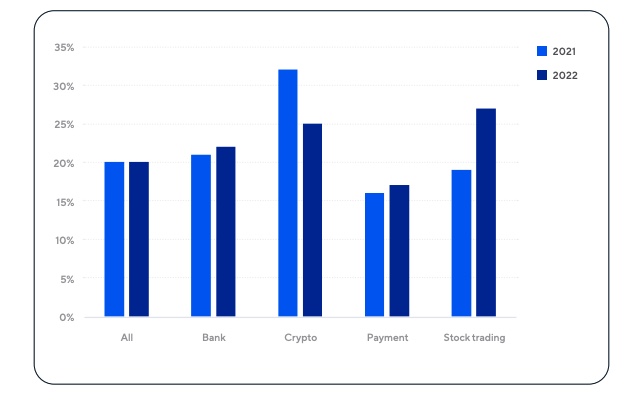 Source: Adjust
Session lengths were down from an average of 7.43 minutes to 6.06 minutes in 2022. But time spent in-app per user per day rose in 2022, up from 5.13 minutes per session per day on Day 1 to 5.67 minutes per session.
Fintech apps saw a dazzling 44% YoY growth in global in-app revenue for 2022. November and December primarily fueled this surge, soaring 83% and 112% compared to the yearly average. The trend persists in 2023, with January revenue hitting 65% above 2022's average.
Key takeaways
Fintech app installs jumped 2% in 2022 globally
Payment apps grabbed a 51% share of installs, with banking apps at 40%, crypto at 6%, and stock trading at 3%S
Sessions rose 7% compared to the 2022 average