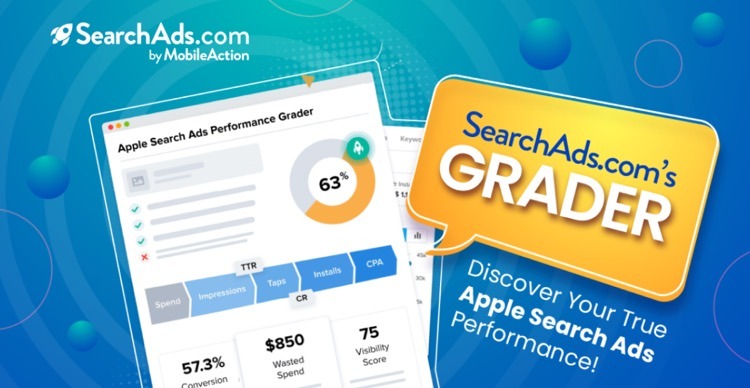 With adoption rates going through the roof, now is the time to run Apple Search Ads if you want to grow your business in the App Store. Our latest survey shows that if you want to reach the top 10 charts in your category, Apple Search Ads is a must have in your media-mix. The adoption rate for Apple Search Ads in 9 popular categories was around 70% in October 2021.
However, increasing popularity also results in a higher level of competition. As your competitors increase their know-how and campaign management skills, you also need to step-up your Apple Search Ads game if you want to maintain your competitive advantage. Otherwise, meeting your cost and user acquisition goals will become increasingly difficult.
This is exactly why as SearchAds.com, we decided to launch a free Apple Search Ads Grader for iOS marketers. You can get a comprehensive analysis of your Apple Search Ads campaigns and find out any bottlenecks or irregularities that are preventing your campaigns from reaching their true potential.
SearchAds.com's Grader will put your Apple Search Ads account to the test and compare your performance to top-performing apps in order to provide tailored recommendations allowing you to start optimizing your campaigns. No more guesswork, only actionable insights.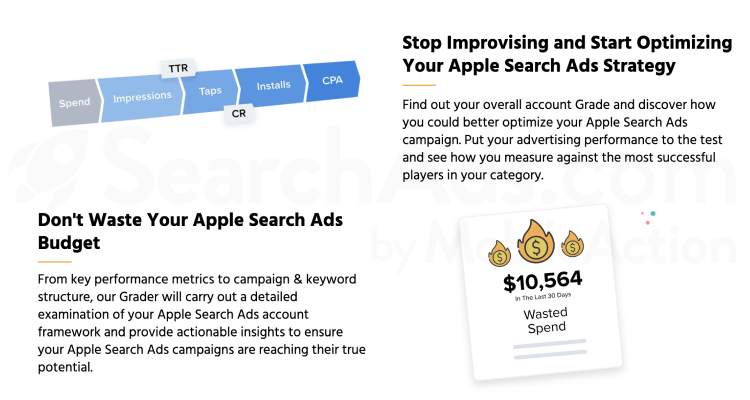 After an analysis of 3B impressions, 200M taps & 120M installs, your custom report will include:
An Aggregated Grade based on overall performance.
Estimated Budget Waste
Search Ads Visibility Score
Search Term Performance
Underutilized Campaigns
Budget Depleting Keywords
CR and TTR Comparison Against Industry Benchmarks
Apple Search Ads Best Practices Check
If you want  to get  the most out of your Apple Search Ads efforts and scale your campaigns in the most profitable way, head over to our Grader page and get your report.