Install trend by country and platform among eCommerce apps (Source: Appsflyer)
The Covid-19 pandemic heralded the era of online purchasing and app retail. However, as shoppers returned to normal life, mCommerce has slowed a little. 
Building on the mobile-first experience, a growing number of eCommerce marketers are looking to navigate a market that's facing economic downturn, privacy changes and data restrictions. 
In 2022 eCommerce app marketers spent $61 billion to acquire new users, according to a report from AppsFlyer, representing 50% in spending.
What's driving the drop in eCommerce ad spending?
While 2020 saw eCommerce shopping sales rise 25% followed by 17% in 2021, declines in growth were below 10% in 2022. In part to blame for this are the economic downturn and recession fears driven by the war in Ukraine. eCommerce apps are also not attracting the same number of users this year. Apps are increasingly focusing on remarking to retain users. 
Android eCommerce app installs fall 5%
Overall installs for Android eCommerce apps fell 5% year-on-year excluding India which gained new traffic. iOS installs dropped 4% during the same period after a rise in download during Covid. In the US, app installs fell 21% while iOS gained 4%. The APAC region continues to be the most promising market for eCommerce app installs.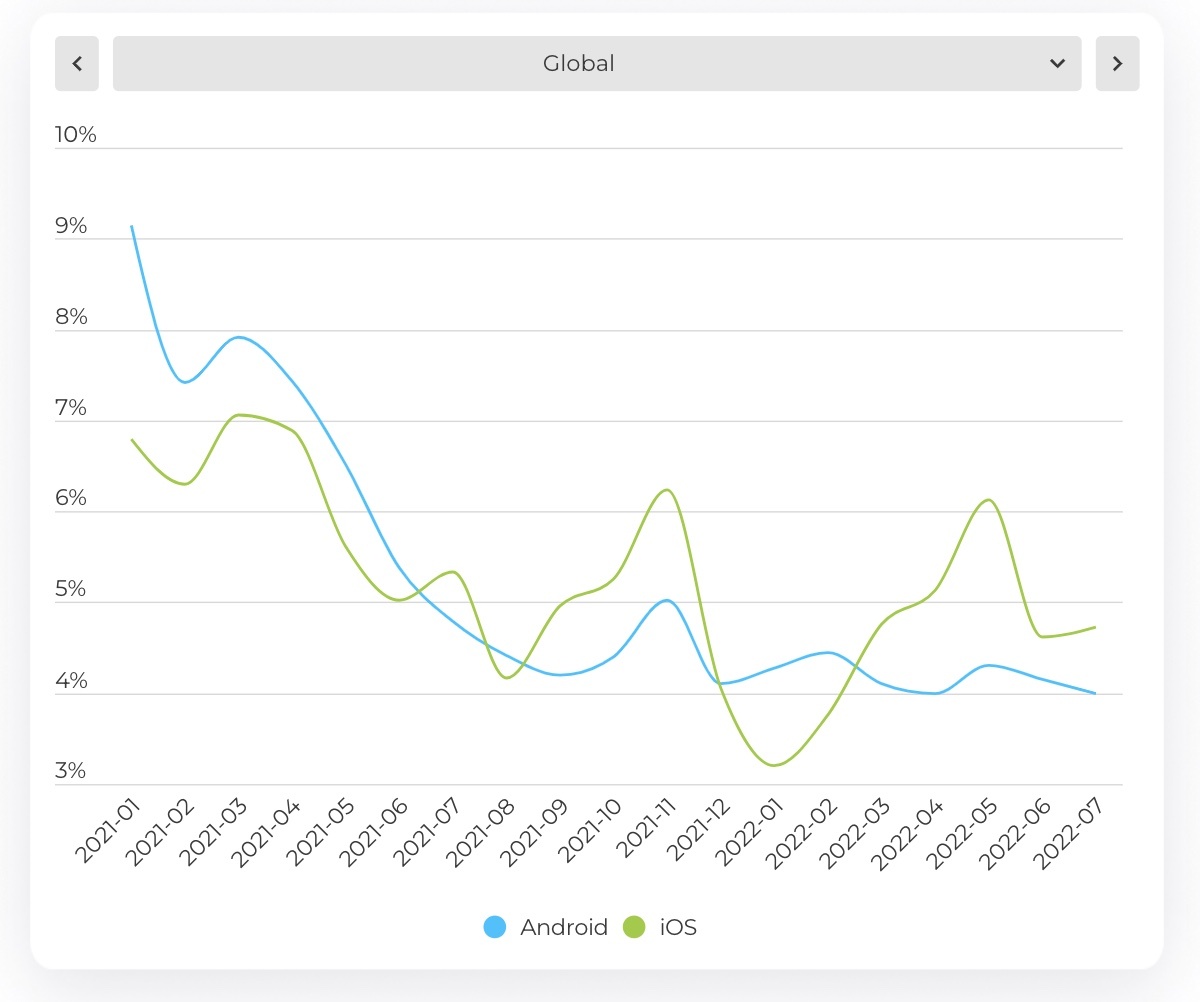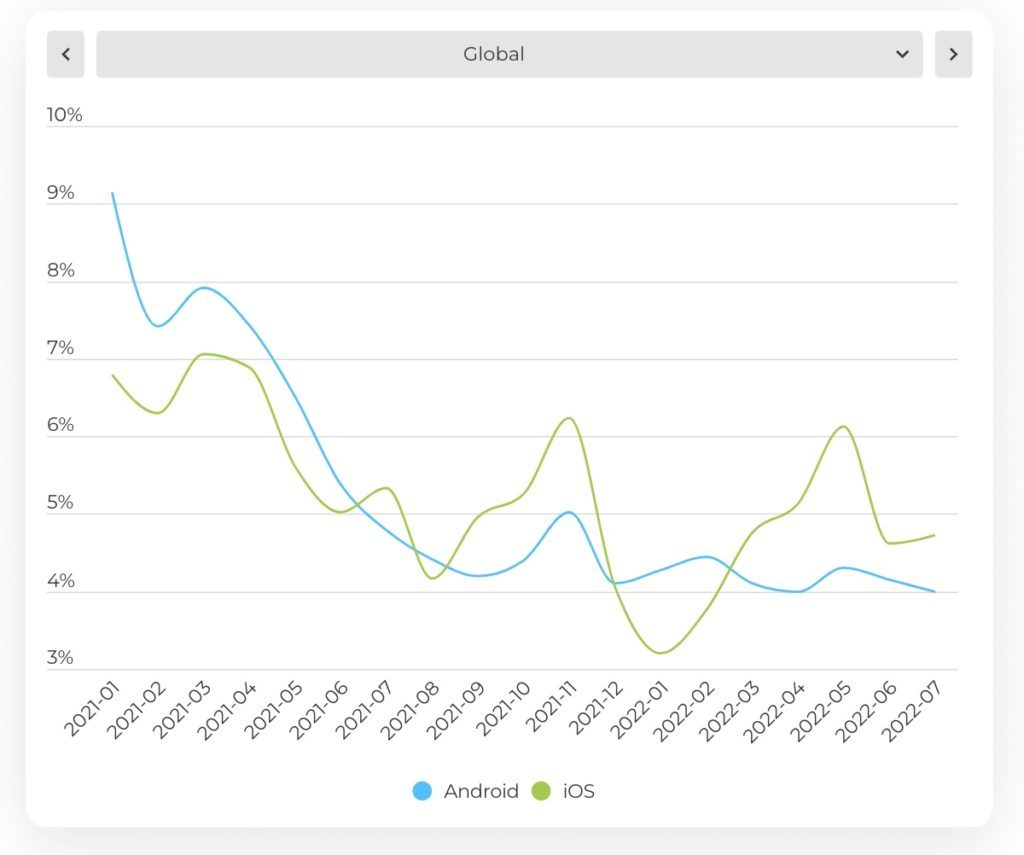 Global eCommerce app installs are falling (Source: Appsflyer)
110% rise in app installs in India
The APAC region continues to be the most promising market for eCommerce app installs. Installs jumped 110% on Android in India. Both owned media and in-app purchases continued to attract strong growth between 2021 and 2022 in India. Both India and Brazil benefitted from lower CPIs that drove non-organic installs to over 60% of total installs. Non-organic installs also represented the majority of installs in the US but have been dipping below 50% as of July 2022.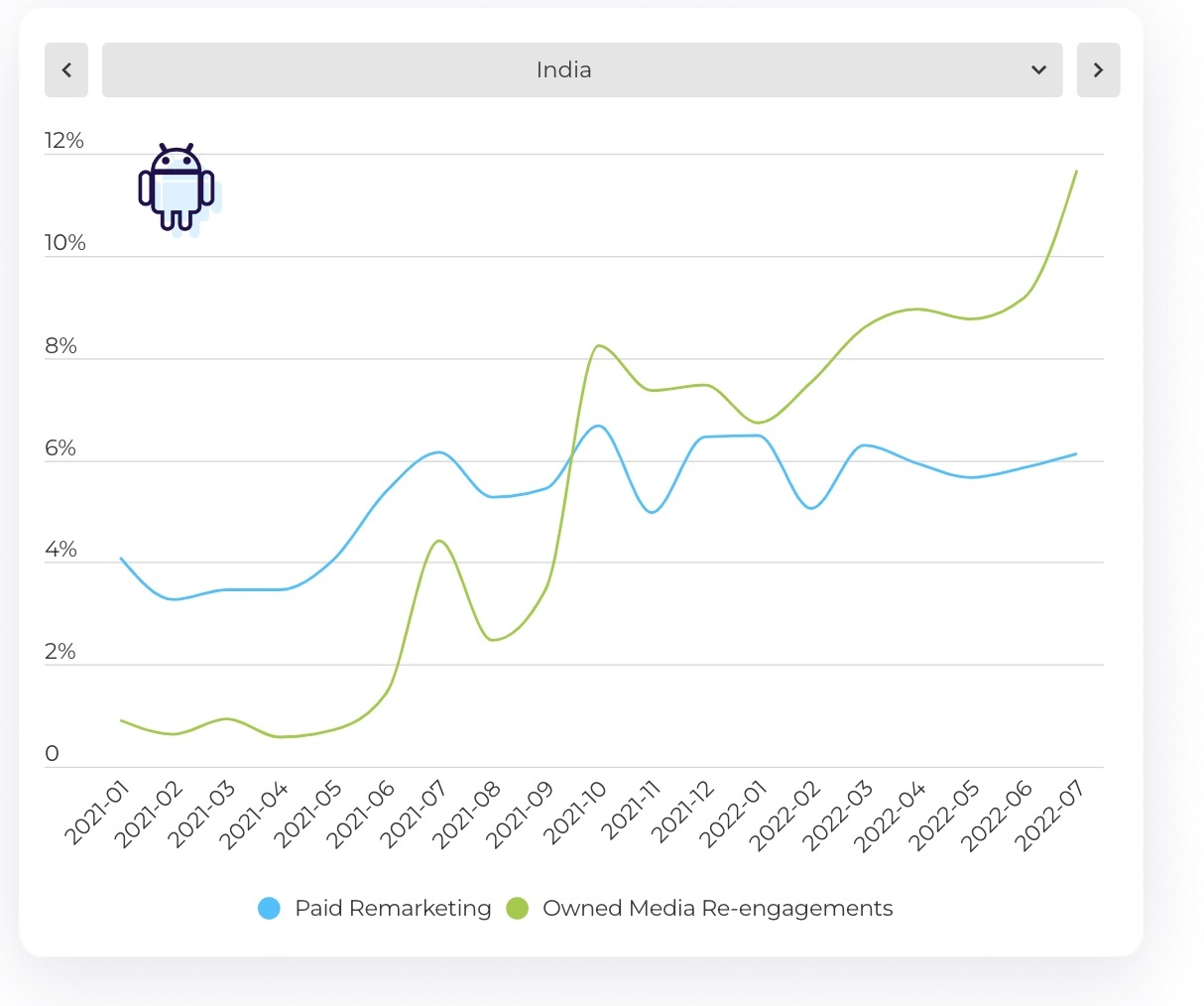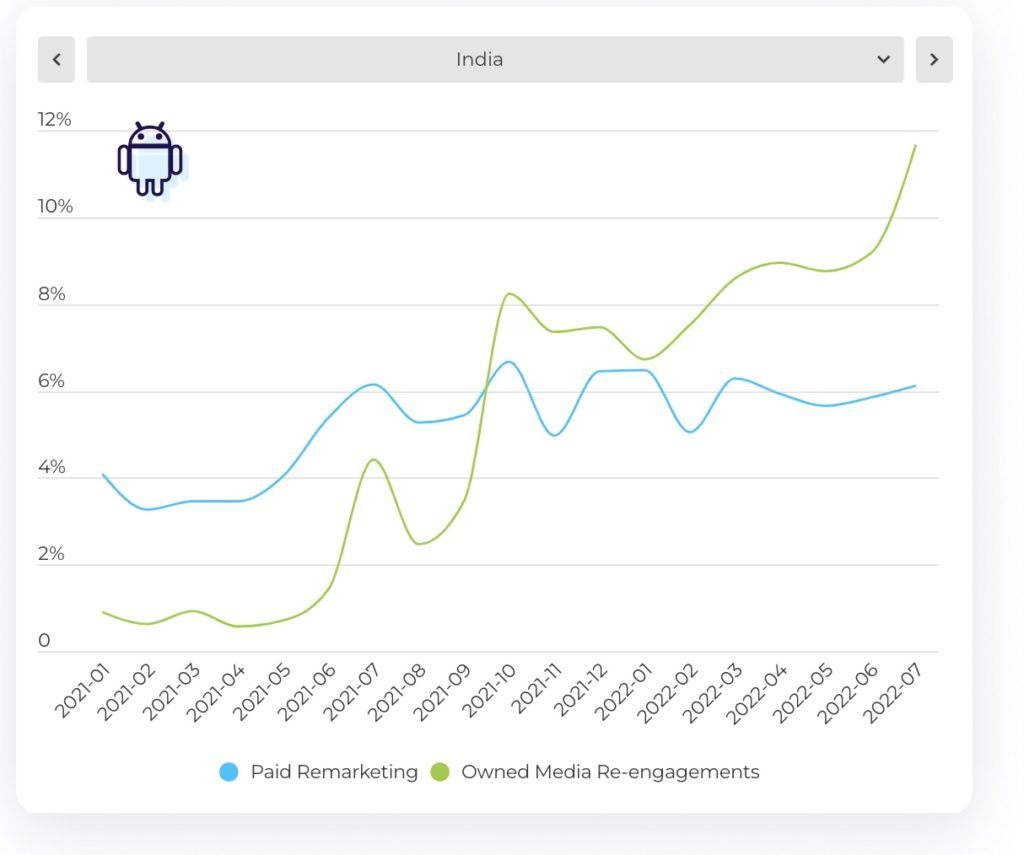 Owned media and remarketing continue to grow in India (Source: Appsflyer)
Up to 8x jump in owned media reengagement conversions
Owned media jumped 360% over the year as marketers are working harder to get value from their budgets. This was particularly dominant in the APAC region. However, Android recently added opt-ins to push notifications which could lead to a drop of 30% in opt-in rates. Marketers are warned to update their apps accordingly and continuously optimising their settings.
13% drop in Android retention
As mobile users continue to explore new apps 30-day retention rates fell 13% on Android. Retention rates on iOS fell by 5% which is in line with previous trends. In India, iOS retention rates were more than double those of Android. 
"The likelihood of a  downward trend for eCommerce apps is not the end for marketers, as November is annually the best month for installs and sales across most markets with Black Friday and Singles Day," said Shani Rosenfelder, Director of Market Insights, AppsFlyer.

"This year, especially, consumers might still have an appetite for spending in the holiday season thanks to the addition of the World Cup. For this reason, apps should focus on remarketing to retain the users they did pick up over the past few years and publishers need to make the most of their owned media channels."
Key takeaways
$6.1 billion spent in eCommerce apps between July 2021 and July 2022
5% drop in Android eCommerce app installs worldwide
110% rise in India Android eCommerce apps
13% drop in 30-day retention on Android