As a growing number of mobile app marketers have shifted focus from growth to customer loyalty, app install spending dropped a whopping 41% on Android subscription apps and 30% on iOS. That's according to the 2023 State of App Marketing for Subscription Apps report from industry experts Liftoff and AppsFlyer. But are consumers actually spending less on apps?
Consumers are still happy spending
While user acquisition dropped significantly on both Android and iOS, media re-engagement budgets jumped 48% in 2023.
Although the mobile marketing industry witnessed a decline in 2023 (thus far), there was a notable surge in total consumer expenditure on subscription-based iOS and Android apps.
The spending on iOS apps increased by 35%, while Android apps experienced a 22% rise. Consumers responded to this trend by either subscribing to more services or accommodating the price increases of their existing subscriptions.

Android remarking conversions among subscription apps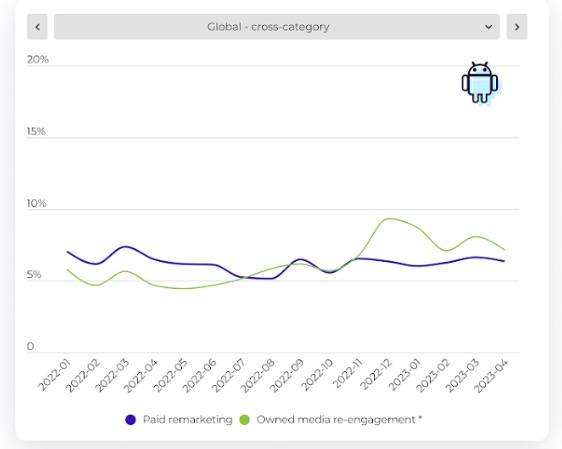 Source: Liftoff
The upward trajectory in spending is anticipated to persist as subscription-based apps continue to gain popularity, particularly when accompanied by attractive discounts for extended commitments.
"Despite the economic downturn, app marketers should feel assured by our latest findings – which show a rise in consumer spend and revenue growth per user, especially where subscriptions are concerned", said Scott Reyburn, Senior Content Marketing Manager at Liftoff.
Apple users are eager subscribers
This data reaffirms the prevailing notion that Apple users are more inclined towards subscription-based services.
Previous reports show that iOS users tend to spend more than Android users.
Moreover, the install-to-subscription conversion rates saw substantial growth, attributed to a significant emphasis on deep paywall optimisation. On Android, the conversion rates surged by 20%, while on iOS, they increased by 15%.
Nearly half of iOS users seeing the app tracking transparency (ATT) prompt in subscription apps agreed to be tracked, with utility apps obtaining the highest consent rate at 59%. This suggests that users are more likely to provide consent if they perceive a clear value proposition that enhances their overall user experience.
iOS ATT opt-in rate
Source: Liftoff
Non-gaming app subscribers
While around 30% of subscription apps belong to the gaming category, their revenue share from subscriptions is notably lower compared to non-gaming apps. Non-gaming apps, on the other hand, generate the majority of their revenue through subscriptions.
Distribution of subscription apps by category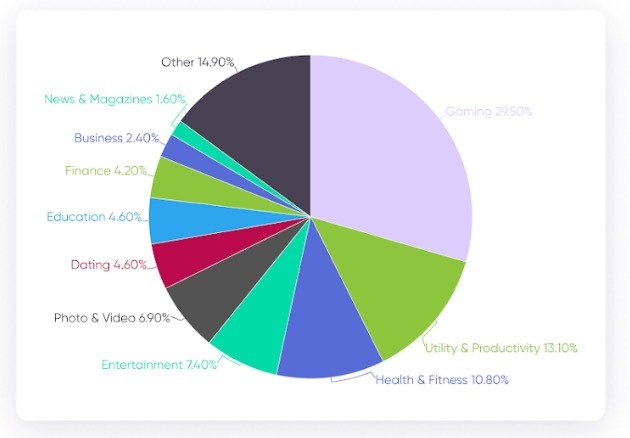 Source: Liftoff
Multiple categories, including utility, health & fitness, and entertainment apps, utilise subscriptions as a prominent monetisation strategy.
Key takeaways
App install spending dropped 41% on Android and 30% on iOS as marketers focused on customer loyalty
Consumers continue to spend happily, with media re-engagement budgets rising by 48% in 2023
Apple users are eager subscribers, with higher spending and better conversion rates for subscriptions compared to Android users