The pandemic has changed the way consumers are using their mobile apps and for which purposes.
European retail app usage grew 3% in 2021 driven by higher demand for a more seamless checkout experience. 
But as lockdowns have lifted, app installs of large eCommerce brands such as Amazon and AliExpress have continued to decline.
The problem is not that consumers are giving up on retail apps now that stationery stores are more accessible again. They simply demand more from their commerce apps and aren't very forgiving of bad digital shopping experiences. 
The most in-demand retail app features
To keep consumers using their apps, retail app marketers and developers should focus on omnichannel interactions, according to research from eMarketer's Insider Intelligence. 
Consumers want fast, frictionless shopping experiences. Apps provide an opportunity to this end, helping users to move seamlessly between the online to offline customer journey. 
Almost half of US retail app users demand app notifications when an order is ready for pickup (48%). Around a third would like to receive in-store rewards (37%) while 37% consider availability information on in-store products a valuable feature. Consumers are equally interested in scanning and adding gift cards and in-store coupon redemption options.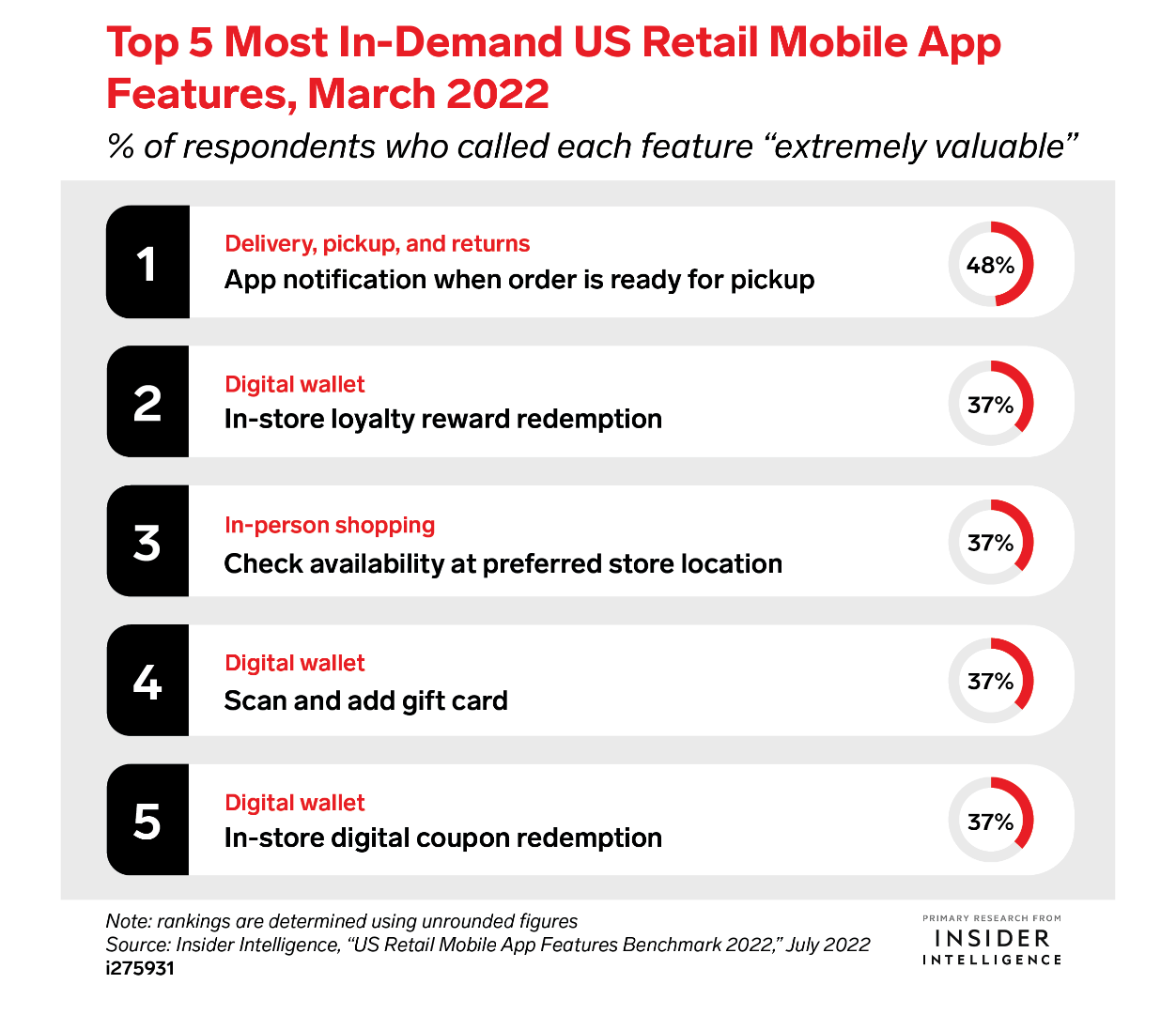 The need for smoother app features
The pandemic drove many consumers to adopt retail apps for their online purchases. But even as lockdowns have ended, a growing number of them are turning to mobile devices to communicate with retailers. 
What's more, mobile users spent considerably more time in shopping apps in 2021 compared to 2020. 
However, the need for bug-free apps that deliver a smooth checkout experience and offer the retail features most in demand is still huge. 
Thirty-day eCommerce app retention rates have dropped since 2021. Retention rates fell 13% on Android devices and 5% on iOS according to AppsFlyer research. 
These developments aren't solely due to post-pandemic app fatigue. The war in Ukraine and economic slowdown are partially to blame. Rising prices are also affecting marketing budgets. 
As we're approaching the end of the year, marketers and app developers should be ready to deliver more focused tactics and the app features consumers are asking for to push through the holiday season. 
Key takeaways
Growth of retail app installs hinges on improving app features
Consumers are seeking omnichannel app experiences
Marketers should refocus budgets towards retaining users