Consumers are spending less in apps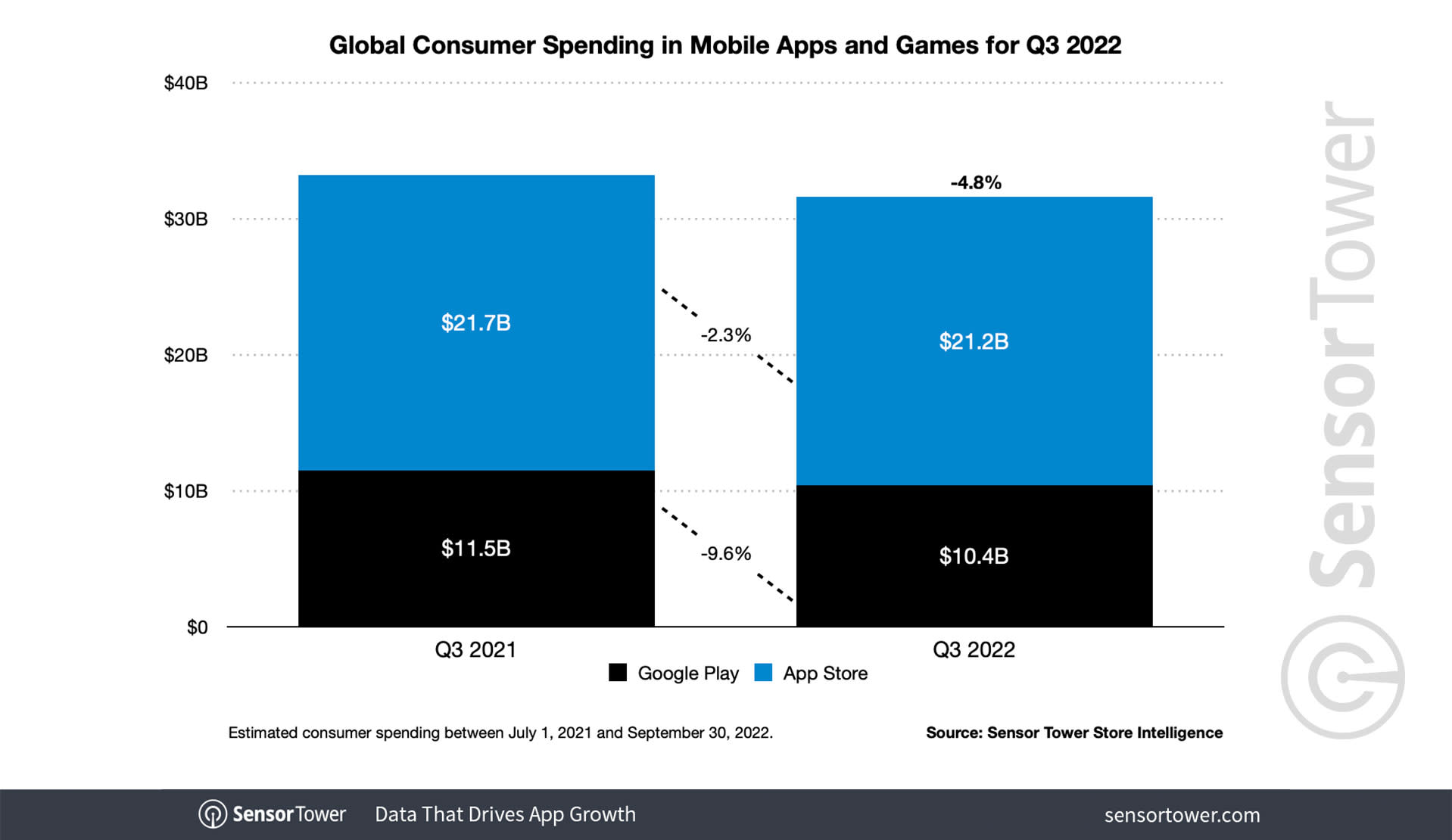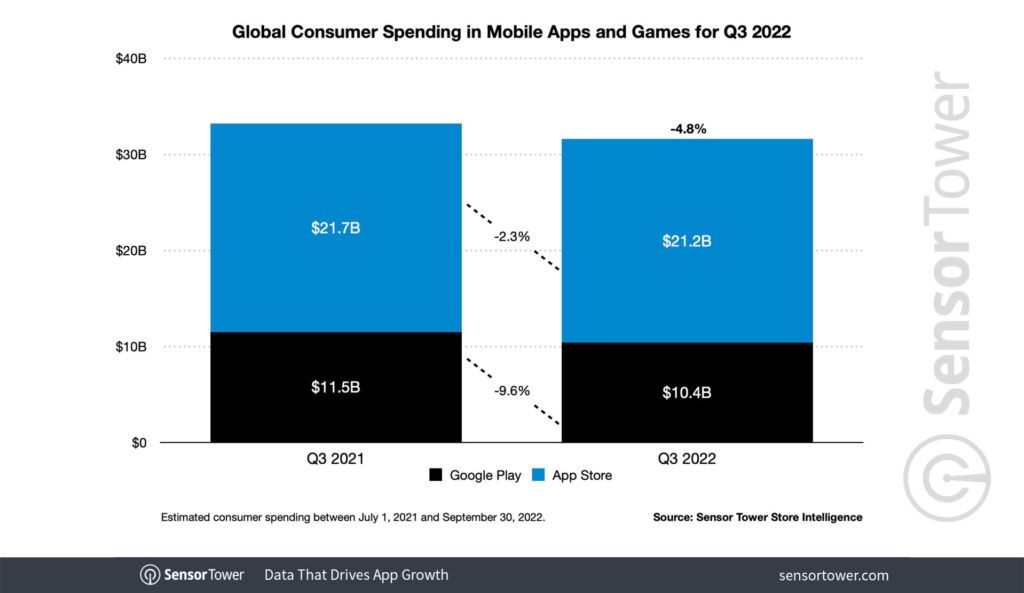 Source: Sensor Tower
Consumers continue to spend less on in-app purchases, subscriptions as well as premium apps according to the latest data from Sensor Tower. Overall spending dropped 4.8% in Q3 2022 to $31.6 billion. The results are hardly surprising given the rising fears over inflation and economic worries as well as harsher privacy regulations.
App revenues take a hit on App Store and Google Play
Revenues on the App Store fell 2.3% to $21.2 billion but they were still twice as high as those on Google Play where revenues dropped a sharper 9.6% to $10.4 billion.
Global app downloads drop for game and non-game apps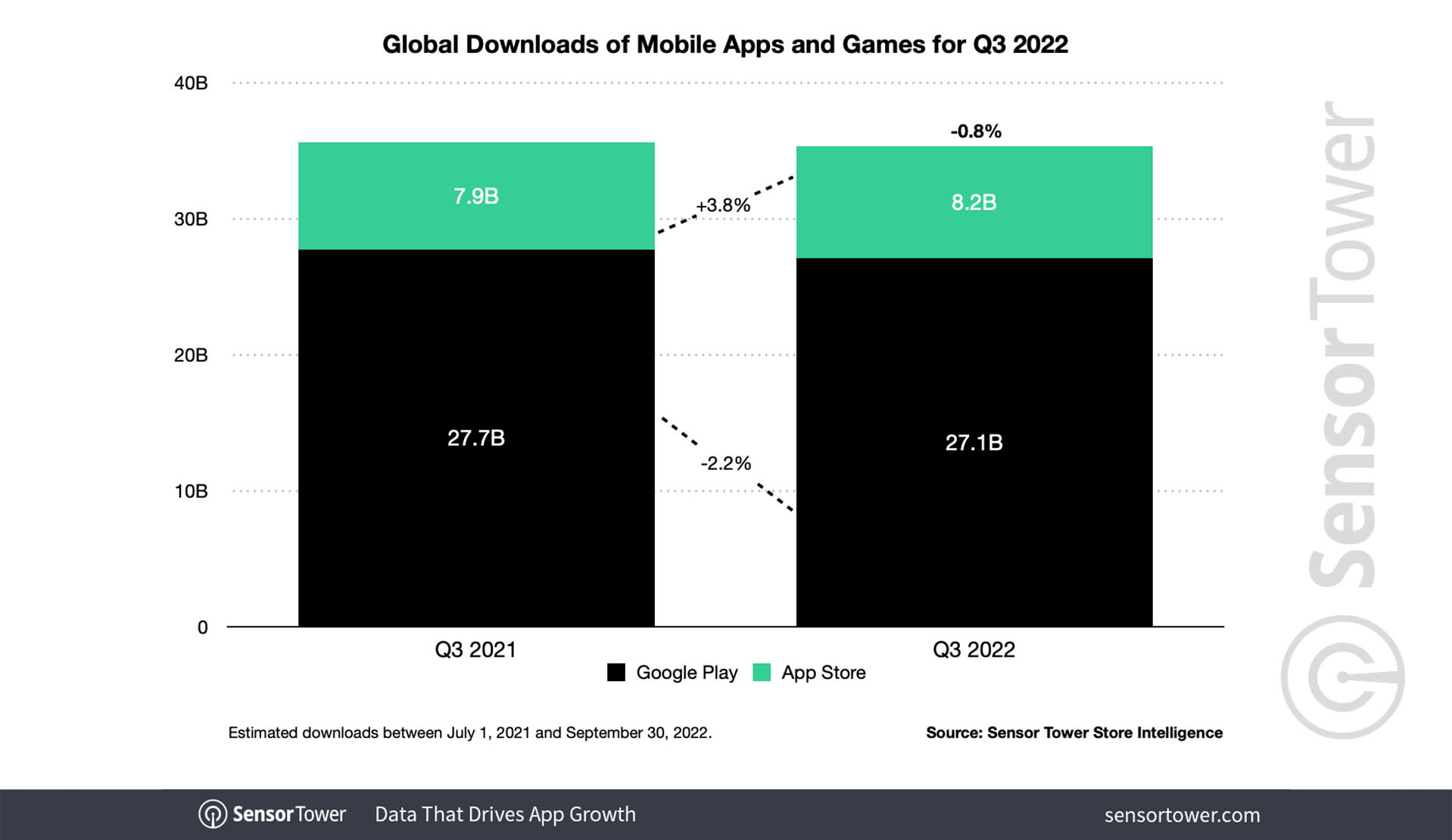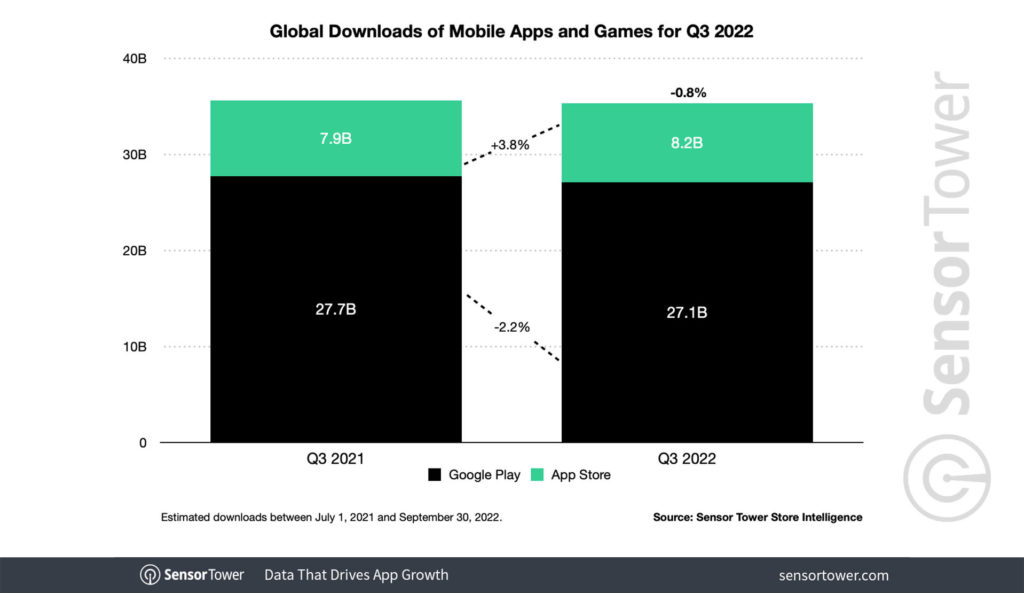 Source: Sensor Tower
First-time downloads fell almost 1% on both app stores to 35.3 billion during the third quarter. However, this was driven by Google Play where installs fell 2.2% to 27 billion while adoption climbed 3.8% on the App Store. While it's not entirely clear what's driving the drop in Google installs, there's still a lot of hunger for apps. Data from data.ai previously found that users are actually spending 20% more time in their apps. 
TikTok takes the lead for revenues and downloads
TikTok (and its Chinese counterpart Douyin) were the top-grossing non-game apps globally. Consumer spending on the app amounted to $914.4 million. TikTok ranked first for revenues on the App Store and second behind Google One for Google Play. It shows that the popular short-form video app's success streak is far from over. 
Downloads of TikTok shot up to 196.5 million installs overtaking Instagram which previously held the top position. On Google Play, however, it ranked third behind Facebook and Instagram.

TikTok leads revenue charts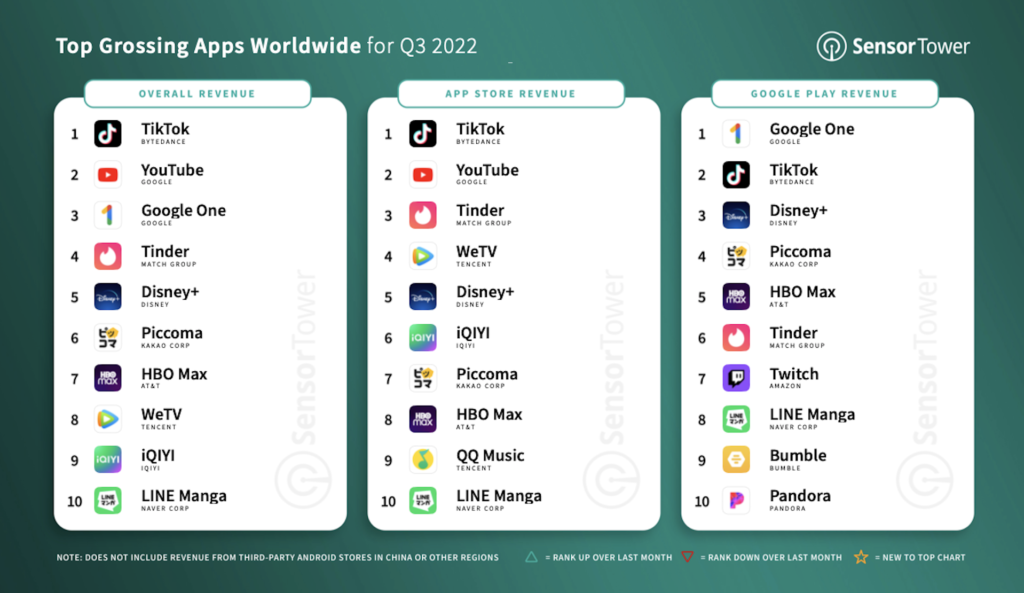 Source: Sensor Tower
Game revenues drop a whopping 13%
Consumers were even less confident about spending their cash in gaming apps. Revenues for game apps fell 12.7% to $19.3 billion during Q3 2022. Both marketplaces attracted fewer revenues. Mobile game spending on Apple fell 9.8% to $11.9 billion while Google was down 16.9% to $7.4 billion. 
Game revenues take a hit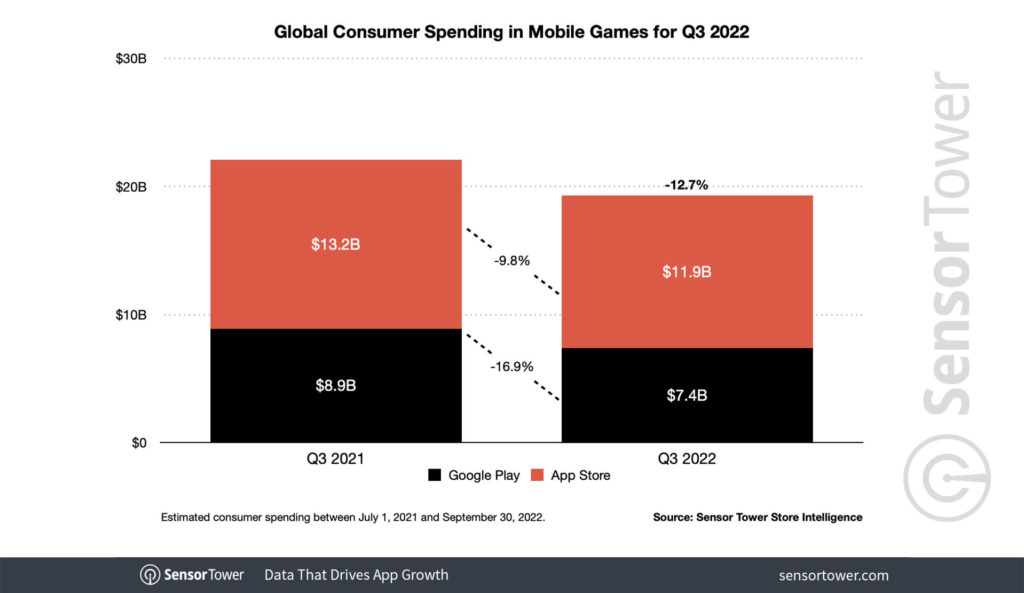 Source: Sensor Tower
Game downloads were flat at 13.7 billion.
The top three games for revenue were Tencent's Honor of King and PUBG Mobile as well as miHoYo's Genshin Impact.
While consumers continue to use apps at increasing rates, it's clear that the industry is facing some headwinds given the current economic situation. What's interesting is that even though the pandemic shut down several industries, it benefitted apps. However, the same is not true for the current situation now that lockdowns are no longer in place and consumers are having to put on the brakes on spending. 
Key takeaways
Consumers spent almost 5% less in apps during Q3 2022
App Store and Google Play revenues fell while downloads increased on the App Store but not Google Play
TikTok ranks top for revenue and downloads
Game revenues fall 12.7% while installs remain flat