Everyone's been talking about TikTok facing scrutiny in the US due to concerns about its data privacy policies and potential links to the Chinese government. Meanwhile India, a country also at odds with China, has already banned over 250 apps, including TikTok, which disappeared from Indian app stores on June 30, 2020. Now data from Apptopia finds that the ban, while bad for ByteDance, may have benefitted other apps. 
The competition doesn't sleep
Before the ban, the app was downloaded about 400 million times in India, making it a social media powerhouse in the country. In comparison, during the same time period, TikTok reached the same number of installs just this month in the US.
As soon as the ban hit, the short-form video market in the country underwent a major shift. A number of local competitors emerged almost immediately, hoping to fill the void left by the popular app. 
Mitron was the first to launch on April 19, 2020, followed by LitLot on June 19, 2020, and Moj on July 1, 2020. Josh and Tiki launched soon after, on July 3, 2020, and February 19, 2021, respectively. 
These apps offered Indian users an alternative to TikTok, and many of them gained a significant user base within a short span of time.

TikTok alternative app downloads soar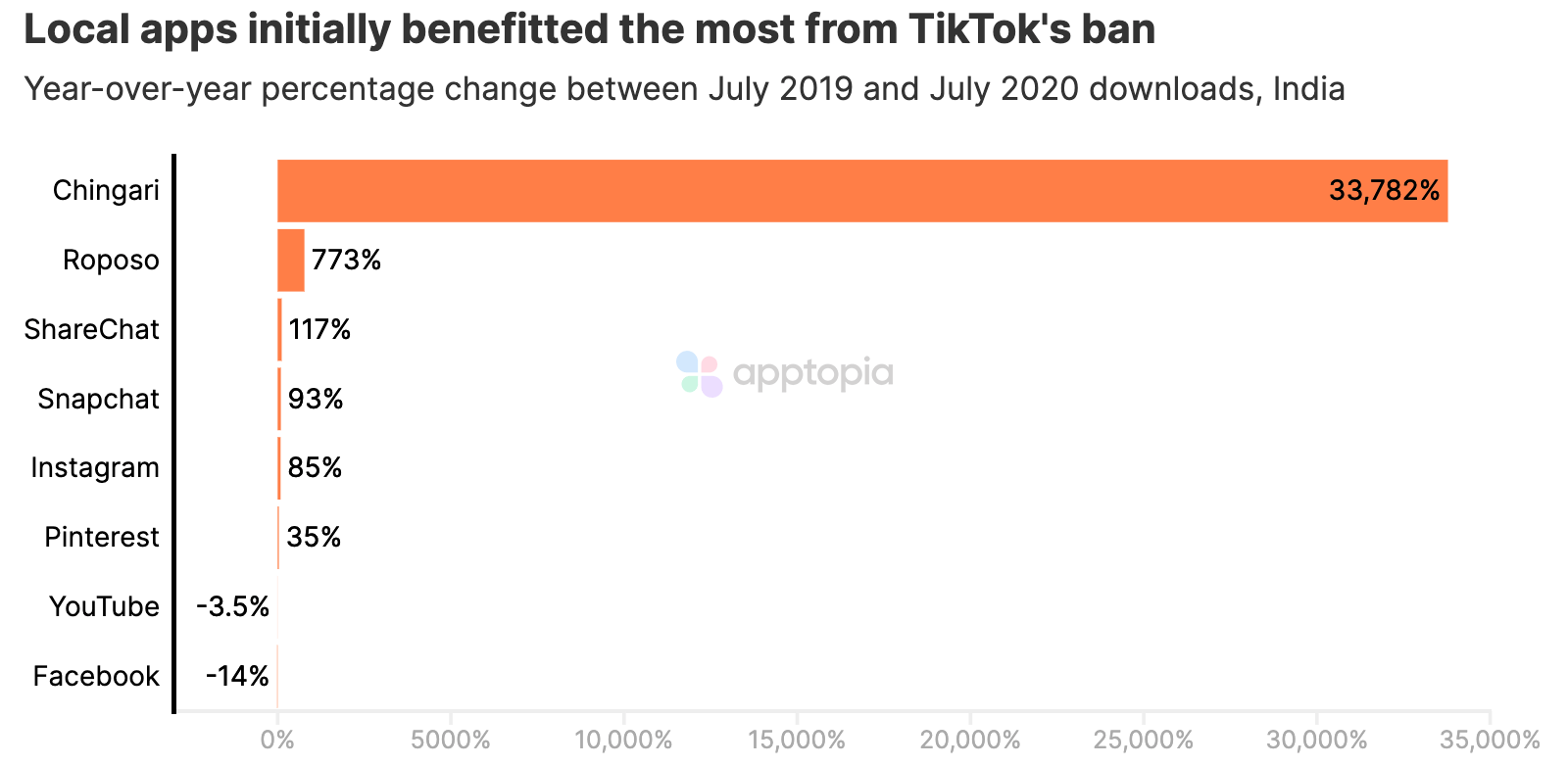 Source: Apptopia
Established Indian apps like Chingari, Roposo, and ShareChat also updated their functionalities to capitalize on the opportunity presented by the absence of TikTok. 
For example, Chingari added a "duet" feature that allowed users to collaborate on video content. 
Social apps benefitted the most
The biggest winner from the TikTok ban appears to be Instagram with the launch of Reels. Reels is similar to TikTok allowing users to create short-form videos that can be shared on the platform's feed or explore page. The product quickly gained traction among Indian users, who were hungry for short-form video content.
It wasn't just Instagram that saw an opportunity in the wake of the TikTok ban, though. YouTube also launched its own version of the product, called YouTube Shorts. 
Instagram has an opportunity in India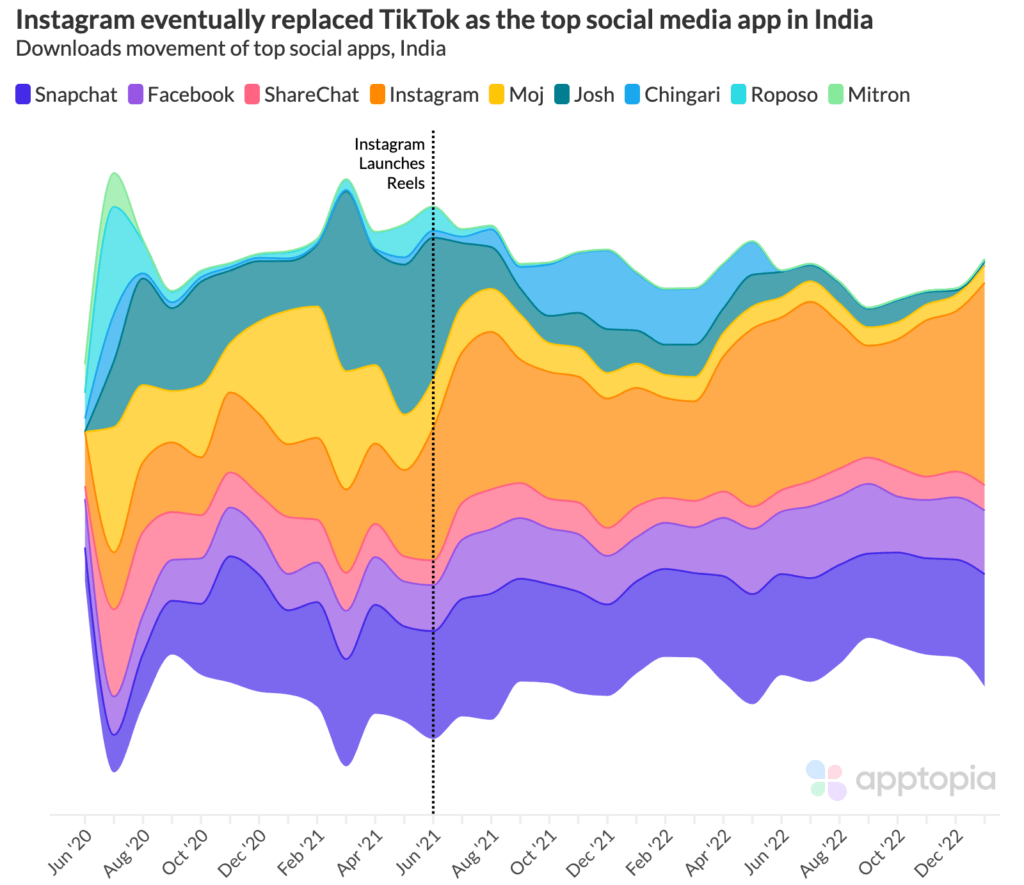 Source: Apptopia
Research by data.ai shows that time spent in the top 25 live-streaming apps in 2021 outpaced the overall social market by a significant margin in India. Year-over-year growth in live streaming app usage was a remarkable 40%, compared to just 5% for all social apps. This suggests that live-streaming apps are becoming an increasingly important part of the social media landscape.
One of the reasons for the growing popularity of live-streaming apps is the way they enable consumers to support their favourite content creators. Users are able to "tip" creators for their work, which has led to a significant increase in consumer spending. Global consumer spending in the top 25 live streaming apps grew 6.5 times from 2018, with a YoY growth rate of 55%.
Where will US users go?
A potential ban on TikTok in the US raises questions about where the app's millions of users would go in search of short-form video content. 
Apptopia found that TikTok users tend to split their time with Meta-owned apps such as Instagram and Facebook at a roughly 20% share of the time spent.
TikTok users spent time in other social apps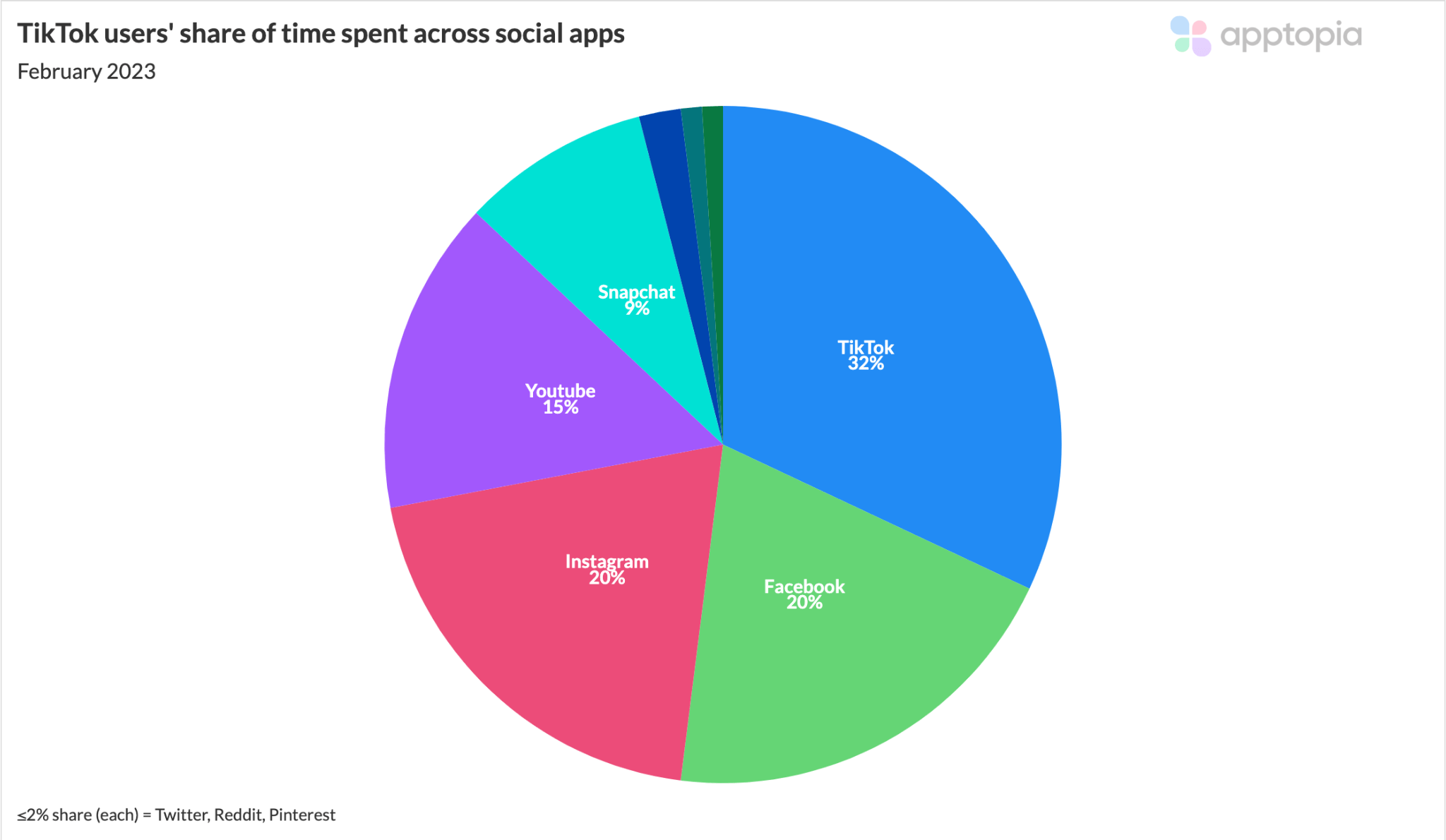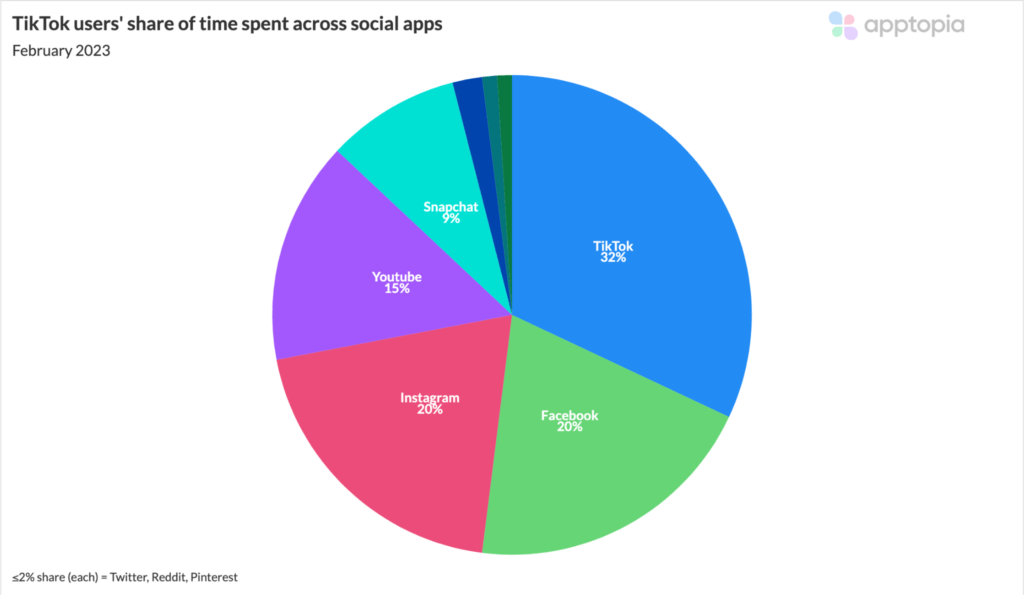 Source: Apptopia
If India is a leading example, we can expect new apps and smaller competitors like Triller, Likee, Tiki, BIGO Live, Tango, ZIKTALK, and BeReal to see a temporary surge in popularity.  
A ban could be a huge lift for Instagram, but BeReal could also tap into TikTok's appeal of authentic and unpolished videos.
Key takeaways
India banned TikTok in June 2020 opening the market to local competitors
The biggest winner from the TikTok ban appears to be Instagram with the launch of Reels
Time spent in the top 25 live streaming apps in 2021 outpaced the overall social market by a significant margin in India