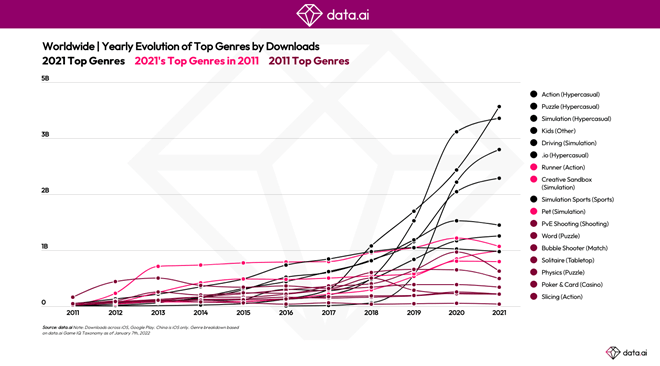 In 2021, consumers spent a whopping $116 billion on mobile games – two-thirds of total spend on app stores. 
Mobile game spending rose 35% or by $30.2 billion between 2019 and 2021, according to the latest gaming report from app experts data.ai.
Game downloads rose 22% by 14.9 billion to a total of 83 billion.
Just 174 games were responsible for generating $100 million in revenues in 2021. However, that's more than in 2019 when it was 141 games.
The report also finds that gamers downloaded almost 13 billion hyper-casual games across genres including action, puzzle, simulation, and .io.
Three out of the top five breakout gamester hyper-casual and contained more feminine games as a growing number of women play mobile games. 
Female gamers are around 1.3x more likely to play match games in the US, France, and Japan, while male gamers in the US are 1.5x more likely to play strategy games. 
Among the RPGs and strategy games that dominated the monetisation charts were strategy games (4X March-Battle) which grossed $9.7 billion, up almost $2 billion in player spending over the previous year.