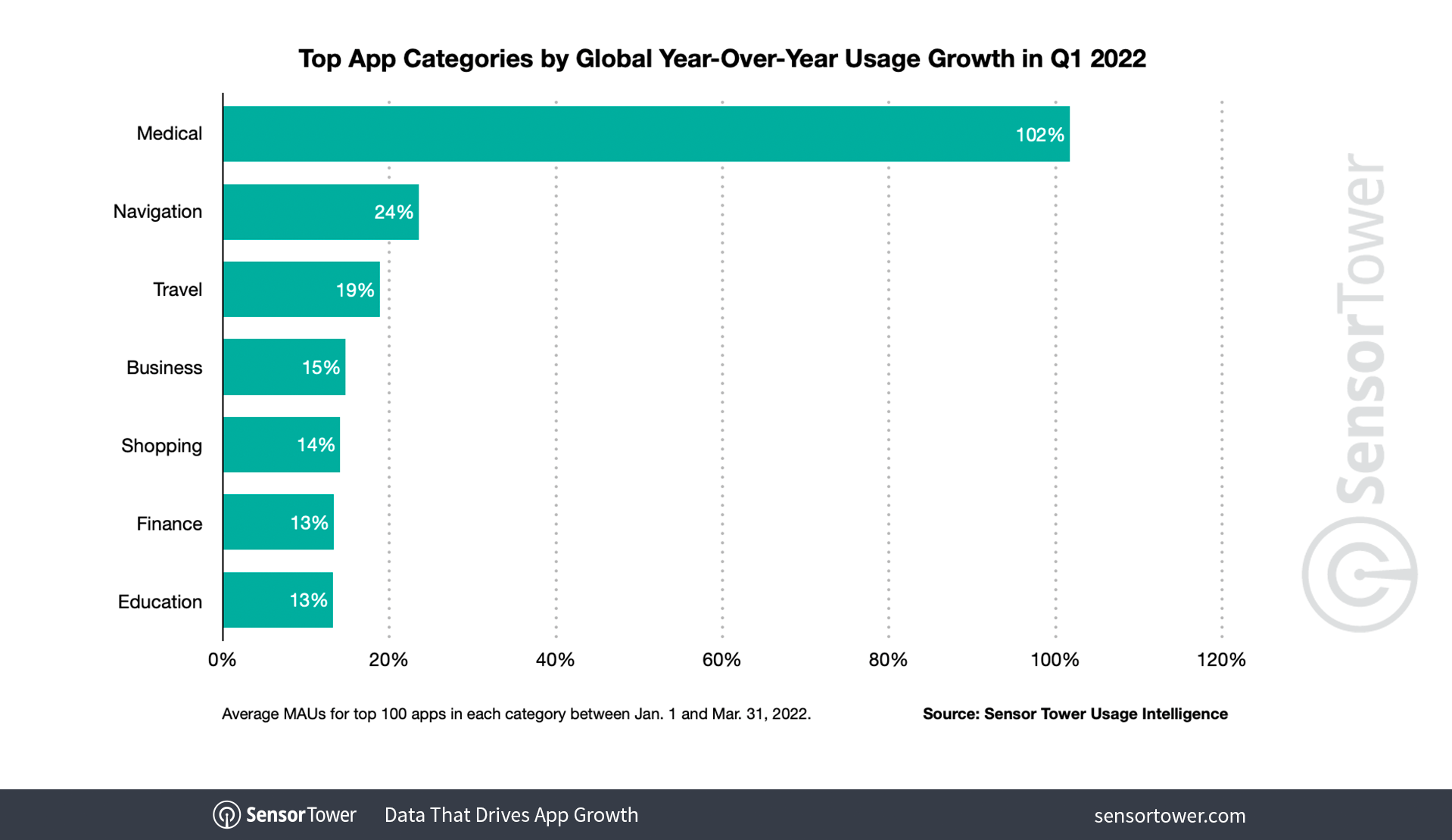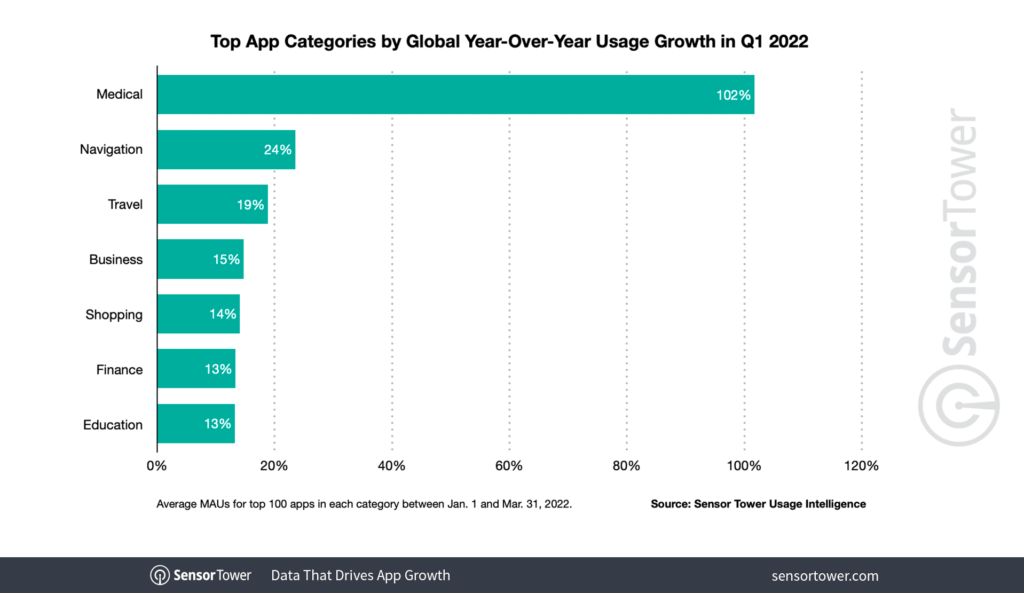 While global app adoption and consumer in-app purchases were flat during Q1 2022 compared to 2021, the number of monthly active users grew almost 5% according to new data released by Sensor Tower. 
Some app categories such as medical apps were particularly popular, more than doubling its active monthly users. 
Navigation apps saw the second-highest growth in usage, jumping 23.5% while travel ranked third at 19%. The figures show that now the pandemic is coming to an end, a growing number of people are traveling again. 
Use of the top business apps grew 95.3% up from 42.4% in Q1 2020.
Most of the categories examined by Sensor Tower increased usage apart from weather, lifestyle, news, and gaming apps. 
Mobile game usage declined 3.8% compared to Q1 2021.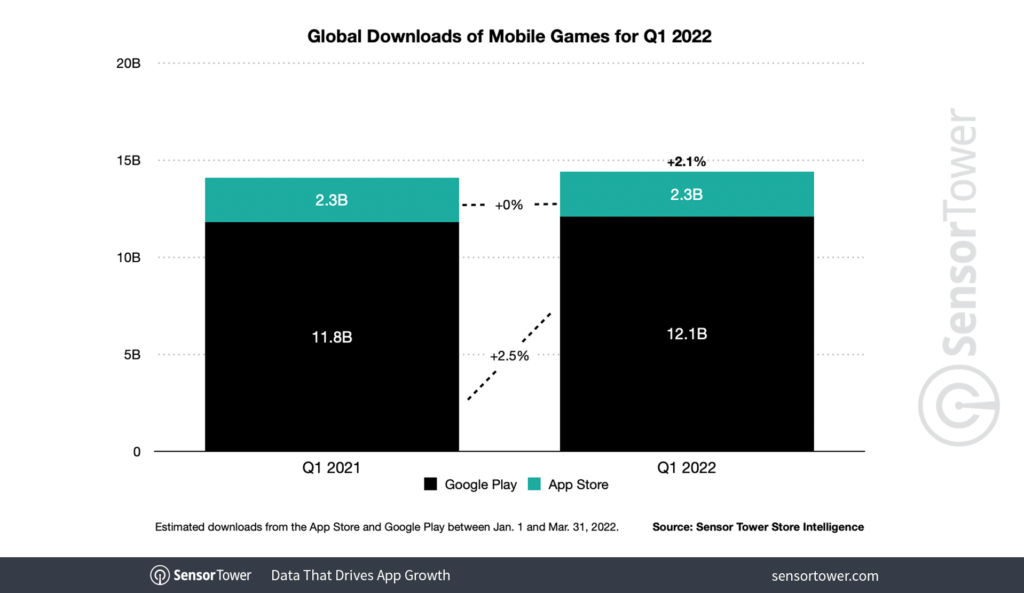 Leading US mobile advertisers spent $786.7 million during Q1, up 13.6% from the previous year. Gaming saw some of the highest ad spend with brands spending 41% more on digital campaigns compared to the previous year.
The leading app categories also saw the highest spending with travel and retail up 32% and 31%, respectively.
However, spending in apps remained flat reaching $32.5 billion, up 0.6% from $32.3 billion in Q1 2021. 
Apple marketplace revenues were double those of Google Play, rising 5.8% to $21.8 billion. 
Google Play revenues were down 8.5% to $10.7 billion.
TikTok is still the top-grossing app overall on the App Store, at consumer spending of $821 million. 
First time downloads climbed 1.1% to 36.8 billion on both app stores.
Overall, TikTok also scored highest for downloads while Instagram led installs on Google Play.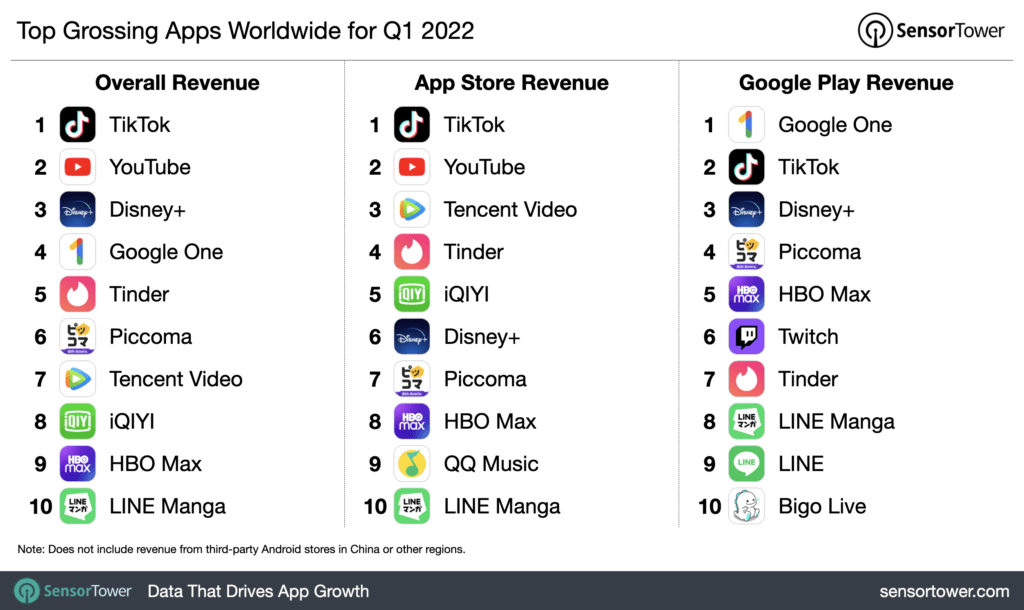 Consumer spending in mobile games dropped 7.1% to $21 billion in Q1 2022 across both app stores. 
Mobile games on Apple's platform were down 2.3% while Google Play revenues declined to $8.1 billion.