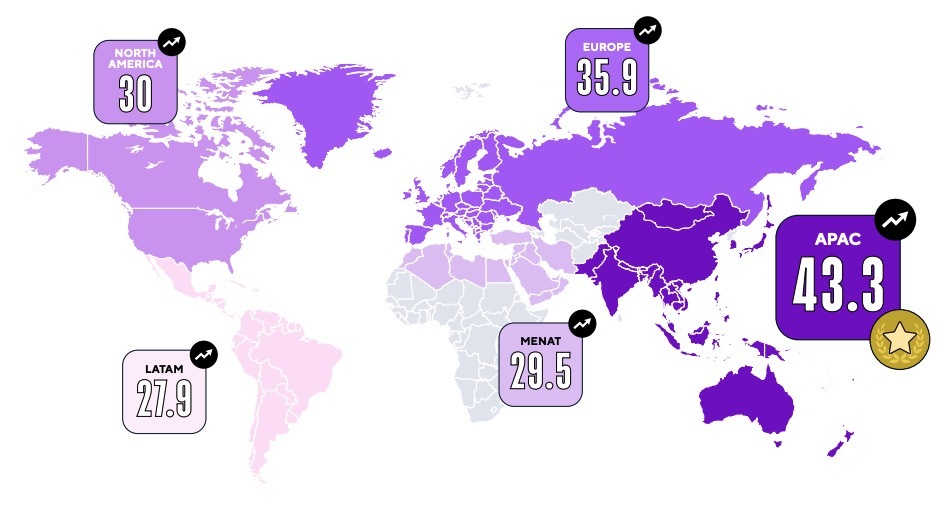 The APAC app market has boomed thanks to better mobile networks and cheaper smartphones. In 2022, there were 1.29 billion people using mobile internet, up from 700 million in 2015. That's according to the latest Adjust Growth Score which assesses how well apps and app marketing are doing in different places worldwide. It looks at over 2,500 of the best apps and how they've been doing in the first half of 2023.
Travel and shopping apps are bouncing back
In 2022, there were 1.29 billion people using mobile internet, up from 700 million in 2015. Europe's app market is also on the rise, with estimated revenues of $63.3 billion in 2023, up from $56.24 billion in 2022. By 2027, it could reach a whopping $87.35 billion.
Even though the expenses and prices are going up in Europe, travel apps are bouncing back impressively. They've achieved the highest Growth Score in the region, sitting at 47.3, which is way ahead of other regions.
Games, shopping and travel experience highest growth
Source: Adjust
Europe's e-commerce market is predicted to grow by 12% annually from 2020 to 2026, and shopping apps in the region are doing well with a solid score of 41.1.
Mobile gaming comes in third place with a Growth Score of 30.4, followed by utility apps at 27.1, and lifestyle apps with 25.5.

Gaming app scores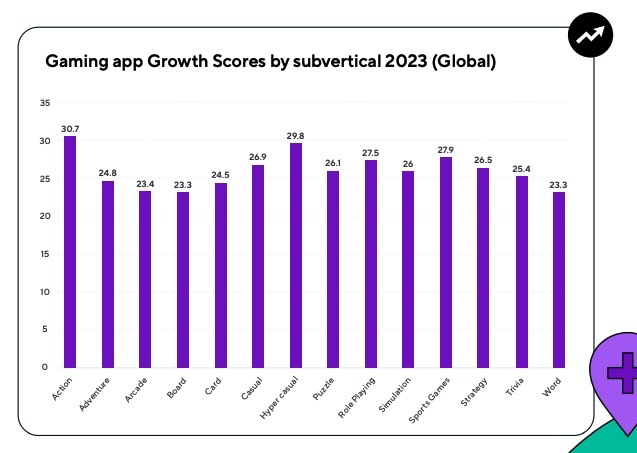 Source: Adjust
APAC leads growth score
When it comes to the growth of mobile apps by region, APAC is leading the way with a Growth Score of 43.3. Europe and North America are close behind with scores of 35.9 and 30, respectively.
In terms of individual countries, India stands out with the highest growth score of 31.2. This is mainly because more and more people in India are getting access to affordable smartphones and mobile data plans.
Growth scores by country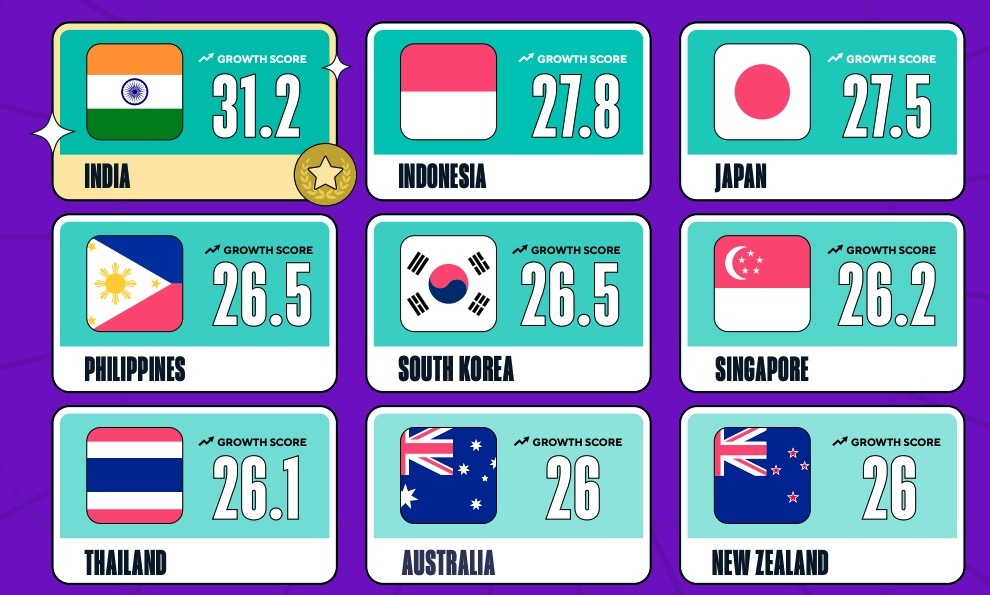 Source: Adjust
Among different types of mobile apps, gaming apps are at the forefront in terms of growth. The top-ranking gaming subverticals globally include action, hyper-casual, sports, RPG, and casual gaming apps.
"Adjust is continually developing solutions that promote this new wave of global growth marketing to empower our clients to execute high-performance, measurable campaigns at a time when the mobile app ecosystem has never been more challenging ," said Lou Hong, VP of Marketing at Adjust. "Adjust's Growth Score tells marketers and developers where they can grow. Understanding which app verticals and regions have the highest potential for growth is essential when creating and scaling campaigns successfully."
Key takeaways
APAC mobile internet booms with 1.29 billion users in 2022, up from 700 million in 2015, driving app market growth
Europe revenues set to reach $63.3 billion in 2023 (up from $56.24 billion in 2022), driven by travel and shopping apps
APAC leads with a Growth Score of 43.3, India excels at 31.2, and gaming dominates growth