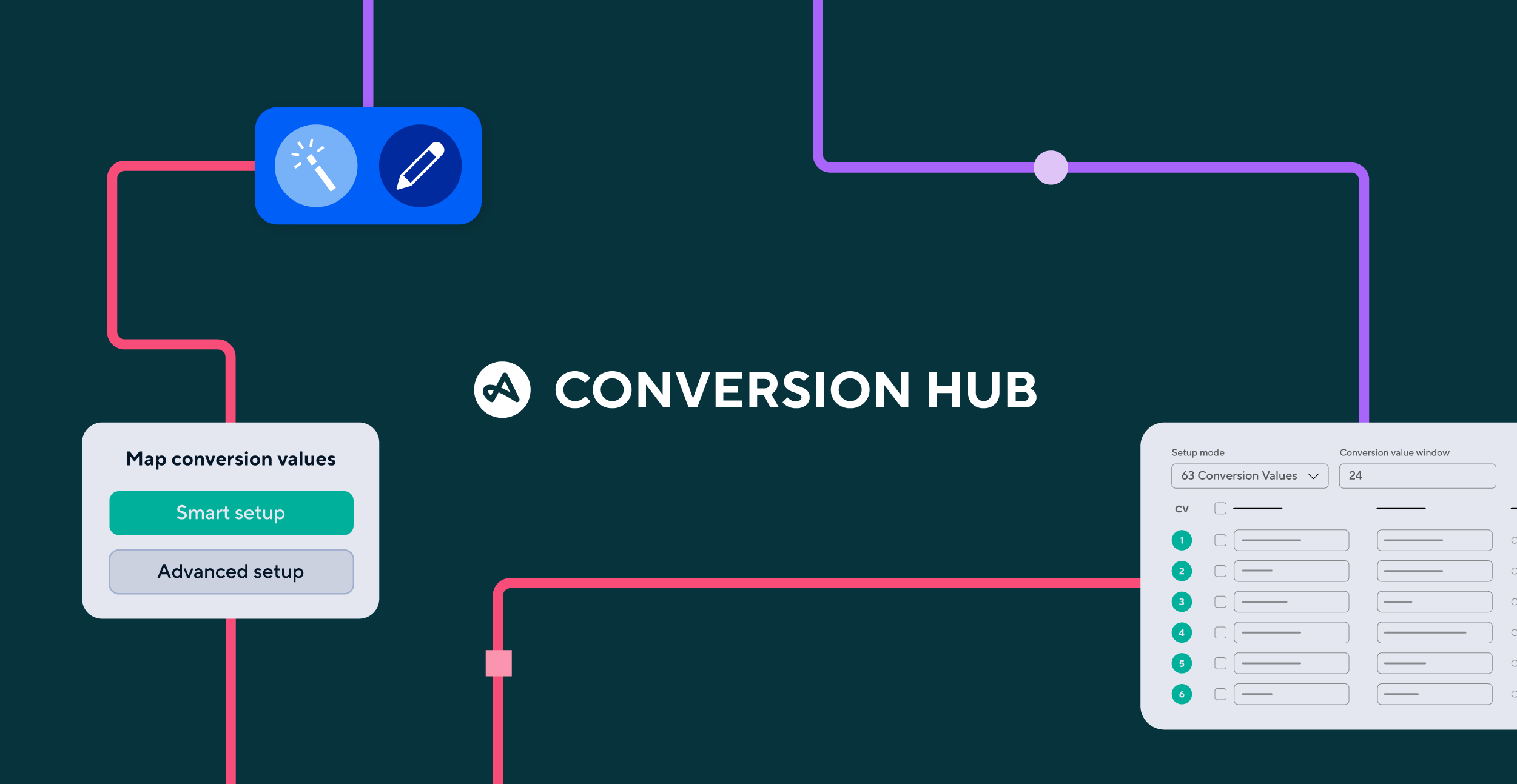 In 2022, mobile marketing and campaign success on iOS comes down to the ability to work with SKAdNetwork (SKAN) and conversion values. Apple's App Tracking Transparency (ATT) framework requires apps to request permission from users to access their IDFA, which was available by default before the rollout of iOS 14.5 in April 2021. What this means is that from iOS 14.5 onward, SKAN is necessary for holistic attribution and measurement on iOS—introducing significant complexity to mobile marketers and effectively turning long-held systems for user acquisition and measurement on their heads.
To understand user behavior and drive growth, developing a strategy that leverages all data available and contextualizes aggregated data within opted-in, user-level data is essential. This is exactly why Adjust has launched Conversion Hub, a smart, easy-to-use conversion value solution that empowers mobile marketers and developers to map and configure conversion value setups that make the most of SKAN.
Conversion Hub, which is built on machine learning and industry best practices, is an in-house SKAdNetwork expert for any and all marketing teams looking to map and configure conversion value setups tailored to their app, business model, and key KPIs.
Smart, easy conversion value mapping
To make the process as simple yet customized as possible, Conversion Hub has two models and two flows to choose from. As SKAN provides advertisers with one conversion value, Adjust's system allows you to get the most information out of it possible.
Conversion value modes:
63 CVs: Makes use of all 63 possible conversion values by mapping a revenue range to each value.
6-bit: Provides maximum transparency on user engagements post-install and empowers user journey optimization by allowing up to six events to be mapped to the six bits available.
Setup flows:
Smart setup: Designed for teams looking to get started with some inspiration and guidance on the model that will work best for their business. After receiving a few pieces of input, Smart setup leverages machine-learning to suggest mapped, ready-to-use conversion values or informs on when and how to set their own 6-bits.
Advanced setup: Built for teams experienced with SKAN and conversion values that are looking for a very granular, technical approach to iOS campaigns. Clients can customize and set conditions and events.
A robust SKAN strategy and a smart conversion value solution are the keys to mobile marketing on iOS and driving meaningful, measurable campaigns. For more information on how this works and how you can get started, check out Conversion Hub here.