One-fifth of mobile gamers focus on the game when playing and nothing else making them a highly alert audience for in-app marketing. That's according to the latest research from brand advertising tech provider LoopMe, which examined the consumer preferences of in-app mobile gaming in the US, UK and Singapore. But what exactly are the opportunities for in-game marketers in 2023?
Majority of gamers play on mobile devices
According to the study, 62% of consumers play games on their mobile devices, with 76% playing almost an hour each day and 15% playing more than five hours per day. While gamers spend 50% more time playing than using their social apps, marketers are predicted to spend 7x more of their revenues on social ads. 
"As mobile gaming continues to grow in popularity and deliver the reach, engagement, and results that marketers are seeking in a brand-safe environment, we see in-app mobile gaming becoming an intentional and increasingly important part of mix in 2023, right alongside CTV and social," said Rachel Conforti, SVP Marketing at LoopMe. "LoopMe is proud to be a category leader in in-app mobile gaming, helping connect brands and apps so that advertisers can lean into this massive market opportunity, address a highly engaged market segment and bring to light new opportunities that exist within this ecosystem."
Do you play games on a mobile phone or tablet?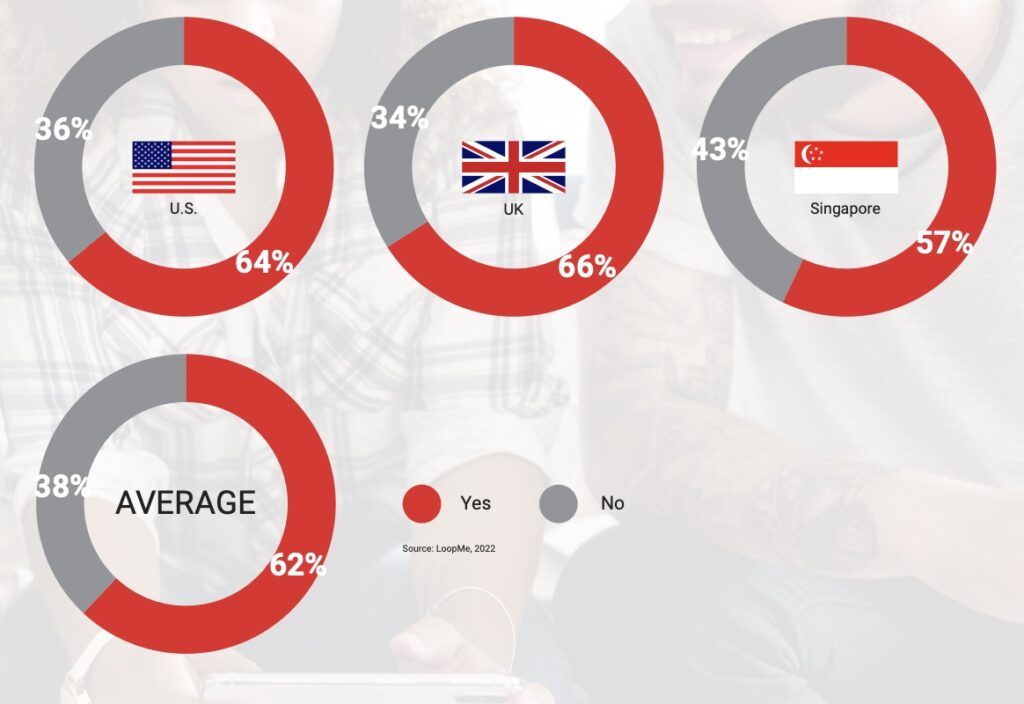 Source: LoopMe
The study also shows that 57% of consumers playing games on their mobile devices do so in their spare time while 43% watch TV on the side. This may open a complementary opportunity to reach audiences. 
The opportunities for in-app marketers
Creative formats in-app such as non-skippable ads and full-screen and sound-on video ad formats capture consumer attention. LoopMe also expects higher demand for gamification or rewarded video ads to boost intent and favourability. Its research found that in-app mobile game optimisation performance against brand lift is 2-4x higher than other industry norms. 
"Leveraging newer ad formats – for instance, playable and interactive ads – can translate into more momentum for brands' ad content because users don't have to be passive, which is, of course, how games work. The in-app mobile gaming creative market will get more interesting in 2023 as more big brands experiment with these more engaging ad types," said Lewis Ward, Research Director, Gaming and VR/AR at IDC.
Key takeaways
62% of consumers play games on their mobiles

 

76% play for almost an hour each day

 

57% of consumers playing games on their mobile devices in their spare time