Consumer spending in shopping apps increased 37% during the Q4 holiday period compared to Q3 2022, marking a 30% higher rise than the same period in 2021. That's given hope to retail marketers seeking to explore the mobile space and in-app purchases.
In-app purchases are popular
According to the latest State of eCommerce App Marketing report from AppsFlyer, retail apps, in particular, experienced a boost in revenue during the peak shopping month of November 2022, generating an average of 10% more income compared to November 2021. This growth can be attributed to retailers' efforts in enticing customers through early discounts and continuous holiday season incentives.
One key factor contributing to the success of mobile retail was the sustained popularity of in-app purchases throughout the entire holiday season. Retailers effectively attracted shoppers to their favourite shopping apps, encouraging return visits and repeat purchases. This positive trend played a significant role in driving the economic engine of mobile shopping.
Overall CPI trend by country and platform among eCommerce apps with a marketing budget (in USD)*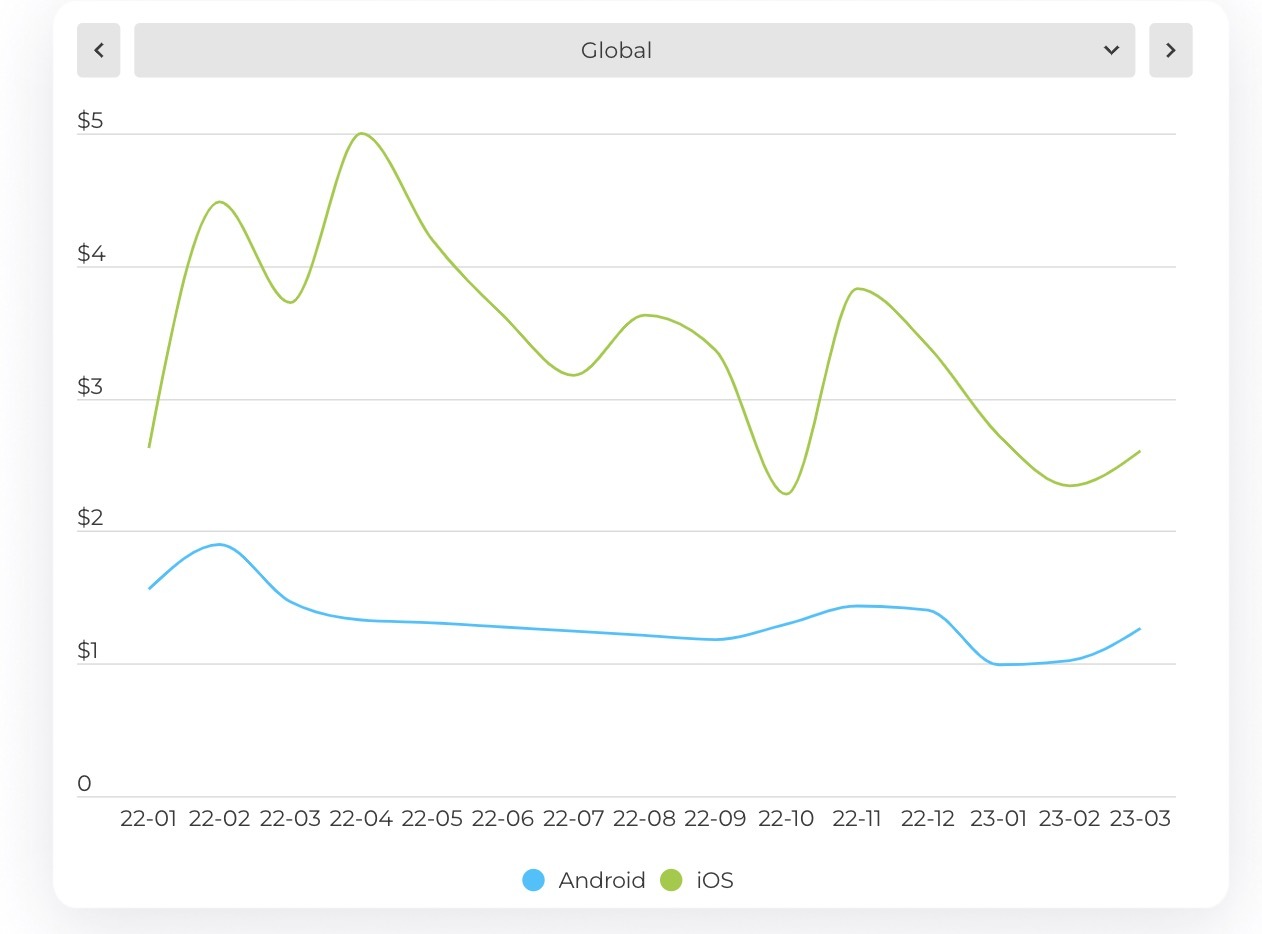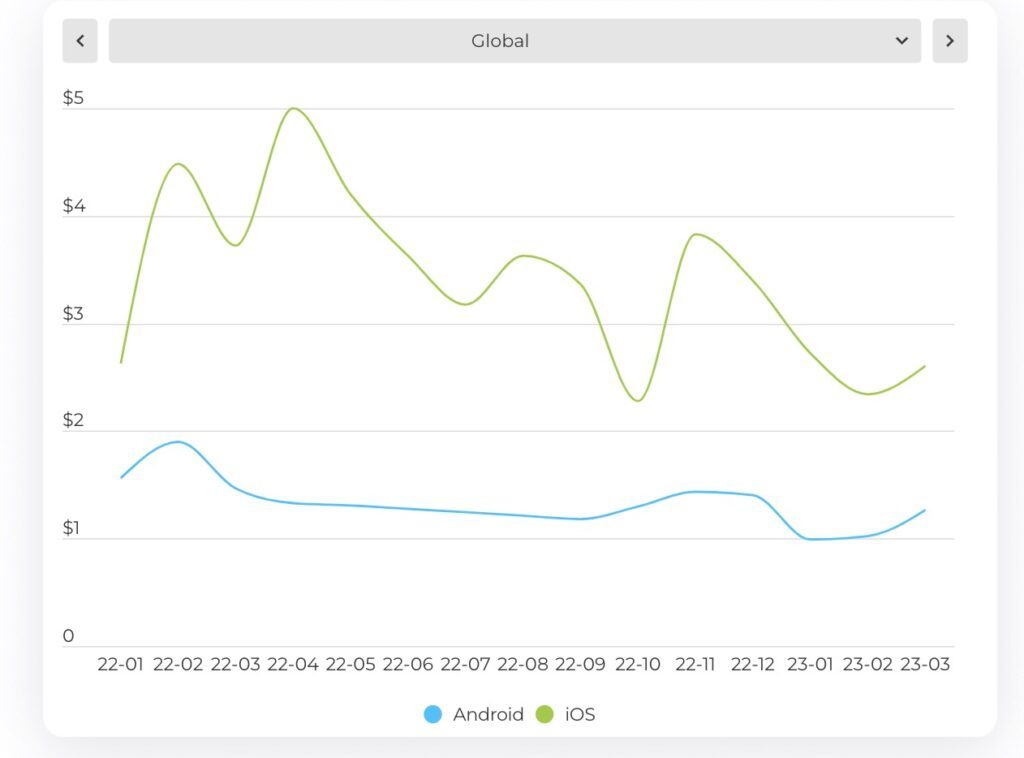 Source: AppsFlyer
As mobile technology continues to shape consumer behaviour, retailers have recognised the potential of in-app experiences to engage shoppers, leading to increased revenue and growth opportunities in the dynamic world of mobile retail.
"Shopping spend that increased 81% on Apple's iOS and increased 61% on Google Android on Black Friday of last year compared to the daily average in November highlights how critical this period is for eCommerce apps," said Sue Azari, Industry Lead for eCommerce, AppsFlyer. "Marketers looking to capitalize on the critical shopping days in November should start planning now. This includes organizing user acquisition campaigns in the months leading up to Black Friday to benefit from the more affordable costs during this timeframe, and using remarketing strategies to guide users to the app to keep them engaged until those peak sale days."
Despite cut marketing budgets, marketers see positive signs during holiday season
The data also showed that in-app consumer spending soared 81% on Black Friday 2022 compared to November's daily average, with Android showing a remarkable 61% increase.
Global eCommerce marketers invested $4.9 billion in-app user acquisition during 2022, witnessing a 25% downturn in spending during H2 2022 amid the economic slump.
Apple iOS apps outperformed Android with an 85% higher share of paying users, and November conversion rates on both platforms rose 15% above the monthly average.
Day 30 retention rates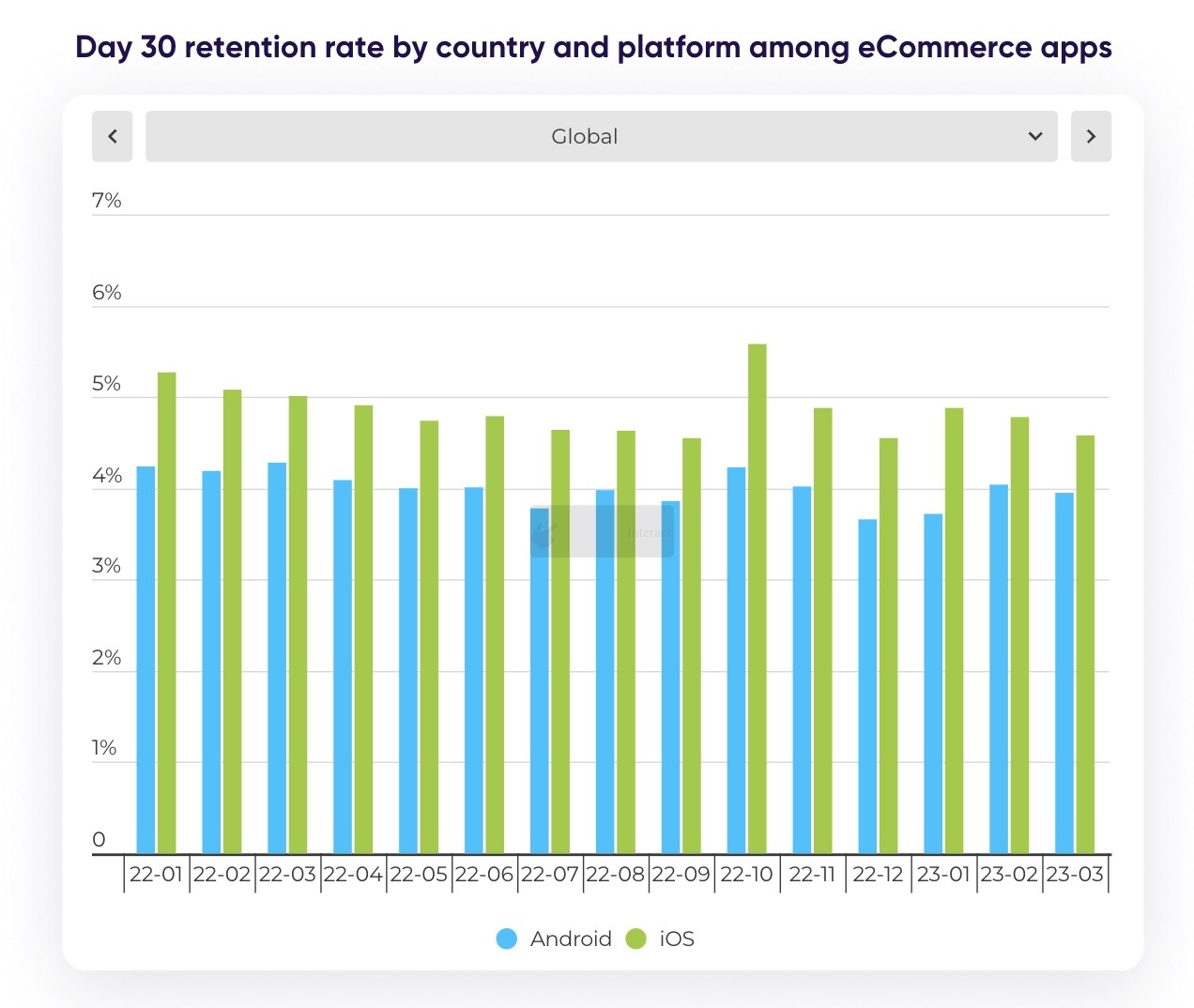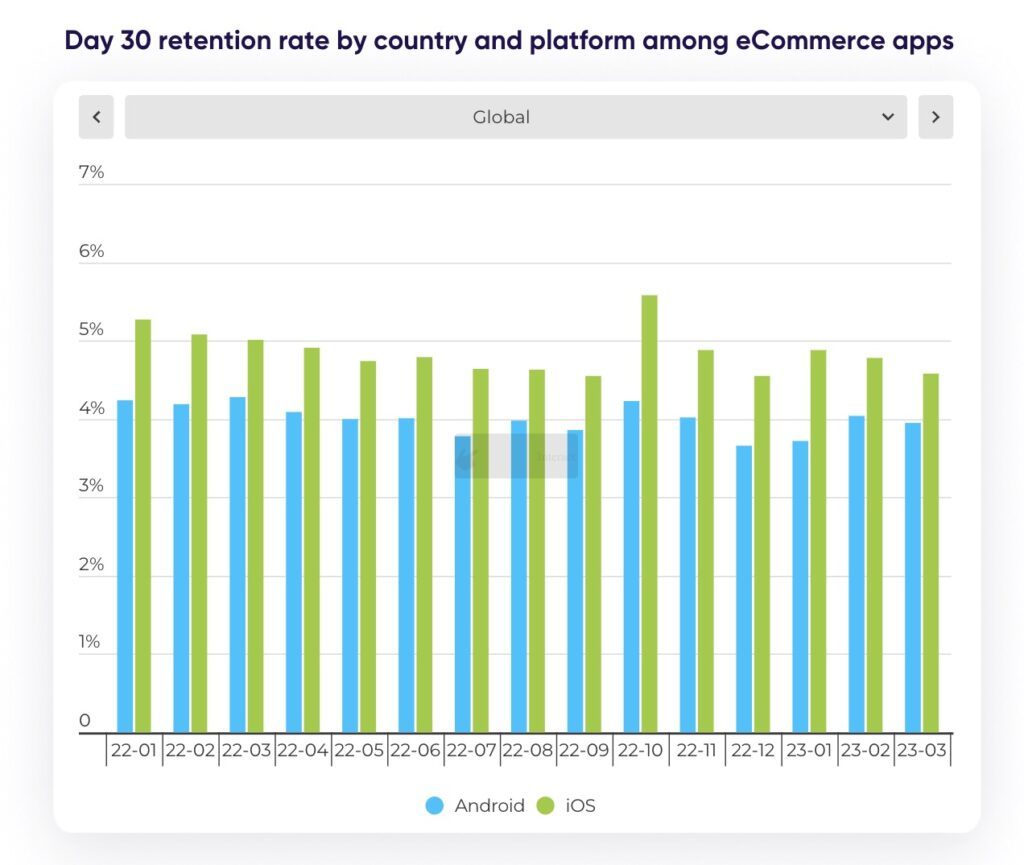 Source: AppsFlyer
The cost of media in the eCommerce sector dropped significantly by 30% YoY in Q1 2023 compared to Q1 2022.
Customer acquisition costs, in CPIs, peaked in November 2022 but then fell by 30% in Q1 2023, with iOS seeing a 33% decrease and Android an 11% drop.
On iOS, marketing-driven non-organic installs increased by 19%, attributed to lower CPIs and enhanced measurement confidence in the post-iOS 14.5 app landscape.
Marketers are now prioritising remarketing as a vital and cost-effective strategy, consistently holding a share of over 40% monthly in the global marketing landscape.
"The impact of the downturn on ad spend as seen during the first quarter of 2023 has been significant with marketers cutting budgets, but the success of the 2022 holiday season, even amidst the prevailing financial slowdown worldwide, should instill greater confidence in marketers as they plan for the upcoming holiday season," said Shani Rosenfelder, Director of Content Strategy & Market Insights, AppsFlyer. "Emotional marketing offers a greater resonance now more than ever, so marketers should stay attuned to the needs and sentiments of their audience to connect with them on a deeper level."
Key takeaways
Q4 holiday season saw 37% rise in in-app spending, showcasing strong interest in mobile shopping
iOS apps outperform Android with 85% more paying users, making iOS a lucrative platform for eCommerce marketers
Remarketing remains cost-effective, claiming over 40% share in global marketing, ensuring user engagement and increased sales