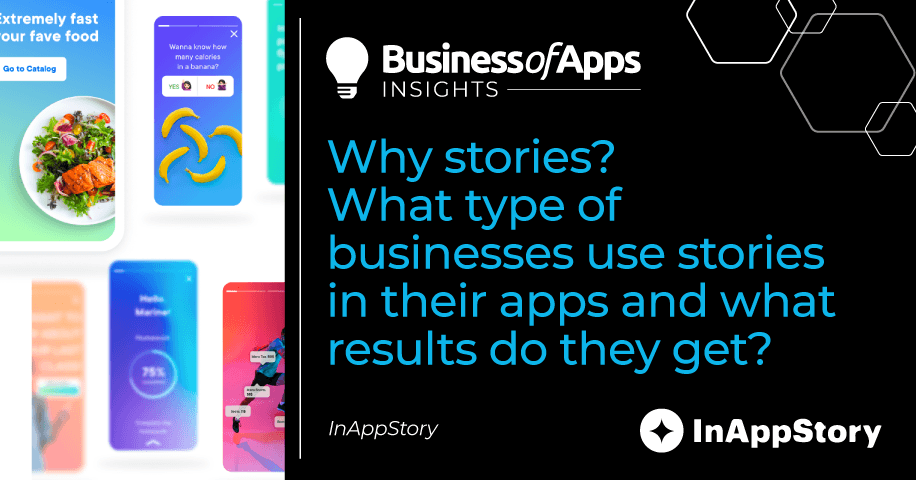 Stories are everywhere or almost in every single mobile or web app, be it dating, banking, or even mass media applications. Nine years after the mobile app Stories appeared in various social networks for the sole purpose of photos and video exchange, almost everyone has mastered the favorable format.
Today, no one is surprised that Airbnb, Spotify, LinkedIn, or even Duolingo can have such features since it's almost in every mobile app. The format has proved incredibly popular in an era of ever-accelerating content consumption.
Advantages of using Stories in mobile apps
Stories do have several advantages that can help businesses improve their marketing and communication strategies.
Let's review some of the most interesting numbers:
62% of surveyed consumers stated that they became more interested in a brand or product after seeing its advertising in Stories.
48% of respondents said that they prefer the Stories format to learn about new products.
50% of respondents pointed out that they bought a product or service on the company's website after seeing ads in Stories format.
We also identified 5 key areas capable of providing more business opportunities:
Revenue growth: Capture customer attention with an immersive Stories format and drive sales.
Tutorials: Educate your users through tutorials and guides provided in mobile Stories.
User feedback: Collect customer feedback via interactive widgets available in Stories.
Onboarding: Create an interactive walkthrough for mobile users who never want to skip any detail about your app.
Personalization: Deliver personalized content that will resonate with your target audience.
Games in Stories: Maximize user engagement with in-app games. Build the bond between your core business model and the game concept.
Recommendations for developing Stories
As one of the main Stories providers for enterprise companies, we've outlined some major recommendations for Stories into the business apps.
The amount of text
When creating Stories they must be short and simple. This means focusing on the most important points and avoiding unnecessary details. This way you can ensure your message is clear and understandable to your audience. In addition, the more concise your stories are, the more time you can save and help attract the attention of the audience.
Remember, when it comes to effective storytelling in business apps, less information is better than overwhelming amounts of data.
The value of visual elements
To add a sense of engagement in Stories, it is important to use attention-grabbing visual effects and animations. These elements can help us explain complex ideas more engagingly. When using visual tools, it is important to choose images that are relevant to the Story concept and transparently explain the intended message.
Using the Stories format will help integrate your brand into the consumer's consciousness, thus maintaining and developing the company's image, so that the brand is instantly associated with the desired product or service, and Stories will become another channel for maintaining this connection.
Animations can add an extra level of interactivity to help in directing the user's attention. However, it is important to use these elements strategically, as too many of them can become too distracting.
The importance of target audience
One of the best approaches to creating Stories is to adapt them to specific user groups. This means understanding the needs, preferences, and pain points of different types of users and creating Stories that resonate with them.
To do this, you should first and foremost – collect feedback from users. This may include creating user characters or conducting surveys to gather information about their demographics, behavior, and preferences.
In addition to its ability to integrate your brand into the consumer's consciousness, the Stories format also provides an opportunity to collect valuable feedback from users due to its interactive mechanics. By incorporating elements such as surveys, quizzes, and polls in your Stories, you can quickly and easily gather feedback from your audience. This feedback can be used to gain insights into user preferences, opinions, and needs, which can then be utilized to improve your product offerings, content strategy, and overall user experience.
The interactive nature of Stories allows for real-time engagement with your audience, providing an avenue for two-way communication and fostering a sense of community between your brand and your users. This feedback loop can be invaluable in driving continuous improvement and building a loyal customer base.
Once you have a clear idea of your target audience – start creating Stories relevant to them. This may include highlighting specific features or benefits that are most important to them or using language and images that speak to their unique needs and interests. Targeting stories to specific user groups can help increase engagement and recognition of your business app, as users are more likely to see the value of your product.
Examples of successful Stories in business apps
Revolut
Revolut is a popular mobile banking app that has integrated a Story format to attract users and provide them with a more dynamic and interactive experience. The company recognized the growing popularity of Stories on various social networks and saw an opportunity to integrate this format.
Revolut's "Stories" offer users a series of short, visually appealing pieces of information about their financial activities, such as spending habits or budget tracking. Users can scroll through Stories to get an overview of their account activity and quickly access important information. In addition, they often include GIFs or animations, which makes them more engaging and attractive to interact with.
With this successful integration, Revolut has found a way to make financial information more accessible and enjoyable for users. This feature was well received by many users who praised its user-friendly design and clear information presentation.
Spotify
Spotify has integrated Stories by launching "Storyline", a feature that provides behind-the-scenes information about songs and artists. This feature allows users to click on a song's "Storyline" to see a series of flashcards, each containing different information such as song lyrics, fun facts, and artist quotes. This integration offers users a new way to interact with their favorite artists and songs, which adds a dynamic element to the application interface.
Flo
Flo is a mobile app that provides health and wellness tips for women. Flo has integrated the Story format to offer users a more engaging and interactive experience. It allows their consumers to digest content in a more visual and immersive way via a combination of images, videos, and plain text.
In Flo, Stories are presented in a carousel format, which users can scroll through and learn about various health, well-being, and lifestyle recommendations. The Stories cover a wide range of topics, from mental health to nutrition, and are created by medical experts in the designated fields. Using this feature allowed Flo to personalize content depending on user preferences and behavior. For example, users can specify their interests and goals, and the app will recommend Stories that they will be interested in.
Overall, mobile app Stories integration has proven to be a successful strategy to engage users and provide them with valuable health and well-being information in a fun and interactive way.
Conclusion
In conclusion, Stories have become a ubiquitous feature in mobile and web applications, offering a unique way for businesses to engage with their target audience. This format has proved to be incredibly popular, with users being more interested in a brand or product after seeing its advertising in Stories. They make a perfect fit for today's fast-paced digital environment, allowing businesses to create visually appealing and engaging ads that capture the attention of their audience. Unlike traditional ads, which can be easily ignored or skipped over, Stories ads are short, simple, and easy to consume, making them perfect for today's fast-paced digital environment.