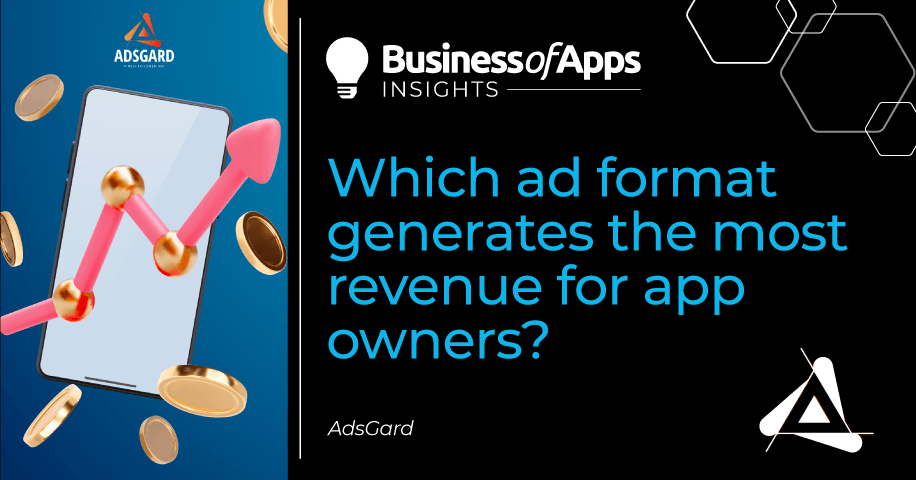 For app developers and owners across all operating systems, almost any app is, foremost, the source of income. For this reason, they need to choose the right strategy, one of the most efficient of which is monetization via digital advertising. It allows you to keep your product free of charge for the users and, at the same time, make money by selling your inventory to advertisers.
Formats of digital advertising
There are a lot of different formats of digital advertising that can be used to monetize your application successfully. The most common ones are:
Video
CTV
Banner ads
Native ads
Audio
Rich media
Each ad type mentioned above is efficient in-app monetization, and you can choose the ones you want to use for your product. We, in turn, would like to draw your attention to the most rapidly developing formats – video and CTV ads.
Video ads: Advantages and types
Here are some features that make video advertising extremely popular:
Much higher CPM than in other ad formats
Wide target audience coverage
Visibility, as it is easier to process visual information
Memorability – videos are four times more memorable than texts
These days, many video ad types can be used for monetization purposes. In our opinion, the most promising are:
Out-stream ads – video ads for tablets and mobile phones that are placed outside the video player and are played automatically with the sound off
In-stream ads, which are played as short video clips within Facebook and YouTube ad units. The videos can be played before, during, or after the primary content. By the position of the clip, these are divided into three types: Pre-Roll (before the video), Mid-Roll (in the middle) и Post-Roll (after the video playback)
Interstitials – full-screen ads that cover the application or website interface and are often used in gaming applications when, for example, users move to the next level
CTV (Connected TV) – ads displayed on TVs connected to the Internet or on other devices using the TV screen as a display for video content viewing (smart TV, gaming console, Apple TV, etc.).
CTV ads: Advantages
Why do we single out CTV ads? In comparison to all the other ad types we have mentioned, CTV advertising is the most confusing for most users. It is often mixed up with OTT advertising; however, these are two different things. CTV ads are only displayed on TVs and game consoles via the Internet, whereas OTT ads can be watched on large screens, mobile phones, and tablets. And this is not the only difference.
Now, let's talk about the advantages of CTV advertising:
Reaching TV viewers whom advertisers do not otherwise reach without traditional TV ads
Precise targeting
Measurable results
Very high video completion rates
You can reroute your CTV viewers to all their devices, laptops, tablets, and mobile phones
Important: 71% of CTV viewers use their mobile devices to search for the preferred content while watching TV, thus providing the advertisers with a perfect tool to establish connections with their target audience.
CTV in numbers
According to statista.com, as of November 2022, 92% of American households were covered by CTV programmatic advertising, whereas the number of CTV users was more than 110 million among Gen Z and millennials. The total advertising budget spent on this type of advertising was 18.89 billion USD in the same year, and 4.7% of all advertising budgets were allocated to CTV ads.
CTV prospects
CTV advertising has significantly simplified access to new video services on TVs worldwide. It is a powerful platform for advertising innovations and content promotion and a new source of detailed viewing data.
With the development of digital advertising, CTV targeting has all the chances to reach a very high precision. You won't have to spend money on the coverage of all the viewers if you want to present your product to your target audience.
How to monetize mobile apps with the help of video advertising
All progressive tech market players (webmasters, owners, developers) use SSPs for monetizing purposes. These are supply-side platforms that everyone with an app that complies with the basic platform requirements can join and start making money.
How to start monetization right away?
Adsgard SSP has maximally simplified inventory sales. You can now cooperate with the top advertisers without any mediators and sell your ad slots quickly and for the best price, as we understand their value. We, in turn, guarantee the high quality of the displayed ads, which are organically embedded into your product and do not interfere with user experience.

As an Adsgard partner, you are in complete control of the monetization process; our team performs all the menial and routine tasks.
How to monetize your app with the help of video ads or other types of programmatic advertising? It is very easy – just fill out a brief online form on our website and start your partnership with a reliable SSP.