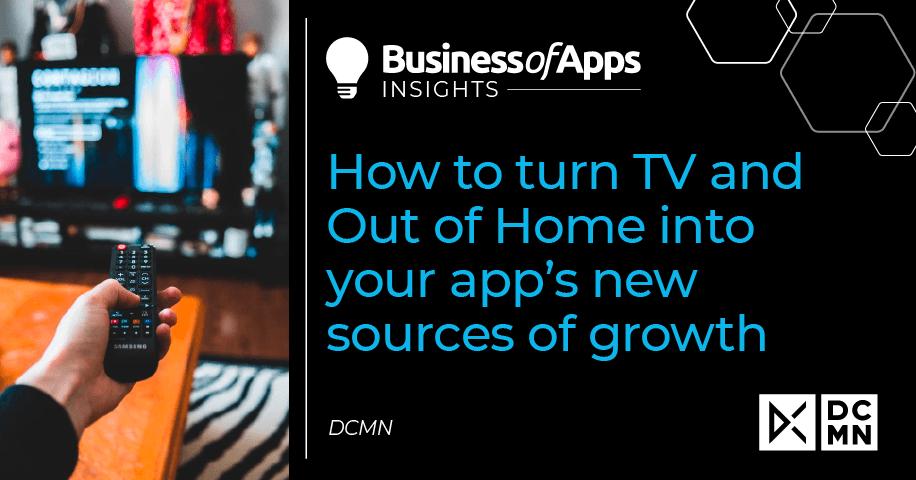 It's official: user acquisition has never been tougher. With the total number of apps ever released hitting over 21 million, making sure your app stands out is no small feat. Today, tried and true tactics like app store optimisation and paid UA campaigns can only take you so far – and many apps are quick to see their user acquisition efforts plateau. At this point, it's time to turn to alternative channels that can help you find untapped pools of prospective users. These channels are some of the oldest ones in the advertising industry: namely TV and out of home.
While apps' recent acquisition efforts have been focused almost entirely on digital marketing, we're seeing growing interest in offline marketing from app publishers across verticals. Out of home in the form of advertising placements in subway stations and on roadside billboards has been a cornerstone channel for on-demand grocery delivery startups like Flink and Gorillas, and linear TV has proved to be a huge source of growth for gaming apps. Wooga, Nordeus, and Bandai Namco and Zynga's Natural Motion are just some of the latest gaming studios to turn to TV. The aim of these campaigns shouldn't be purely reach, but also to build as many relevant touchpoints along the customer's journey as possible: the more repetition, the better the salience.
This makes sense: as the mobile industry matures, many apps with financial leverage are investing more in their branding efforts, rather than continuing to chase short-term performance metrics. iOS 14 is also a major driver, given its impact on many apps' ability to make data-driven acquisition decisions. But where exactly should app marketers start when kicking off their TV and OOH efforts?
Scale with TV
TV has long been seen as inaccessible and unaffordable for many brands. Yet there's no denying its reach: TV is still the most efficient marketing channel to reach a huge audience in a short amount of time, simply because it's the one of the most heavily consumed media platforms among adults of all ages.
The pandemic also opened up new opportunities for growing brands to test the waters with smaller risk, as the availability of plenty of cheap inventory helped make TV advertising more accessible to smaller companies. Overall consumption of daytime TV also increased, with more people stuck at home throughout the lockdowns – rebranding daytime as the new, cost-efficient "prime time".
Getting started with TV advertising follows a similar pattern to other channels. Firstly, you'll need to identify your relevant target group, as this will shape the tactics, positioning and messaging for your creative (i.e. the TV ad itself). Any number of things can make a difference in how captivating and activating your spot is: from length (this can be anything between 10 to 60 seconds), to clarity of messaging, to how well the creative concept resonates with your target group, down to details like the choice of voiceover actor. Make sure you also end the creative with a clear call to action, such as downloading the app, so that you can better measure the impact your ad is having on your results.
Working with a full-service agency can help you at every stage of the process – from creation and production, to the actual booking of your TV slot, all the way to short-term performance tracking. Especially if you're planning a higher-budget production, it's also wise to invest in market research first to test different approaches with a panel in the pre-production phase. This will help you avoid burning expensive media budget later for an ad that doesn't perform as well as you'd expected.
There's no place like out of home
Out of home (OOH) is another channel that allows apps to reach totally new and untapped audiences. Campaigns are also highly customizable across placements and budgets: from the smallest of ads on public transport, to huge productions like Balenciaga's famous 3D Fortnite billboard in Times Square late last year.
One of the main benefits of OOH campaigns is that reach, frequency and number of contacts are generally fast to generate, especially at highly-frequented locations. Campaigns are also cheaper to produce compared to TV advertising – and OOH has the clear advantage that it can't be overlooked or overheard, much less turned off. But, just as with TV, the quality of the creative is crucial for building awareness and visibility.
For brands looking to start out with out of home, we recommend focusing on local opportunities. For a recent client with an online marketplace app, for example, we created a hyper-local campaign that aimed to drive installs in specific districts of the German capital, Berlin. This meant running contextually-relevant campaigns within each district, adapting the messaging within the creative to play with each district's stereotypes.
Measuring offline channels
Digital companies focused on performance want campaigns that are ROI-efficient and truly scale their business. This is no different for offline advertising. Many advertisers are understandably concerned about properly attributing TV or OOH campaigns, but the industry has made huge strides when it comes to measuring both. Now that it's possible to measure this channel thanks to tracking and attribution technologies, apps can better evaluate their offline campaigns and optimise them on CPV/CPI, in a similar way to online marketing.
Using Bayesian models is one of the best ways you can start tracking the (seemingly) untrackable: the model tries to predict how a KPI (like website traffic or an install) would look without a campaign running, and then compares it to actual traffic data. The model can also be built including information like seasonality (e.g weekday vs. weekend), underlying long-term trends (e.g. organic user growth) and the effects of other marketing campaigns.
Beyond attributing traffic, it's also important to look at the influence of TV and out of home campaigns on branding metrics such as brand awareness, perception and loyalty. The impact of investing in these brand building channels can be huge, and users are more likely to download and keep coming back to the apps with which they have a positive brand experience. In an industry where retention is everything, it turns out that focusing on brand building can be key to longevity.