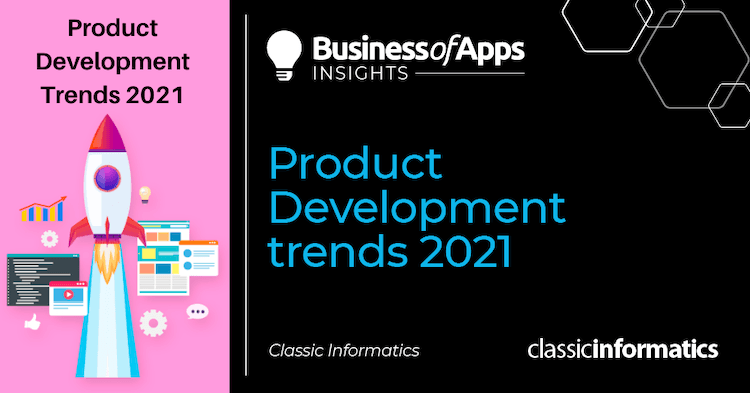 The holidays are just around the corner and most business persons must have been dreaming of hibernating in their homes for a cozy relaxing family time. However, considering the year that 2020 was, none could relax and sit back. As this one of its kind years is coming towards an end, experts across the product development industry have geared up to embrace 2021 with full preparations. While they are looking for the trends that can help them recover from the low that the pandemic made them face, app development experts are busy assessing and analyzing the past and current trends to make predictions for the coming year. 
Every business has really high expectations from 2021. They want to gain momentum and bounce back with a more powerful and effective product. This article will throw light on some of the product and app development trends that are expected to shape the industry in 2021. Let's have a look. 
Major part of development to become remote
As most offices asked their employees to work from home during the pandemic, remote working became the new norm. The pandemic ushered in the future of work and made everyone embrace the freedom of working remotely. And even a COVID-19 vaccine wouldn't stop this remote work. More than 30% of the employees across the globe would continue to work remotely by 2021.
Here are some reasons why companies would prefer remote development in 2021:
To control their costs of building a mobile app
To get the best developers & tech experts from different parts of the world without stretching the budget
To ensure their development continues despite the working situations

 

To enter the future of work and embrace the digital working model
To get faster development of the digital product a shorter time to market
To make the most of distributed cloud migration
Today, getting remote development is not just cost-effective but also an effective way to get a feature-rich application out in a shorter time. 
Many new remote working tools for collaboration, monitoring, and managing have come forward that are simplifying remote working. Outsourcing the new product development would be on the rise in 2021 as businesses would want to materialize their ideas fast and remote development gives an edge in it. 
Latest technology to increase development spend
Another product development trend in 2021 would be increased spend on the overall development. Be it through remote product development, outsourcing, or in-house development, more companies would be increasing their spending to lace their product with state-of-the-art technology.
As per a Gartner report, the worldwide IT spending is expected to increase by 4% in 2021 and reach $3.8 trillion. In order to thrive, enterprises would be supercharging their digital efforts, leading to an increase in development spend. Be it the integration of cloud, data science, Artificial Intelligence, Blockchain, or any other technology, businesses would be aiming for digital transformation for survival even if it meant increased spend. 
Virtual and Augmented Reality to come together
One of the popular web development trends for many years has been infusing Virtual Reality and Augmented Reality in the app. But since so many digital products have already been interesting users with both these technologies. In 2021, businesses would take it to the next level by offering a completely immersive experience with their apps and other digital products. This Mixed Reality market would also be simplifying social gatherings or events in these social distancing and lockdown situations.
Research has shown that the Mixed Reality industry will balloon and reach $161.1 billion by 2025. Startups, enterprises, and businesses of all scales could be seen making the most of these two technologies in their product to offer a more immersive experience. Both Virtual Reality and Augmented Reality together would help experience the virtual world better than reality. 
Blockchain as a service to gain popularity
Software as a Service or SaaS products gained momentum and now it is time for other technologies to take charge. And being one of the most talked-about services, Blockchain would definitely be seen as a service soon. The blockchain market is expected to cross the $20 billion mark in annual revenues by 2024. No wonder, more companies are eager to infuse their products with Blockchain, and BaaS is a very effective way to get that done without any added investment in setting up a Blockchain expert team.
What Is Blockchain as a Service (BaaS)?
Blockchain as a Service or BaaS allows businesses to build or host their blockchain application or similar functions on blockchain technology without having to take care of the complete infrastructure. On behalf of the customer, the blockchain service provider sets up the technology infrastructure and also maintains the Blockchain connected nodes for them. One can easily build and manage their blockchain apps without having to worry about its maintenance. 
As blockchain technology is gaining more and more popularity, Blockchain as a service would continue gaining more popularity. This would allow them to include the transparency and safety encryption features offered by blockchain in their application; eliminating all security concerns for online transactions carried out via the application. 
Product development to become data-driven
Data is driving the majority of the operations in the techno-world. Mobile users upload over 100 terabytes of data only just the Facebook app. And if that wasn't enough, over 5 quintillion bytes of data is produced by smart devices each day. With everyone using technology every day to consume information, browse stuff, pass time, or simply surf the net. Each human leaves its digital footprint that is collected as valuable data.
Computation of large datasets would be the foundation of any product development in the coming year to ensure they are solutions that cater to their needs. Even Hadoop would be losing its significance and Apache Spark would gain prominence. Especially for large enterprises, analyzing data sets before product development would be the way to go. Data and Artificial Intelligence would go hand-in-hand and AI-driven tools would be used to receive real-time insights. 
Artificial Intelligence as a service to lead tech sector
Artificial Intelligence is the technology of today that is shaping the majority of product development. However, the technology can be expensive, and hiring AI experts for infusing the technology into the next product. 
Artificial Intelligence as a Service or AIaaS means outsourcing Artificial Intelligence services for better quality at a lower cost. In order to lead the tech sector, businesses would need to incorporate Artificial Intelligence in their products and a report even suggests that 75% or more of the enterprises would infuse their products with AI by 2021. 
Hence, the big players in the AI universe would be developing new Artificial Intelligence as a Service or AIaaS models to simplify AI usage. Already Amazon, Microsoft, Google, and IBM are offering AIaaS, soon, new names would add up to the list to simplify the usage of Artificial Intelligence in products. Here are some reasons why businesses would be joining hands with AIaaS providers:
Helps integrate Artificial Intelligence without needing complex system integrations. Not all organizations have compatible technologies and AIaaS vendors help overcome it.

 

Organizations don't need expertise in developing AI computation. AIaaS decreases the overall cost and will encourage even smaller organizations to use AI in their products.

 
Overall, there would be more AIaaS vendors offering Artificial Intelligence service and making AI integration more common in upcoming products.
Businesses to exploit The Internet Of Things
A few decades ago, self-driving cars or remote-controlled homes would've been a dream of the future but today, it is becoming a reality. With the Internet of Things, more and more products are becoming smarter, from appliances to cars to homes and even cities. 
Connecting everything together, IoT would be making everything smarter. And businesses in 2021 would look forward to making more in the futuristic connected world by creating IoT-powered products. And in 2021, it won't be limited to smart devices. Businesses would be exploiting the Internet of Things to create more connected apps. 
Moreover, in 2021. The focus would increase on fundamentals instead of the nice-to-have features or functionalities. The one sector that will see the highest adoption of IoT in products would be healthcare. The Covid situation has drastically changed the healthcare sector and in order to offer better services, IoT apps would be the rage. A CAGR of 26.2% is expected in the realm of the internet of medical things. Hence, it wouldn't be wrong to say more and more businesses across all industry verticals, especially healthcare, would be exploiting IoT to deliver smarter and connected products. 
Final thoughts
Digital products and apps would take center stage in 2021 and most businesses would come forward with a product or creative app idea to entice their audiences. Be it an enterprise launching its product or startups coming up with a new app, these trends would certainly help businesses gain an edge. 
In a nutshell, app development would majorly be driven by the latest technologies. One can see the development geared towards advanced and innovative digitalization.