Now, more than ever, mobile app developers should consider self-publishing their games & apps on the App Store & Google Play.
With all the available resources, tools, and features from technological and monetization partners, it has never been easier to release your projects on the global market. And this is something that lots of indie devs and start-ups have already noticed too.
However, this is a road that not most dare to walk on. Some developers think that it requires too much work, and other people don't even consider it a possibility because they don't know how to start.
And this is what we want to discuss today in this article.
Why should you definitely consider Self-Publishing your games?
You probably spent a lot of time working on your idea, developing it from scratch, enduring all the bugs & unexpected things. In the end, you may have developed feelings of love and hate at the same time for your app. But it's yours. You have given birth to your baby, and the last thing you want is to give all that hard work to another one… even when there's the promise of potential success.
When you decide to partner with a publisher, you usually lose control of your app. You must adapt to their timelines, make changes that you may not necessarily abide, and, among lots of data and resources, you likely must release your game's ownership & IP rights.
In contrast, there is nothing more satisfactory and fulfilling than being your own boss. Isn't it?
But then the uncertainty comes. The market is an unstoppable beast, full of fierce competitors. Self-publishing an app or a game with success is not an easy task. It costs money, takes time, and requires courage.
How can developers beat the Top Chart Goliaths?
They can't. Or, at least, not alone.
They need a set of tools and resources that usually are not at everyone's reach.
Not until now.
Getting the right Tools & Resources to Self-Publish
When you decide to self-publish your games, there is a set of resources that will make your life a lot easier. Let's start with a broad description of what tools and resources you should consider acquiring before launching your mobile games.
First, you must cover all your income needs. Google Play & Apple's App Store will handle all the IAPs, but that's only one half of the cake. The other primary source of revenue is ads, and the first tool you will need is a reliable and transparent Ad Mediation Platform.
Ads usually make up more than half of a mobile game or app revenue. For that, you must partner with high-quality Ad Networks & DSPs (Demand Side Platforms). A convenient Ad Mediator will help you optimize, test, boost, analyze, and manage all those scattered partners and get the maximum revenue from them.
You will get a lot of data from your Ad Partners. To manage it properly, you will need a second tool to connect all your disparate data and find insights to grow your mobile apps and games. Once you gather all your apps monetization, user acquisition, attribution, and other third-party data, you'll be able to identify business opportunities wholly hidden in your data.
Aligned with that, you will also need Self-Publishing friendly tools. You want to get the closest benefits that a Publisher would provide you, if not the same. Among some of them, we can list tools, resources, or services that will provide you with things like:
Ad monetization features that allow you to manually set up some of the settings you require while simultaneously, you can rely on an automated algorithm for the most tedious parts.
User acquisition resources & insights to get new users directly through Facebook, Google, or your most effective channels.
A complete dashboard that allows you to watch your UA & marketing strategy's results in full detail.
And a reliable partner to handle all your revenues, incomes & payments that gives advanced features such as advanced payments or adapts to your local currencies.
This way, you can keep your projects' ownership while getting all the advantages from TOP Publishers.
Where to get all these Self-Publishing Tools?
That must sound overly complicated and time consuming for a lone developer or a small start-up. It is not.
It was a few years ago, but nowadays you can find all these tools we just mentioned above by using a growth engine like Appodeal.
Check the Appodeal's all-in-one Growth Platform, and you will find many resources to help you stay in control of your ad strategy. You can manually optimize your ad waterfall, execute direct deals with other publishers, and take full control of your monetization.
Or you can save time and just let it optimize your ad revenue stream automatically.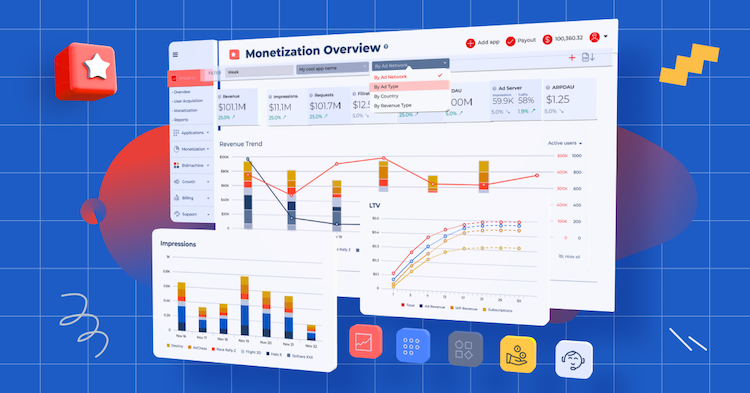 And soon, Appodeal will evolve to Appodeal 2.0 with its release of Appodeal App Intelligence: A new tool available for free that merges all your data sources to give you the same insights publishers rely on to scale successful apps.
This way, you can:
Learn how your user segments interact with your app.
Identify your top in-game or in-app features per each segment.
Increase your most valuable metrics and retention rates.
Focus your efforts on UA campaigns that bring you quality users and positive ROAS (return on ad spend).
Enhance in-game features that expand your monetization
Improve your overall income from hidden opportunities in your data.
And even more features.
And for those apps that decide to self-publish using Appodeal's tools, they are even eligible to unlock even more benefits.
When you are approved for the Appodeal Accelerator Program, you will receive dedicated funding for user acquisition campaigns and, at the same time, receive access to extra help from specialized teams. Appodeal will provide you with additional monetization guidance and create marketing assets, ad creatives, and personalized insights to get the best of your UA campaigns.
The Accelerator Program gives you an unparalleled advantage over your competitors while keeping your IP Rights. This way, you can keep the ownership of your game, your creative freedom, choose your deadlines, and take pride in self-launching your game.
Your app, your choice!
You develop. You publish. You win.