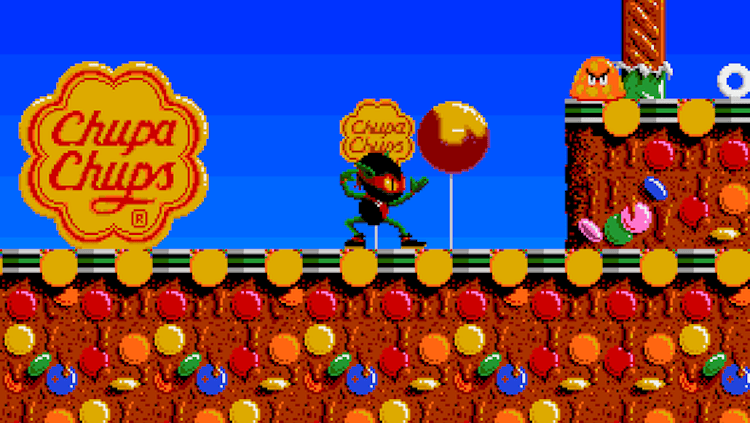 Although in-game advertising has been around for a few decades, it looks so much different today than when it first debuted. Many may not be old enough to remember, but back in 1992, lollipop maker Chupa Chups bought a product placement ad in one of the most popular games of that time, Zool: Ninja of the Nth Dimension.
A few years later, in the late nineties and early 2000s, similar to Internet advertising of that period, video games began displaying static banner ads too. Yet, while technology was advancing rapidly, the industry lacked the ability to target their audiences, effectively serving ads to 100% of the game's users, many of which may have been irrelevant. They also had no way to collect data and measure the effectiveness of campaigns. Advertisers continued to place ads in this exciting format, relying on blind faith.
Fast forward to a few years ago and, fueled by a technology boom, in-game advertising has evolved into a distinguished advertising channel which uses the tools and techniques that are 100% recognized and accepted in the advertising industry. 
Combining the lessons learned in the past from in-game product placement, and the negative emotions associated with disruptive ads such as rewarded videos and popups, it only seems natural that in-game ads have matured into something that is truly a game-changer: ads incorporated into video games in a way that feels authentic and mimics the way ads appear in the real world.  The cherry on top is that ads can now be served programmatically, making the process seamless for advertisers and the ads relevant to players.
Same Programmatic Methods, Different Audience
Today brands are heavily investing in programmatic advertising. In 2020, programmatic ad spend is projected to hit $68.87 billion, showing a growth rate of 4x over the past few years. Most programmatic budgets are supporting ads on Google and Facebook, but that is to the detriment of advertisers even though most have yet to realize it.
On the surface, Facebook and Google, also referred to in advertising circles as the duopoly, look like the holy grail for marketers. Google is the most popular search engine, with over 70% of the market share. Facebook, the largest of all the social media platforms, has a staggering 1.66 billion daily active users.
For marketers, that appears to be a massive audience, and it is, of course. But, below the surface, there is a different story happening. Established brands with bigger budgets have an easier time competing for and winning ad placements that provide a high ROI. Smaller companies face more of a challenge on both platforms. Since Google and Facebook are the go-to platforms for advertisers, nearly every brand uses them which means brands are relying on the same data points and approaching the same set of users over and over.
Now that programmatic advertising has been integrated into online, mobile, and console-based video games, a whole new channel and a fresh audience have opened up for advertisers and brands. Video games offer access to 2.6 billion people. But, beyond the sheer size of this sector, what's even more exciting for advertisers to understand is the diverse makeup of gamers.
Forget about the typical gamer stereotype because it no longer exists. Gaming has become a key part of modern popular culture. Almost half of all players are women, and 70% of all gamers are over 18 years old, with the average age being 34 years old. Gamers also have diverse interests that go far beyond gaming. Fifty-six percent have creative hobbies such as drawing or singing, 32% play a musical instrument, and 59% are civically engaged. Power gamers, those who play for ten or more hours per week, also spend 6X more on entertainment and media than their non-gaming counterparts.
Modern Gamer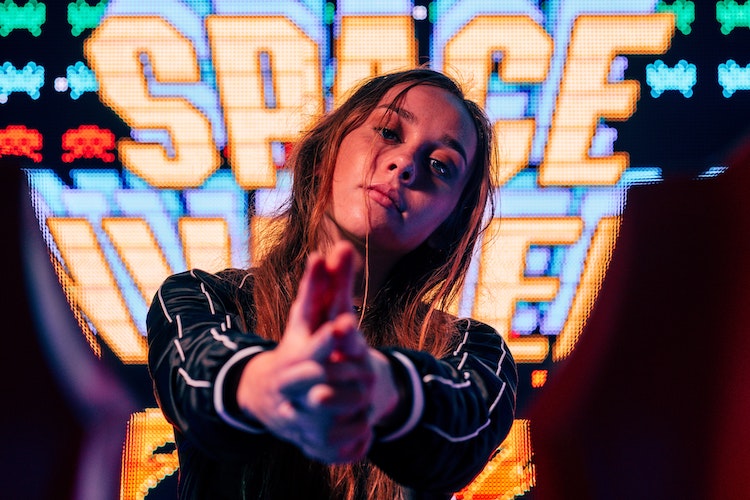 Img credit: Andre Hunter
When targeting younger consumers, no other medium can rival video games. Younger generations have come of age in a digital world, and they understand advertising in a way that older generations don't. They are more than tolerant of ads. They are open to ads as long as they meet two crucial requirements: being personal and relevant, and appearing in a non-disruptive manner.
To meet the demands of players, several pieces of the puzzle need to come together. Advertisers can reach players with highly targeted, personalized ads by relying on first-party data collected by video game developers and console providers in accordance with data privacy regulations. The programmatic technology integrated into video games bolsters this while giving advertisers the ability to measure and track ad performance.
Combining the power of programmatic advertising with in-game ad placements provides all the benefits the technology offers and ensures that brands comply with all of the new privacy requirements without having to invest extra effort to do so. At the same time, it eliminates the disruptive aspect that users detest while giving marketers what they need – effective and measurable ads. It's a rare win for both sides.
Viewability: The KPI that Matters the Most
Viewability is an Achilles' heel for most marketers, and millions of dollars are wasted on ads that purport to be viewed but can't truly be measured. Let's look at an example to clarify this.
If a programmatic ad is served during a YouTube video, how would one know if the viewer actually paid attention to the ad or switched their focus and looked away from the screen while it was playing? The answer is there is just no way to measure if the ad was actually viewed in full. The only knowable aspect is that the ad was served and how many seconds passed before the user pressed the deadly 'skip' button. On a publisher's website, an impression may be served but never actually come into the view of the user.
In contrast, in-game video ads eliminate both of these issues. First, ads are integrated seamlessly into the game, so there's no way to skip past them. Second, the interactive nature of games keeps players' attention glued to the screen as their eyes dart around, taking in every piece of information. Looking away, even for a split second, could negatively impact their game, so they just don't behave that way. This means that players are always exposed to every ad, even the one on the digital billboard that they pass as they hug the track and race towards the finish line.  
Immersive In-Game Ads

Img. Credit: Anzu.io
In a recent survey conducted by Google, 80% of marketers said they would buy more programmatic ads if there were a greater emphasis on the quality of viewable impressions. Well, advertisers take note, in-game programmatic ads can supply you with exactly what you want.
Ad viewability measurement tools work inside video games to tell advertisers granular details about how the ad appeared in the game. Marketers can know how long the ad was viewed and if it was seen head-on, from the side, or even if the ad was partially obstructed because of another element in the game. This kind of data helps brands optimize their placements and stretch their ad dollars further.
Fraud: Big Business, Budget Killer
Each time technology advances, bad actors find a way to exploit it for their financial gain. The advertising ecosystem is no different and has fallen victim to fraud scams to the tune of billions of dollars each year. When programmatic advertising was first launched, the openness of the environment,  which is what allowed smaller publishers and advertisers to get into the game, is precisely what also allowed fraudsters to flourish.
The original types of ad fraud came in two forms: non-human traffic and human traffic. Non-human traffic fraud actually began with hundreds of low-wage humans sitting in rooms, working to defraud the industry. They spent hours either clicking on ads that appear on a website in which that website earned money from each click or by inflating a publisher's visitor traffic to make it look more attractive for advertisers. Then fraudsters developed bot scripts that worked much faster than any human could.
Human traffic in ad fraud refers not to the people that commit the fraud but instead to the end-user who is a real person but is generating fake impressions or clicks through no fault of their own. The most common types of fraudulent activity in this category came from publishers' ad stacking, using invisible iFrames, spoofing domains, site bundling, or cookie stuffing. One of the most reprehensible actions came from bad actors purchasing cheap traffic and reselling it at a significant markup.
More recently and most prevalent on social media platforms, user-generated content (UGC) has become a painful source of fraud. A report from last year that analyzed over 80 billion events, 58 million users, 368 million IP addresses, and more data points found that 7% of all comments, messages, posts, and listings contained malicious content. Because UGC is so valuable for brands when it comes to consumers' decision processes, many brands tolerate it and accept the negative repercussions that accompany it.
While the industry has taken very serious steps towards creating a safer ad environment, which is working, the industry and ad platforms are still fraught with fraud. In 2015, $7.1 billion was lost to fraud. Two years later, the industry's measure can be seen as the amount was brought down to $5.8 billion. That is an improvement, but is it enough? Definitely not.  It's a number that makes advertisers understandably cautious about programmatic advertising.
Yet for video games, the fraud situation is much different. Circumventing fraudulent activity and bad actors is another area where in-game ads shine and shine brightly. Ads that appear inside video games are measured by viewability, not clicks. There is no place inside games to add UGC. Video games just don't provide an environment that is conducive to fraud, so it remains fraud-free.
When brands invest in in-game ads, they can reap the benefits that come with programmatic technology – tapping into data and knowing who the user is – while avoiding the downsides of fraud with ease.
Into the Future with In-Game Ads
Not only do video games give advertisers access to a new, diverse audience, but in-game ads also offer a subtle yet powerful way to increase brand awareness and connect with users. Brands can garner multiple impressions at the same time without disrupting gameplay. Just as no one would feel bombarded by a company's ad if they drove past several of its billboards while cruising down the highway, neither would a player coming across multiple ads for the same product during gameplay.
As more and more companies look to boost brand awareness and develop long-term customer relationships, they know that increasing brand affinity, memorability, and purchase intent is vital. The seamless incorporation of immersive in-game ads lends itself well to these objectives. Players are exposed to ads in an environment that they enjoy and one that is only enhanced by advertisements as opposed to diminished by them and brands can use the in-game campaigns to measure ad effectiveness through brand lift studies. 
Shifting a portion of ad spend to in-game ads is a solid strategy for brands that want to make the most of 360-degree advertising, uniting online and offline campaigns. Since brands can use the power of programmatic and standard advertising formats, they can provide a seamless experience that expands across Out of Home (OOH) and Mobile Out of Home (MOOH) and where so many are spending their time – in-game. With OOH advertising on hold for several months due to Covid-19, there has been a natural acceleration of programmatic ad spend and a general shift to digital channels. Given the global uptick in gaming, in-game advertising, which meets users in the comfort and safety of their homes, is acutely relevant at this time. 
In-game ads hold the promise of reaching the largest, most diverse user base of any single vertical, and a base that continues to grow with no signs of slowing down. In-game advertising's ability to eliminate the fraud issues that permeate other advertising channels coupled with its capability of delivering ads programmatically and with full measurability makes it a force to be reckoned with. 
The final piece, and what makes programmatic, immersive in-game advertising so groundbreaking, is that it precisely mirrors the general world of programmatic, a world where ads are 100% blended into the surrounding environment, such as ads on news sites that look like regular articles and ads on Facebook and Instagram that look like regular posts. Programmatic in-game ads, which can feature customized content per user, location, and other variables, appear on objects that would naturally feature ads, like player jerseys or stadium signage, creating a seamless, non-disruptive experience for players that even enhances gameplay. In the future, more industries, such as DOOH, CTV, Audio, and others, are likely to follow, introducing the power of programmatic and its ultra-custom experiences to their media landscape. 
In the next few years, as technology advances even further, so will the partnership between programmatic and in-game ads. Advertisers, in-game ads are the pot of gold at the end of the rainbow. It's time to start cashing in.