If you're looking to achieve eCommerce success, you have to grow in Southeast Asia. That, at least, is the conclusion of our report into the habits of users across the region throughout the course of 2018.
By examining the behaviors of anonymized devices located across Southeast Asia from nearly 12 billion data points on the company's DMP, we've been able to pick apart mobile shopping habits in countries such as Thailand, Indonesia, Singapore and Malaysia.
And what we've discovered in particular is that an enormous number of users across the area reach for their phones when they decide to shop. But the reason why they grab their devices differs greatly depending on who they are, the ads they see and the apps they're using.
Three types of Southeast Asian shoppers 
There is plenty of evidence to suggest that Southeast Asian users are ready and able to shop on smart devices.
According to research from Google, there are roughly 330 million smartphone users in the region and they spend an average of 3.6 hours per day on shopping apps. And with 71% of users across the region using their smartphones to shop – in comparison to the global average of 59% – it's fertile ground for eCommerce.
However, there is not a single type of shopper across the region. Instead, we believe that there are three types of shoppers that are distributed across territories on intriguing demographic lines.
First, there's the everyday shopper. This type of user shops on their devices nearly daily for a range of low cost (and low purchasing intention) items that they'll need in their everyday lives. 
The Everyday Spender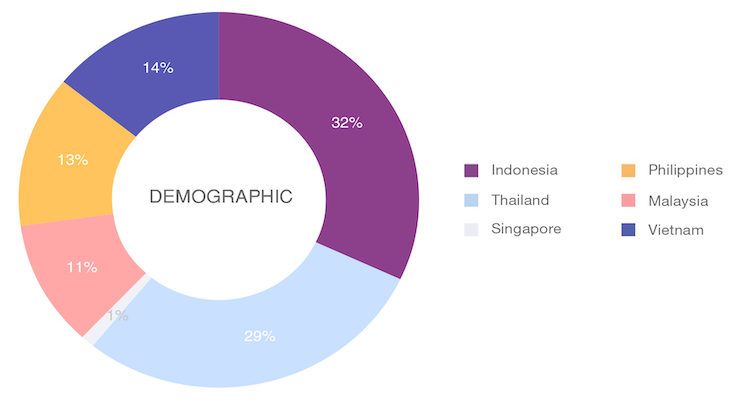 Most of these users are found in countries such as Indonesia, Thailand and Vietnam – where disposable incomes are lower. And they prefer to install apps that offer utility to their lives – such as tools and photography – over casual games, suggests that they buy for a similar reason.
 Second, there's the occasional shopper. This buyer makes fewer purchases at a slightly higher investment level (such as premium clothes or fashion) than everyday buyers. While they also prioritize tool apps, only 36% of occasional shoppers have photography-related apps installed on their devices compared to 48% of everyday shoppers.
The Occasional Shopper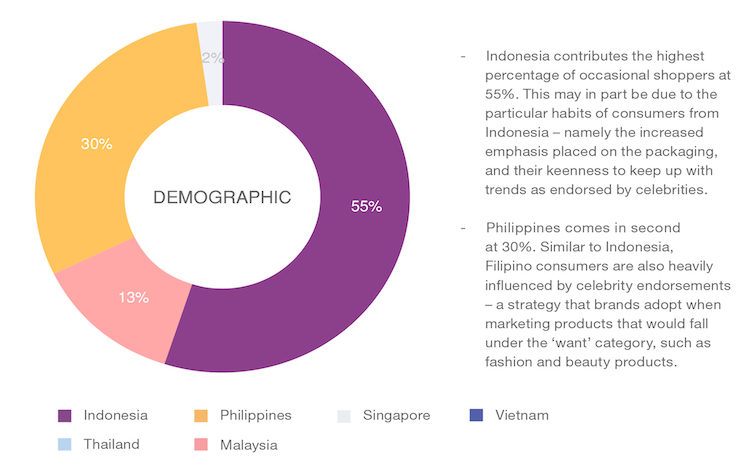 This suggests that their purchasing habits and device usage approach is driven through "wants" rather than "needs". This is further borne out by way these buyers are based, with 55% in Indonesia and 33% in the Philippines – both countries that boast burgeoning influencer cultures that drive fashion, clothing and "premium" item purchasing.
Lastly, big-ticket buyers offer a final distinct category of shopper to appeal to. These users buy more rarely, more carefully and at a higher price than other users. 
 Their most popular category of app is travel – appearing on 34% of big-ticket buyer devices – and nearly 40% of these users come from richer markets such as Singapore and Malaysia. This shows that they're capable of larger spends than the everyday or occasional shoppers, but also suggests that they will take longer to convert.
Big-Ticket Buyers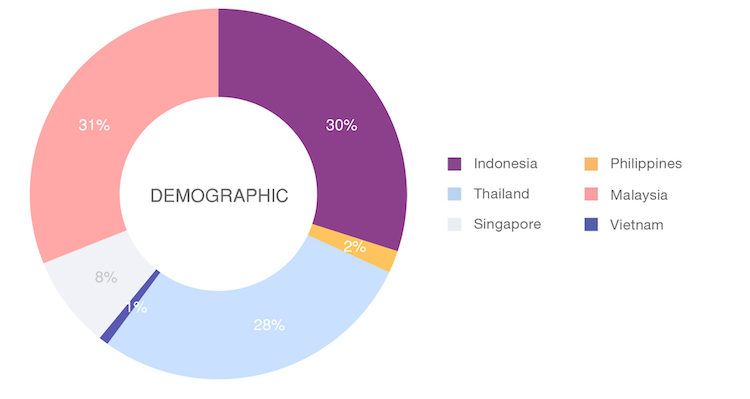 In short, Southeast Asia has an interesting range of buyer types exploring different budgets. But outside of territories like Indonesia – which are so big that almost every buyer type can be found in them – marketers will have to think carefully about which category of buyer their product or service suits to help them lock down which territories to market within. 
Driving actions through adverts
 But on top of that, marketers will also have to think carefully about how they drive purchasing actions through advertisements. In particular, they've got to think hard about how key ad formats work in the region across key metrics.
For example, impressions are mainly generated through native formats in Southeast Asia.  65% of ad impressions come through non-rewarded native feed apps, a further 22% come through app walls and 5% come through in-feed video (a relatively underused format in the region because of limitation on mobile data access).
Impressions
But while only five per cent and one per cent of impressions are delivered through rewarded video and interstitial formats respectively, their click-through rates (CTR) strongly outperforms native formats. 
ClickThrough Rate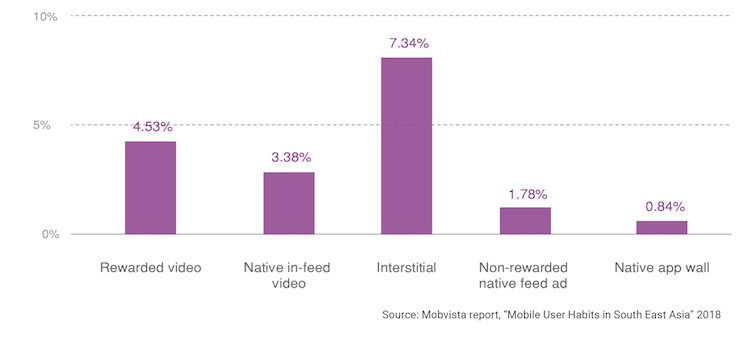 Interstitial adverts generate a CTR of 7.34%, while rewarded video hits 4.53%. But native formats including in-feed video and non-rewarded in feed ads only see CTRs of 3.38% and 1.78%.
This could create a confusing picture. After all, if native feed adverts seem to generate the most impressions but a lower CTR than more intrusive formats. Doesn't it then mean that they shouldn't be used to reach Southeast Asian users?
However, examining conversion rates – and placing it alongside our existing buyer type knowledge – helps us to overcome the problem. While interstitials and rewarded videos generate higher CTRs, they convert at a rate of 1.06% and 2.06%. In comparison, native app walls achieve a conversion rate of 9.18% and non-rewarded native feed ads hit 1.91%.
Conversion Rate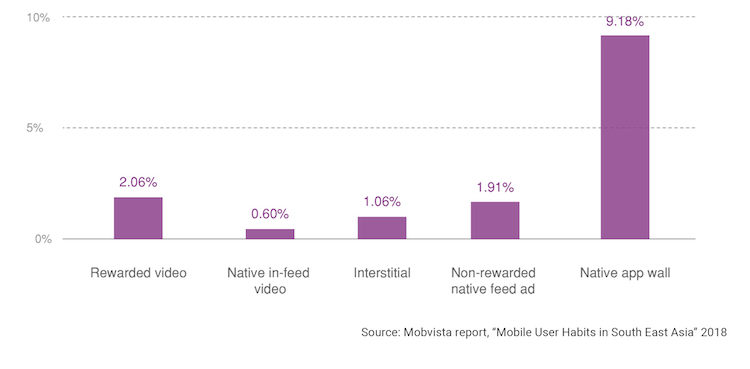 This suggests that native adverts are seen more widely, generate fewer clicks but convert comparatively well. This means they are likely to be effectively deployed on big-ticket buyers and on occasional shoppers, who weigh up purchases in social, travel and news apps.
In comparison, rewarded videos and interstitials are not as widely seen, generate lots of fuss when they are viewed but convert irregularly. This means they're likely to be a useful way of reaching everyday shoppers, who are happier to hear about short term deals or offers on the items they need. 
Conclusion – time to tailor for Southeast Asia shopping success
 The Southeast Asian market is an ideal place for companies with a focus on eCommerce – especially on mobile – to expand into. However, the size of the overall market shouldn't mean that marketers and advertisers adopt a "one size fits all" approach to reaching consumers.
Instead, companies looking to reach customers in the region should think carefully about the type of customer they're trying to reach, where they're based and the ad types they're most likely to respond to.
 This will result in different strategies. After all, a company looking to reach big-ticket spenders in Singapore and Malaysia through in-feed native adverts will pursue a different approach to one hitting everyday spenders in Indonesia and Vietnam via interstitials.
But by embracing Southeast Asia's unique characteristics – and adjusting for it – marketers and advertisers can successfully find a place for their product or service in the region's growing eCommerce landscape.