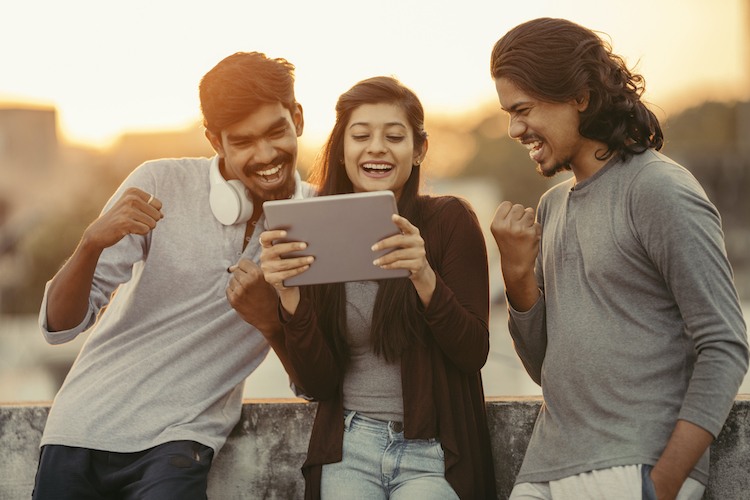 Short-form video formats have experienced a significant surge in popularity in recent months, as many consumers in lockdown increasingly reach for their mobiles, tablets and connected TV remotes as a source of entertainment.
The most popular demographic for this is Gen Z – with data from Unruly revealing that over 80% of 18-24s in the UK spent more of their time watching online videos during the COVID-19 lockdown than before.
This demand for online video has also caused a significant surge in the use of social media apps such as TikTok, which allows users to create entertaining short-form video content. Moreover, mobile usage is rising significantly – with 90% of all mobile time last year spent in-app. It's a fast-paced environment, and there's a huge appetite for mobile-friendly, bite-sized video content online.
The success of TikTok clearly demonstrates the value of short-form video, and that despite its length, snackable content is able to entertain, engage and hold the attention of viewers from across the world.
However, to be effective, short form videos need to be bespoke to the target platform, its audience and be completely seamless alongside other content. Consumers' attention spans online are dwindling, so short-form ads must stay simple, but shortening an existing ad isn't a simple fix. Here are several ways in which brands can do this best in order to gain the desired impact from consumers.
Adapting your storytelling
When looking to make the most of short-form video, normal narratives do not apply. Advertisers cannot simply adopt the same storytelling techniques that are found on longer video ads. With just a few seconds to play with, brevity is best and advertisers should focus on building a single narrative in order to be most effective.
Short-form storytelling can be executed successfully in multiple ways. This can include a simple and clear narrative that leverages existing knowledge, and cultural references so that the audience can make their own inferences about the storyline. Being up-to-date on popular culture and trends is particularly important when creating ads for social media platforms and brands who incorporate trends or challenges could score well here.
An example of this is cosmetics brand Elf, which took the popular makeover trend on TikTok and commissioned a song specifically for the platform called 'Eyes Lips Face'. The brand worked with a number of influencers to kick off the campaign, creating their own ads to showcase the brands' products – this resulted in over 5.6 billion views of the brand's #eyeslipsface hashtag.
Six second ads can also be building blocks for a longer story but told in serial formats or vignettes. It's important that advertisers ensure that they do not overcomplicate the creative and instead concentrate on one key point. This could be the product itself, how the brand makes the audience feel or focus on the same characters or brand mascot throughout the story.
Emotional impact
Brands should also focus on other techniques – such as harnessing the 'Peak End Rule' in order to drive more impact in a short-term campaign. This technique is centred on how we judge experiences, whether they're positive or negative, based on how we felt at its peak and at its end instead of the experience as a whole.
Unruly research shows that this is also effective for short-term ads, as long as it includes at least one peak moment of emotional intensity that will resonate with the viewer, in turn increasing the chances of brand favorability and brand recall.
For brands that are unclear whether their ad is going to have the desired emotional impact – they should consider having these ads analysed and tested for effectiveness first, so that they are as impactful as they can be once they do go live.
Keep your audience at the heart of it
Brands should be highly aware of what works on their platform of choice, and the audience they are trying to target from the beginning. This also includes considering what sort of content an audience is likely consuming to find where best to place the ad.
It is also crucial to consider the call to action. An ad doesn't start and end on an app, it should lead the viewer elsewhere and solidify the brand in the minds of the viewer in a way that sticks with them long after the six seconds are up.
As platforms like TikTok continue to gain traction, short-form ads will continue to rise in popularity. A solid understanding of an audience from the very beginning and a narrative that is specifically tailored to drive impact in a short amount of time are crucial factors in creating effective and engaging short-form ads that deliver results.