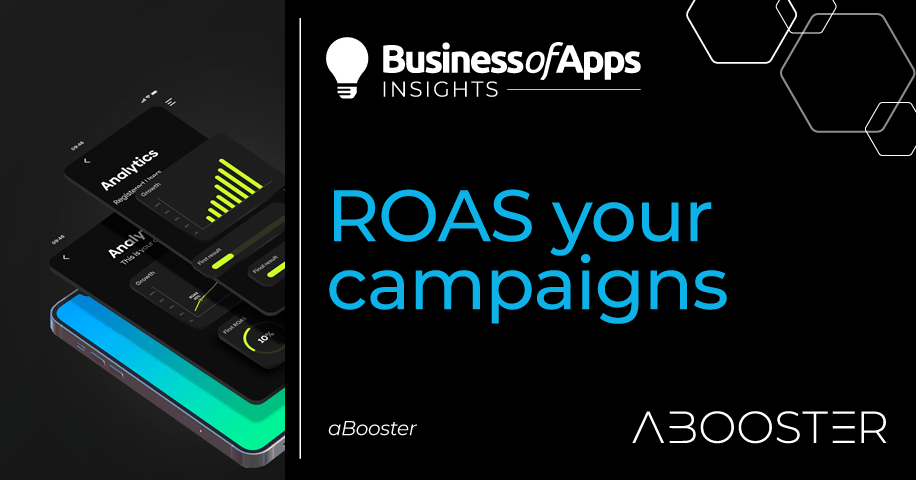 To maintain an app profitable in terms of business objectives, we need to constantly optimize our ad spending to reflect their effects on revenue. This is crucial for all apps and games with monetization. While all ad networks are evolving in terms of their optimization techniques, usage of ML models, and AI predictions, the bidding model is also crucial.
There are several key factors why advertisers are switching to ROAS-optimized campaigns. Why this is happening and what are the highlights and quirks of such a bidding model? We will provide 6 insights that might help you plan your next ROAS campaign.
Why ROAS?
We are in an inevitable situation –  global user spending is dropping by 5%. Inflation and the war in Ukraine have impacted our consumer patterns. Stopping advertising is not an option, because still, it is a source of revenue. Generating new installs through CPI bidding is not sufficient to keep the spending below the revenue threshold.
Those are the reasons why switching to ROAS is a solution for smart ad spending that also takes care of large revenue volume from user acquisition campaigns. Campaigns are more focused on the revenue part, rather than CPI or CPA. In consequence, we might get fewer installs but more users who are more likely to spend.
Understand ARPU
Revenue is not single-sourced and is expected to be only from paid campaigns. To calculate the full LTV and ARPU, we need to take into consideration all costs and revenue streams.
Non-organic LTV curve (USD, Gaming)
Source: AppsFlyer
To simplify our approach, costs will be only limited to paid campaigns. As for the revenue part, there are several ways to get your users' hands into their pockets. This includes IAP and ad monetization revenue. Then, of course, we measure the value over time which will give us:
Total revenue (eg. 30d) / number of users
As you see, understanding ARPU and LTV is crucial to optimize your ROAS campaign from a broader perspective.
ROAS capabilities are expanding
Ad networks are constantly evolving their ROAS bidding products. As we run several ROAS campaigns through different networks, we see that there are new updates that evolve options for UA managers. AppLovin recently mentioned that AI is used extensively to drive ROAS campaigns. IronSource is on the same page. In future months we can expect even more changes, as ROAS bidding is becoming a more valid choice in more difficult economic times.
Analyze your conversion path
Right, so you have decided to invest more money in ROAS campaigns. What ROAS settings should you consider? The obvious answer is, that it depends. Different apps and games have different time-to-conversion. You need to understand how quickly users are purchasing inside the app. In some situations, it might be 0d, in others 7d, because there is a trial period, and so on.
Analyzing ROAS data has to come in pairs with the information collected from your purchasing funnel. Of course, 0d purchases are the least tricky ones, because we see the ROAS value directly in our ad networks.
However, if we have a 7d trial, we need to take into consideration the last week of purchases as well as the previous period (in total, 2 weeks). This will change if you have different time-to-conversion so it is crucial to understand how and when users are buying in your app or game.
Manage your attribution window
Connected to the user funnel is the attribution window. So now you know that your users are buying products in X days. This knowledge is essential because each of the ad networks will require setting up a specific attribution window, connected to your time-to-conversion. It wouldn't be wise to set up a 60-day attribution window if your users are buying a product in a single day. A good rule of thumb is to match your attribution window with time-to-conversion.
Examples:
1d time-to-conversion = 7d attribution window (an exception because it is not recommended to set click attribution lower than 7d)
14d time-to-conversion = 14d attribution window
30d time-to-conversion = 30d attribution window
etc.
Remember to maintain an installation volume
While ROAS is a great tool to manage your revenues, it will eventually lower your install volume. We are bidding higher for a user that will be more likely to buy inside the app or game.
When you are performing ASO in parallel to paid campaigns, we advise keeping standard CPI campaigns, with low bids, turned on. This will improve your general visibility and keep the flow of users inside the app. The split of the budget between ROAS and install campaigns depends on the app's power and recognition. For new apps, we recommend having a higher split for the ROAS campaign, rather than installs (every penny counts).
As you can see, ROAS is here and it will stay here for a longer time. Its importance was driven by the economic situation and became a valuable tool for generating net revenues. ROAS optimization requires different techniques than standard campaigns. Each ad network comes with its own tools and best practices so a great start would be to contact your account manager and kick it off from there.
We know that it is a lot of contribution from app owners but believe us and the hundreds of campaigns we ran, ROAS is a great way to boost your revenues. You can also hear more about the ROAS campaign in our podcast The Mobile Pubcast.