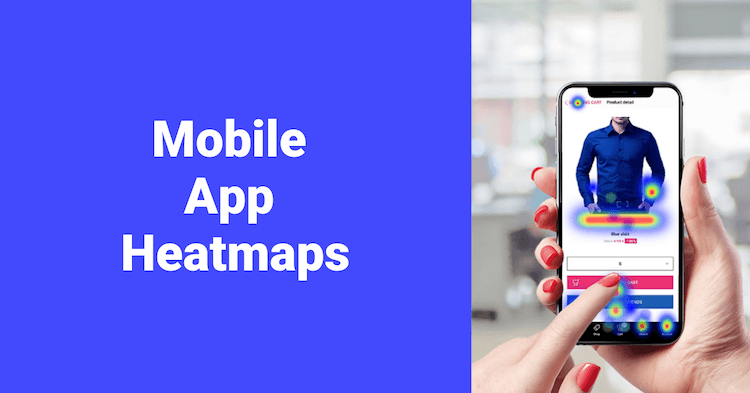 You start to get anxious.
Users are visiting your app, but they're not converting.
You have no idea why this is happening and how to explain it to management.
Do you want to pinpoint the reason behind conversion issues? Then mobile app heatmaps are a must-use tool for you.
Mobile App Heatmaps let you:
Reveal conversion issues
Create a precise optimization process
Understand if users are getting the right experience
What are Mobile App Heatmaps?
Mobile app heatmaps are a visual overlay of colors for each screen of your app.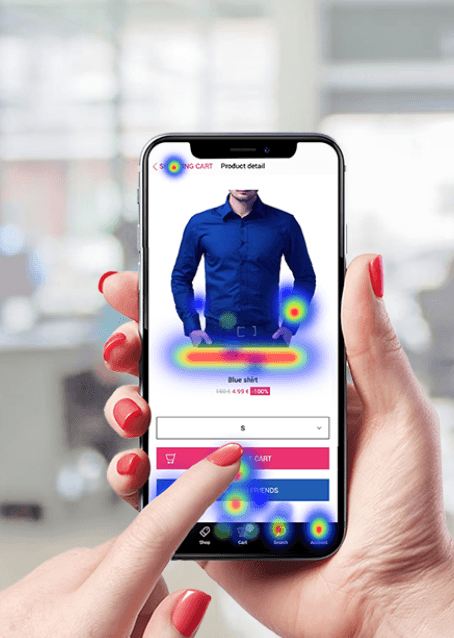 Heatmaps aggregate interaction data to generate these visuals.
The red parts of the heatmap are areas that are highly engaged. Blue parts of the heatmap indicate less interaction are less frequently interacted with.
Heatmaps were first used in the 19th century to highlight differences in geographical areas. In the digital world, they have evolved into a essential tool for user researchers and marketers across the world.
One of the first heatmaps (1873)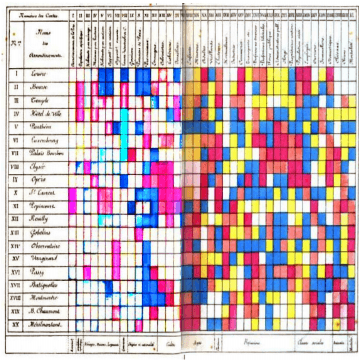 Source: ResearchGate
Mobile App Heatmap Benefits
Heatmaps work the best if you approach them with a question.
Mobile Heatmaps can answer questions such as:
Which elements of my app get the most attention?
What is stopping users from converting?
Do users behave differently on different devices?
Are users getting distracted by irrelevant elements?
In addition, heatmaps are visual by nature. This helps you to easily explain usability issues to stakeholders.

Source: UXCam blog
Best Mobile App Heatmap Tools
It seems as though there are new analytics tools popping up everyday, but the hard part is figuring out the one that's right for you.

Many heatmap vendors specializing in web apps have tried to break into mobile. However developing analytics for mobile apps has proven to be too complex.
There are a few companies that offer heatmaps mobile apps, but they tend to be unreliable.
Currently, the most advanced mobile app heatmap tools out there are UXCam and Appsee. However, Appsee was recently acquired and shut down in the process.
This leaves UXCam as the market leader for mobile app heatmaps and as the industry standard for qualitative app analytics in general.
Hundreds of brands like Nissan, OLX, and NBC trust UXCam to analyze user behavior. UXCam was recognized as a top app analytics tool by Business of Apps in this guide.
With UXCam, you can perform granular heatmap analytics. The solution allows you to generate heatmaps for every gesture from rage taps to unresponsive gestures and the first/last touches of each screen.
Customize heatmaps in detail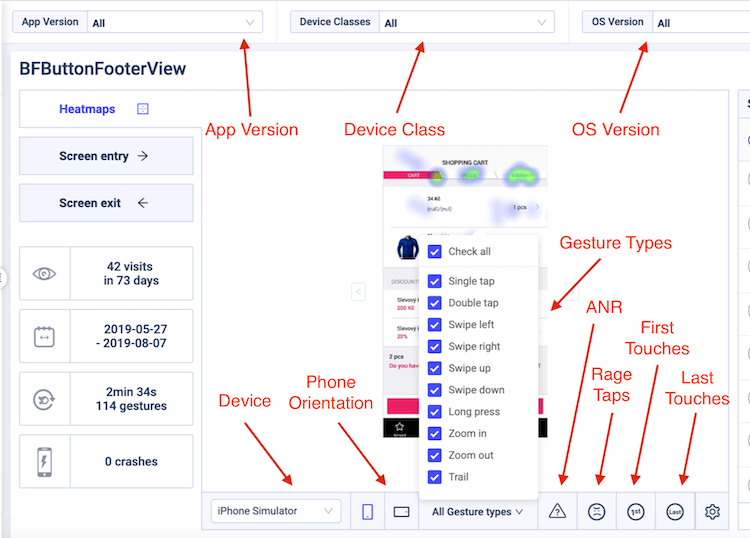 Source: UXCam
Mobile App Heatmaps for Usability Testing

Source: UXMastery
According to reports by Baynard and eMarketer, the e-commerce industry lost $1.4 trillion dollars between 2017 and 2020 because of bad UX. Ouch.
This can be attributed to unoptimized checkout processes and abandoned card orders.
And this doesn't just apply to e-commerce: Every time you want to get app users to act on something, bad UX will force users to drop off.
That's why usability testing is an important topic for every app professional.
Heatmaps reveal hidden user behavior. You wouldn't get these insights with "traditional" analytics methods.
By using Heatmaps for usability tests, you can determine how users are behaving inside your app and pinpoint issues to fix.
How to Increase App Engagement with Heatmaps
Once you have set up your heatmaps, you can use them to:
Discover issues on onboarding screens
Evaluate "landing screens", e.g. the ones that users are directed to after they receive a push notification about a deal
Analyze the check-out process of your app to find hidden bottlenecks
Now that you know of all the benefits and endless testing possibilities, don't you think it's time to give heatmaps a try?
To dive deeper into the topic, read the complete guide to mobile app heatmaps here.