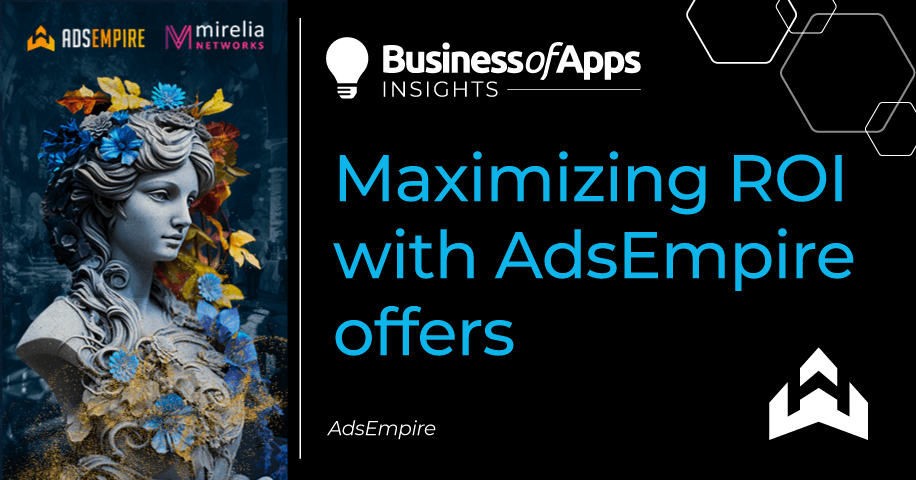 Some things in life just work whether you like it or not, there is simply no way around it. This would be an example of a case that I really liked. I have been working with both AdsEmpire and Mirelia Networks for a while now, but for some reason never really thought of combining them together in this context. But at some point, it became quite logical, and I simply thought why not?
Let's start with the obvious: There was no miracle from the beginning. Dating simply doesn't work this way no matter what you do, but when you combine a well-known affiliate network with amazing dating offers and an exceptional traffic source, there would be a match. All that was needed was some time, effort and a few tests to get the result that I did. In this case study, I have decided to share the recent success of an SOI dating offer by AdsEmpire and Mirelia Networks.
Campaign details
CPA network: AdsEmpire
Offer: SOI dating offer
Offer payout: $2.4
Traffic source: Mirelia Networks
Ad format: Banner Ads
GEO: US
Period: 22/05/2023 – 29/05/2023
Costs: $1000
Total profit: $1350
ROI: 35%
I work with several verticals, but dating has always been my bread and butter. When promoting dating offers, there are many GEOs you should consider, they have their own distinctive demands. However, if you want to actually earn some money, the US would be your first and most obvious option regardless (of course if you know a bit about dating and how to run dating campaigns).
Thus, I decided to focus specifically on the US market. This choice was driven by my understanding of the American audience and their preferences. Based on years spent working with dating offers, I have developed quite deep insights into their activities, behaviors, likes, dislikes, and the type of environment and creative content that attracts them.
As for the offer, I've decided to run flirt.com, since I know for a fact that it performs exceptionally well with Mirelia Networks traffic.
Since Mirelia offers banner ads, here I needed some creatives that complement my funnel the most and could easily resonate with the mindset of the target audience, leading them to the AdsEmpire's offer – flirt.com.
First, I decided to create some compelling creatives, however, I got recommendations from Mirelia's account manager regarding the top-performing banners (based on CTR) from their default library. I liked the suggested selection and focused on testing them. Excited by the initial results, I decided to test placements that showed the best results during my previous tests on CPM – top (300×250) and interstitial (320×480).
Moreover, the account manager also gave me the top-performing landing pages according to the targeting settings I had chosen.
For the general set-up, it was also necessary to choose device type – I decided to focus on mobile (I tend to always choose mobile over desktop, and it has always paid off so far).
As for the audience type, based on recommendations from the account manager, I decided to give it a go with a split-test feature by setting up 4 campaigns to test 2 audience types per placement.
We all know that campaign performance depends on many different variables, and there is no ultimate formula that will help you be successful every time you launch a campaign. Additionally, every DSP is different and has its unique features, sources of traffic, etc. To ensure optimal performance on Mirelia's DSP, I have focused on the following:
Pricing (CPM): I opted for a CPM model as it helps to better manage the budget, and it's great for deeper funnel control (by setting up banners).
Choosing the best time to boost the ads: On every GEO, there would be a specific time when each campaign will perform better. For the US, for example, it would usually be early morning or evening, when work hasn't started yet or when people are heading home. By carefully considering the time of day, I aimed to reach my target audience during their most active and receptive periods.
Device targeting: I targeted only mobile devices because it works better with Mirelia traffic. I included all operating systems and browsers to maximize the reach.
Optimal ad placement: I strategically placed my ads in locations that provided the best viewing angles, ensuring maximum visibility and engagement. I decided to test two different placements – top (300×250) and interstitial (320×480).
Types of audience: On the CPM model there are three available types of audience – paid, not-paid, and all. Since I had decided to use different approaches and gather more data to make conclusions, I chose to test both paid and non-paid audiences.
This approach combined my understanding of the US audience, precise targeting, and strategic campaign setup, and was aimed at maximizing the performance and profitability of AdsEmpire offers on Mirelia Networks MA traffic in the US.
Optimization process
Initial results were slightly bad, to be honest, far less than what I desired. However, rather than making immediate adjustments, a decision was made to gather sufficient data for accurate optimization. This approach allowed for informed decision-making and improved campaign performance.
The optimization process involved the following steps:
Pausing underperforming banners: Underperforming banners were paused on the second day of testing to eliminate non-performing elements and focus resources on more successful ad variations. This step aimed to improve overall campaign performance by allocating budget and resources more effectively.
Time zone optimization: To further enhance targeting precision, the time zone was adjusted to -5 UTC (New York) to align with the campaign's target audience. Additionally, specific active night hours from 20:00 to 06:00 were selected for increased visibility during periods of higher user engagement. This approach helped optimize ad delivery and maximize the potential for conversions.
Bidding priority and budget adjustment: Here I started with a pretty high bidding priority to accumulate more impressions and fresher traffic in order to gather more data for further optimizations. After the first few days, I noticed that a paid audience is quite an expensive one for my type of offer, so on the fourth day of the campaign, I lowered the bidding priority rocket to optimize budget spend. Furthermore, I reduced the daily budget to $50. Additionally, I paused some of the underperforming banners along the way, leaving only the most successful ones active.
Results
The optimization efforts yielded significant positive results for the campaign. The key outcomes are as follows:
Costs: $1000
Total profit: $1350
ROI: 35%
The campaign achieved a commendable % return on investment (ROI) of 35%, indicating the successful utilization of AdsEmpire offers on Mirelia Networks MA traffic. The campaign generated a profitable outcome, albeit not at first, by closely monitoring campaign performance, making data-driven adjustments, and implementing targeted optimization strategies.
Conclusion
You never know what combination would work in affiliate marketing, especially when it comes to dating. Testing and optimization are the only two key points that will help you to succeed in dating. Choosing a great offer from a reputable network and a good traffic source and sticking to your choices will take you a long way.
Let's be honest here, we are in this to earn money and have fun whilst doing it. Working with AdsEmpire and Mirelia Networks is exactly like that. By communicating with managers on both sides, it is quite easy to find what works.