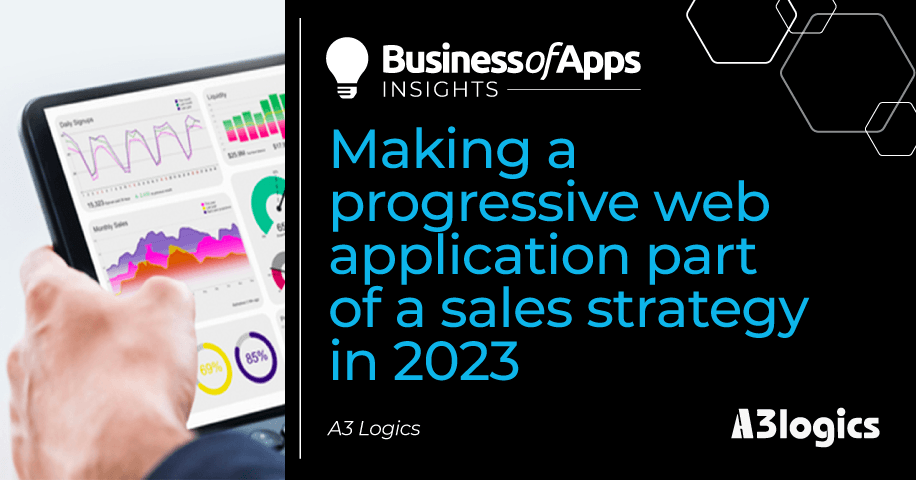 High-converting and app-like yet powerful, flexible, and user-friendly. These are just five things that make Progressive Web Applications (PWAs) an exceptional sales tactic that can be optimised to convert users into customers. Moreover, PWAs elevate the web experience of users so dramatically that they have been called the future of e-commerce.
In this blog, we'll explain exactly what makes PWAs so valuable to businesses and how to embrace this technology in 2023. Read on for why these platforms can win over customers and the impact of a market that's projected to reach a value of $10.44 billion by 2027 according to Emergen Research.
What sets the PWA experience apart for users
A PWA is a website integration that takes a brand's digital presence from one that works to one that wows. Let's start with the characteristics that make PWAs so compelling for users. Most people access a brand's native digital offerings in two ways: via the app and via their website. Both these options have shortfalls and this is where a PWA shines — all while blending the web-based navigation of a site with the slick user-friendly interface of a mobile app
For businesses, a PWA has the following winning characteristics:
Works seamlessly across different web browsers and devices
Doesn't need to be installed
Customisability across a wide audience
No updates, users just refresh the page
Minimal storage space used
Easy coding, deployment, and maintenance
For users, a PWA has the following drawcard:
Speed
Reliable connectivity that works offline
User-friendly interface (UI) for an engaging User Experience (UX)
Frictionless web experience that is smooth end-to-end
No third-party apps needed
Secure user information thanks to SSL certificates
The functionality of a PWA keeps people on-page thus increasing the scope for converting users into customers. From Uber and Twitter to BMW and Pinterest, inspiring and robust PWAs have well and truly made their mark with users. The numbers show it as well with Google reporting that installations of PWAs have grown 270% in the last two years.
Why site visitors are more like to buy from a PWA
The main appeal for businesses beyond the advanced features listed above is that PWAs have been shown to have higher conversion rates than both traditional websites and mobile apps. Data from Google Developers ties this conversion rate of 52% to how user-friendly PWAs are. Pages load swiftly, page quality is high, and no functionality is compromised.
Overall, users are seemingly more engaged in a brand's PWA and this creates a much more effective conversion funnel. The Google web.dv initiative has also reported that AliExpress, one of the world's largest e-commerce companies, increased their conversion rate for new by 104% with the introduction of a PWA.
Some experts believe the future of e-commerce is PWAs due to how the net for catching customers is widened. Frank Calviño writes for Cross-Border Magazine that, "This is especially important for e-commerce businesses, as it allows them to reach customers on various platforms and devices."
A PWA has the added bonus of retaining customers: an ongoing challenge thwarting businesses trying to sell through apps. Once forgotten or rejected (read: uninstalled) by a user, it's near impossible to regain sales ground. PWAs make life easier for users from the first click and it's this kind of UX that creates long-term customer relationships.
Five ways to build a PWA into a sales strategy in 2023
From here, we're going to explain how a PWA can revolutionise a sales strategy in 2023. PWAs are a slam dunk from every angle: UX, deployment, affordability, power, and security. It's a long list of benefits. Making a PWA central to a sales strategy demands planning though it's neither impossible nor should it be intimidating.
Neil Patel highlights the resource management benefits of a PWA strategy — something crucial for sales — saying, "They were designed with the philosophy of "code once, use everywhere." " This outlook signifies a boom time in conversion for businesses who are looking to make a PWA part of their sales strategy.
In this final section of the article, we go through five ways to make a PWA a pivotal part of the sales funnel to win customers over and convert them:
Introduce as a lean, cost-effective offering
Consider converting existing apps into a PWA
Integrate with existing app offering and web-shop
Promote offline user experience
Incorporate into an SEO strategy
Introduce as a lean, cost-effective offering
Any sales strategy starts with a budget. The return on investment (ROI) of PWAs is priceless: quick development, cross-platform functionalities, HTTPS support, seamless integration, and low-level maintenance. The best-in-class standard of the PWA should be central in a digital sales strategy in 2023 and not just part of it.
Cost-effectiveness also ties into the ability to swiftly go to market. Moving away from native apps and the limitations of hybrid app development to focus on a cross-platform PWA that works irrespective of the device and web platform is simple. Not having to develop a mobile site is economical, too, and the back-end functionalities are just as powerful. This is the kind of strategy that sets businesses up for sales success.
Consider converting existing web apps into a PWA
Double down on existing business assets while revitalising the user experience with the brand. Taking progressive steps to enhance an existing web application makes the UX that much more convenient and there's no stress around updates. Making new features accessible to users both online and offline that can be synced in the background are all desirable aspects of the sales conversion process.
In fairness, this is not an entirely straightforward process and will require the input of developers though the potential sales returns are significant. As user retention on apps trends downwards — Statista findings show U.S. Android users uninstalled apps at a rate of 36.4% in 2022 — this is a way to win back customers. Using the conversion engineering options available can work to retain existing customers and convert new ones at the same time.
Integrate with existing app offerings and web-shops
Improve sales results by introducing PWAs to integrate with existing mobile app and web shop business arms. This means levelling up e-commerce or industry-specific offerings in tandem with PWAs. One LinkedIn report measured PWA load speed as 300% faster than standard web pages so even if existing web (and mobile app) e-commerce is maintained, there are multiple ways to pique customer interest.
Communicating to customers how these different sales options work can also help build their brand trust. Without being too technical it's still possible to convey the value of the different purchasing platforms. This reinforces the message that the business cares about its shopping experience. Cultivating a conversation with customers that's entirely about how they shop delivers additional qualitative data about what they want and what is or isn't working for them.
Promote offline user experience
The fact that a PWA works without a stable internet connection or while offline is unequalled when we talk about value. Of all of the features, this is a standout that makes a user's life easier and lets them complete tasks no matter where they are. Whether online or offline, the speed of the interface and flexibility of access positively expedites the customer's UX.
For the marketing team, this is an invaluable tagline that helps a brand inject a unique sales proposition into their existing customer pitch. The combination of rareness (a digital platform that's designed to work offline) with a clear process (that their purchase will be effortlessly completed once they're online) is irresistible. This exact modus operandi was taken by Starbucks with their PWA: customers can peruse the PWA for the menu and to make selections, then once the internet connection resumes they can 'go to cart' and buy.
Incorporate into SEO digital marketing
The final way to boost sales with a PWA is to lean into the SEO functionalities. These platforms are a boon for the digital marketing arm of sales as a PWA can be crawled and indexed by search engines. The diversified business returns for a multi-channel strategy is highly beneficial for all sales phases when it includes the long-term, organic benefits of SEO, an essential part of marketing in the 21st century.
Google was actually behind the first PWA and their algorithm rewards fast-loading web pages — like PWAs — in search result rankings. Through this functionality, a brand's PWA will be indexed by Google and that builds trust in a site to strengthen SEO. This bolsters an existing strategy for greater business visibility while improving the UX — an obvious win-win for all parties.
Conclusion
The sales objective at this time is to both convert site visitors and retain them. Investing in a PWA should be part of any commercial sales strategy in 2023 and beyond. The numbers don't lie nor should this be treated as a set-and-forget tactic; a PWA may be convenient but it requires sophisticated conceptualisation and deft deployment for a comprehensively stellar customer UX that is meaningfully sustained over time.