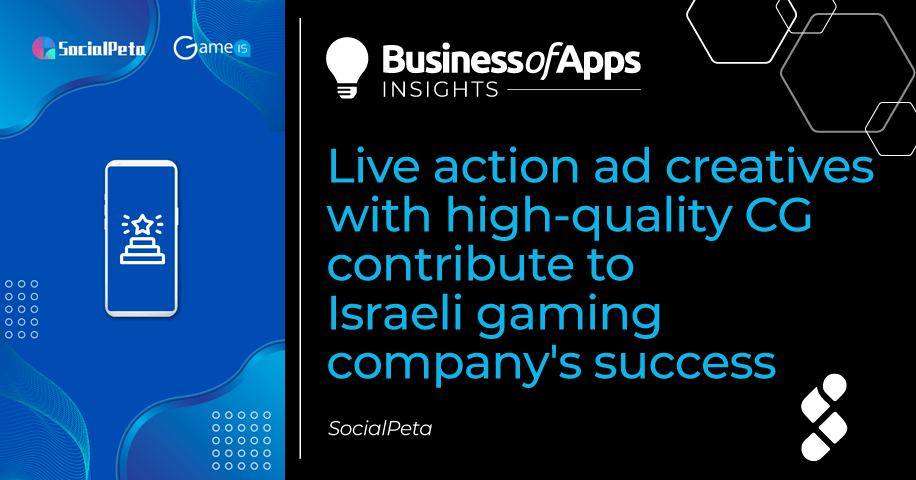 According to SocialPeta H1 2022 Mobile Game Whitepaper, the Middle East was the region with the highest average advertising creatives in 2022, which was 387 creatives per month. In the Middle East gaming industry, Israeli game companies are keen to combine social and gaming, and several companies are successful in distributing games. To take deep dive into the Israeli mobile game industry, SocialPeta publicly launched 2022 The Israeli Mobile Game Market Report in partnership with GameIS, Israel's Game Developers Association.
Israeli gaming companies specialize in casual games, which have seen grown rapidly since the pandemic and it doesn't seem to experience any recession
China is the country that contributed with the most Israeli App installs, accounting for 15% of the total, which is 1% more than the locally installed share. Russian players also account for 12% of the installs, making it the second largest foreign installer of Israeli games. It's worth noting that Israeli games are also very popular in Vietnam, where they account for 8% of installs, just 1% less than in the US.
This post was first published on mobidictum.biz.
The most produced genre in Israel in 2021 was casual/hyper-casual games, followed by role-playing and simulation games. About 74% of people work on social/casual game development, followed by about 15% for core games.
Israel is home to the best casual games in the world
Israeli gaming companies are a relatively new entrant to the global gaming scene, but they have made significant achievements in a short period of time. Israel's homegrown game companies have risen from obscurity in the early 2000s to a global presence in the industry.
Coin Master, developed by Moon Active, is a milestone for the casual gaming sector, with a lifespan of more than 11 years and generating $1.3 billion in global player spending in 2021. On the hyper-casual and social gaming circuit, Israel is also home to global players like Crazy Labs and Playtika.
Coin Master
Source: SocialPeta
RAID: Shadow Legends has been grossed around $1 billion, thanks to its amazing creatives combining with a real person and CG technology
"Israeli manufacturers seem to be only good at casual and gaming games," but that argument has been proved wrong by the emergence of Plarium Global, an Israeli gaming company founded in 2009 that is one of the most successful studios in the video game industry, with 380 million gamers worldwide and more than 20 games released. They range from role-playing games in the Vikings: War of Clans and Stormfall series to casual games such as Lost Island: Blast Adventure.
The most famous product of the company is RAID: Shadow Legends. Released in 2019, the game quickly occupied the RPG market in Europe and the United States. The game has been downloaded more than 60 million times and grossed around $1 billion, thanks to its effective advertising strategy. This year, its average daily quantity of ad creatives is 1.1K, and the quantity on Android is 1.6 times that on iOS. However, it saw an obvious decline trend in advertising on Andriod, in the middle of May, the average daily quantity on iOS devices surpassed the Andriod devices. The products are mainly promoted in North America and European countries, and the quantity of creatives in the United States accounts for 7.85% of the highest proportion.
In terms of creatives, RAID is far above the high standards of the industry. While most of the materials of RPG games are still in UE form, the character of RAID's creative even has vivid expression changes. In addition, Plarium's video production department specializes in integrating games with players' lives. The high-quality CG brings high expectations to the game, and the "down-to-earth" story also makes players feel more engaged.
RAID: Shadow Legends
Source: SocialPeta
Conclusion
The full report released by SocialPeta and GameIS covers a detailed analysis of both the Israeli mobile game market and mobile game companies. It also provides insight into advertising creative trends for different game genres globally.