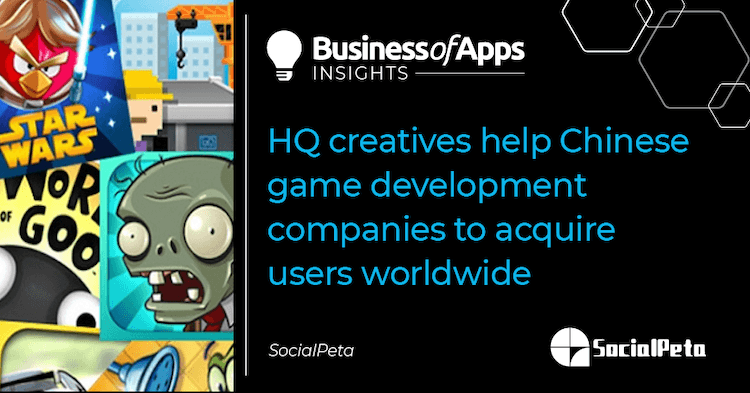 According to the "2021 Global Gaming Market Report" released by Newzoo in July 2021: For the year 2021, mobile games are expected to generate a revenue of 90.7 billion U.S. dollars, representing an increase of 4.4% year-on-year. And mobile gaming revenue will account for more than 50% of the total global gaming revenue.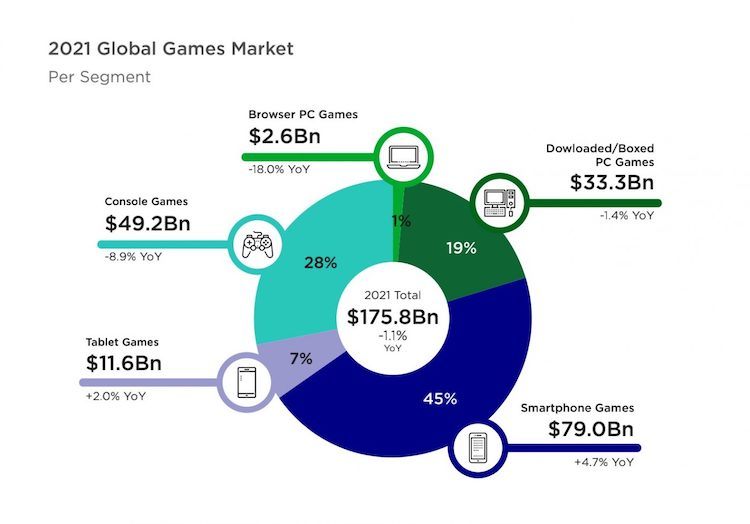 Source: Newzoo
Covid-19, as a global pandemic, has greatly affected the development and distribution of games, especially console and PC games. Compared with mobile game development, that of console and PC games relies more heavily on large teams, higher budgets, and more cross-border cooperation. In addition, the global shortage of chips has made the matter worse by curbing the supply of consumer electronics products including next-generation console games and high-end PC gaming hardware.
For the above reasons, the revenue of the console game market was 49.2 billion U.S. dollars, representing a y-o-y decrease of 8.9%; and that of the PC game market revenue was US$35.9 billion, a y-o-y decrease of 2.8%. On the contrary, in the field of mobile gaming, a year-on-year growth of 4.7% and 2.0% can be seen in smartphone games and tablet games, respectively, and they are the only two gaming product categories that have seen any growth.
Due to high income and development efficiency, mobile games are being sought after by more and more gaming companies, and Chinese companies have had the most outstanding performance in this field. According to the "2020 China Game Industry Report" issued by the CGIGC: In 2020, the actual overseas sales revenue of Chinese companies' self-developed games reached 15.450 billion U.S. dollars, representing a y-o-y increase of 33.25%, and their actual sales revenue in the domestic market reached approximately 37 billion U.S. dollars, a y-o-y increase of 26.74%.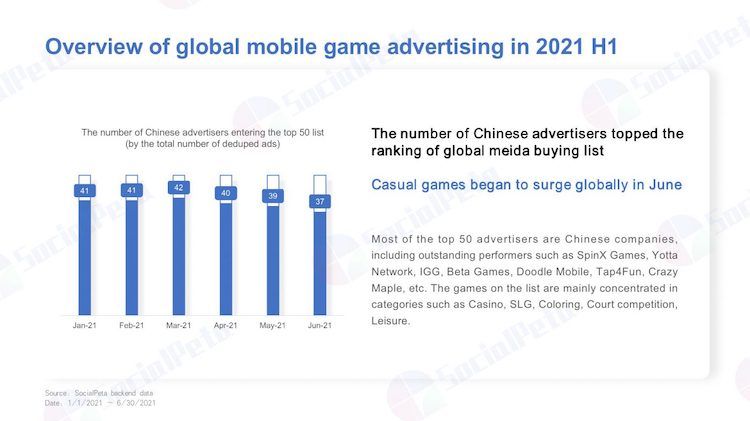 According to statistics, in 2020, the cumulative revenue of Chinese companies' self-developed games reached as high as 52.4 billion U.S. dollars, of which 30% (15.450 billion) was the cumulative overseas sales revenue of Chinese mobile games.
Other than the quality of the games themselves, another reason why Chinese companies stand out in global mobile marketing is their extremely efficient advertising strategy. According to the "2021H1 Global Advertising-Insights" released by SocialPeta, about 80% of TOP 50 advertisers are Chinese companies, and their advertisements are mainly for product types such as SLG, card games, and MMORPG.
Based on data from SocialPeta, the world's leading advertising and marketing platform, the text below investigates how popular Chinese mobile products can achieve further success through advertisement injecting.
Chinese companies are focused on mobile game advertising in overseas markets and occupy the TOP 10 spots in the ranking of mobile game advertisers
According to SocialPeta's intelligence of global mobile game media buying in the first half of 2021, all TOP 10 advertisers are from China. In this TOP 10 list, 4 games are from SpinX Games Limited, and three of them are in the top three.
SpinX Games Limited was established in Beijing in 2014. By virtue of refined product development and efficient traffic purchase policy, the company has continuously maintained a compound annual growth rate of 40%.
For six consecutive months since March 2020, SpinX Games Limited has maintained a monthly revenue of US$20 million. In the United States – the world's largest market for casino games – SpinX Games Limited's "Cash Frenzy " and "Lotsa Slots" are ranked 6th and 17th on the casino game bestseller list respectively.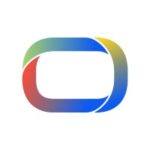 Maintain high popularity despite "slow update"
Speaking of the most important mobile games in 2020, MjHoYo's "Genshin Impact" is a product that can't be overlooked, as it has not only raised players' overall expectations for mobile games but also expanded the global influence of ACG culture.
As a high-quality game that focuses on story and open-world exploration, the later update of "Genshin Impact" is bound to be slower than that of other mobile games. As more and more players complete the whole story of the game, if there is no more new content, the loss of core users would be inevitable.  
In order to continuously attract new players around the world, and to deliver the latest content updates to existing players, traffic purchase has become the best choice for "Genshin Impact".  According to the 360-day advertising trend of the game on the SocialPeta platform, the amount of creatives delivered has increased significantly from the beginning of January 2021, and reached a peak in mid-April (more than 1,200 ads per day).

Source: SocialPeta- advertiser analysis,  360-day advertising trend of  "Genshin Impact" on iOS platform
In terms of country distribution, the placement of ads is mainly concentrated in European and American countries including the United States, Canada, Australia, etc., followed by Asia-Pacific countries such as South Korea, Singapore, and Malaysia.
Source: SocialPeta- advertiser analysis,  360-day advertising trend of  "Genshin Impact" on iOS platform
Take the US market as an example. In February, "Genshin Impact" was updated to 1.3.0, and its advertising delivery also began to increase, elevating the game's position in the free game ranking list from 60+ to 13.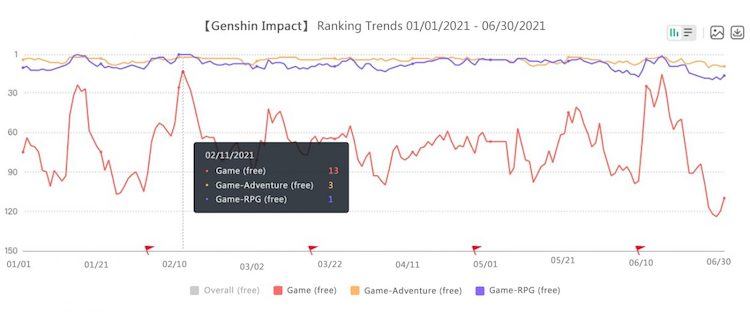 Source: Qimai – the trend of "Genshin Impact" on U.S. App Store ranking
 In addition to "Genshin Impact", other big titles such as "PUBG Mobile", "Call of Duty Mobile" and "League of Legends: Wild Rift" also placed significantly more ads in the first half of this year.
Advertising creatives can make the most profitable games remain profitable for the longest
For Chinese games in overseas markets, SLG has always been the category with the highest revenue. According to the list of TOP 30 Chinese games with the highest overseas revenues released by Sensor Tower, about half of the games use SLG as the core gameplay mechanic.
SLG's own gameplay style determines that it contains a lot of PVP content, so it needs to constantly attract new players, and this need makes traffic purchase another required capability of SLG products. At the same time, SLG often has a long life cycle. An SLG game can operate for more than 3 years, and some high-quality products can maintain operation for more than 5 years.
Take "Lords Mobile: Kingdom Wars" as an example. Published by IGG, a Chinese company, it was officially launched in March 2016. Simultaneously with its launch, advertisement injecting for the product started in multiple channels around the world. By now, according to the data captured by SocialPeta, the total duration of an advertisement on Android for the product has reached nearly 2000 days, and the number of creative ideas generated for these advertisements has also exceeded 100,000.

Source: SocialPeta-advertiser analysis of "Lords Mobile" on Android platform
By virtue of long-term, efficient and stable advertising, the game has maintained outstanding revenue performance. In 2021, the global cumulative revenue of the game has exceeded 2 billion U.S. dollars, and such an excellent result is inseparable from a high-quality and efficient traffic purchase strategy. By looking at the advertising creatives newly created for the game in 2021, we can see that tower defense-related creatives are most welcome overall: Many new players are attracted by the scenes with massive incoming enemies and selection of battle strategies.
In an earlier media interview, IGG Vice President Edwin also stated that: "To occupy a leading position in the highly competitive global market, in addition to ensuring product quality, we must also do a good job in developing distribution strategies for sub-categories, including but not limited to localized customization, demographic customization for users, and refined content development based on product themes."
Conclusion
As the Covid-19 pandemic has subversively changed people's work and leisure modes, mobile games, which are already very popular, have gained more growth opportunities. Furthermore, due to the popularization and continuous upgrading of mobile devices, and formal application of 5G technology, mobile games are now poised to break through technical limitations, and become a true peer of console and PC games.
As the globalization of the gaming industry continues to accelerate, more and more games need to go further than just satisfying domestic players. We hope that more game companies can make their products popular around the world by making good use of media buying.
If you are interested in ad creatives for mobile games, feel free to visit our website SocialPeta.