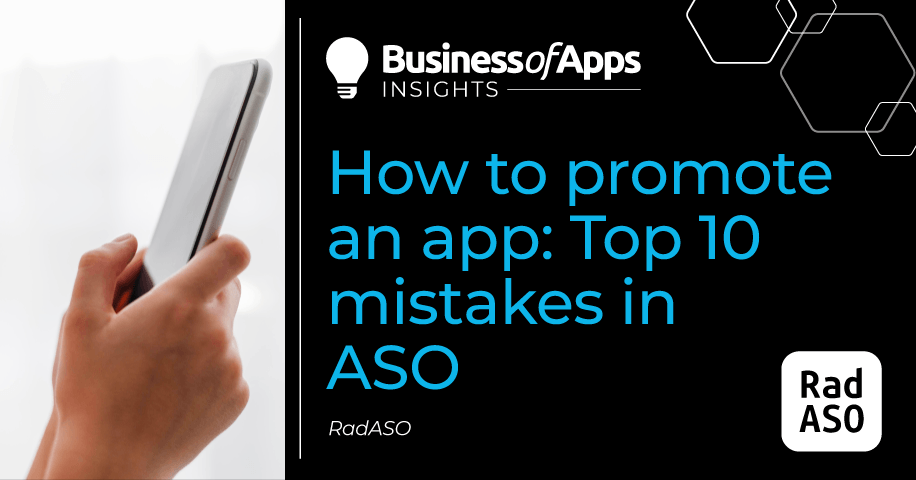 With over 3,000 new apps published every single day on the App Store and Google Play, a successful release becomes quite a challenge. At RadASO, we have compiled a list of the most common mistakes people make in their App Store Optimization (ASO) strategies. Forewarned is forearmed, so let's take a good look to know what to watch out for.
Not collecting enough data
Start a new ASO with a thorough analysis of the client app's niche market demand and potential competition. Do not miss out on the data on your average user specifics, main competitors' tactics, search phrases, advantages and disadvantages, and targeted regions. This may lead to critical mistakes in priority setting and result estimation, and even imperil the success of the whole process.
The most critical data for an ASO strategy is:
Geography – Identify the countries with the most potential organic traffic to focus on specific localizations and achieve notable results in a very short time while saving a tremendous amount of time and resources.
Demography – Get familiar with your target users' average gender, age, and expectations from the app.
Competition – Know your rivals' strategies, tactics, favorite keywords, primary targeting regions, strengths and weaknesses.
At RadASO, we've automated data generation with our purpose-built tool. In contrast to other tools in the market, RadASO Tech Boosted Solution automatically analyzes all customer data and saves nearly 90% of the ASO experts' time.
Sticking to SEO tools
It's critical to recognize and fully utilize ASO-specific tools that allow you to gather data on the app's rank, SAP, etc. Also, the ASO team can't disregard the app's visual components and the importance of the app store's special sections, like editor's choice, app of the day, etc. Read more about the mistakes people often make while using ASO tools.
Expecting an immediate result
Normally, the ASO process takes many months of continuous effort. However, a professional team with vast experience in mobile app promotion can help their clients achieve notable improvements after the first update, thanks to the combined approach. The latest ASO trends show that using it as a standalone solution is less efficient than combining Brand Awareness + User Acquisition + ASO + Retention.
Stopping after the first success
To stay on top, you need to constantly monitor the market's changes, watching out for new competitors, hot trends in your niche, upcoming seasonal events, user behavior fluctuations, etc.
Not using push notifications
At RadASO, we have noted that only half of the users install apps with a rating of less than 4*. A raise in rating from 2 to 3 stars can result in a conversion increase of up to 250+%, and from 3 to 4 stars — for another 85%. User reviews also have a huge impact since Google algorithms are now deleting biased positive opinions. The best way to address this is to use push notifications to prompt your existing clients to rate your app and leave positive feedback.
Missing out on keywords' potential
The most critical slips one can make around keyword usage are:
Not using search and ASA suggestions while collecting the semantic core
Using less popular keywords in the Title field
Leaving the Subtitle field blank instead of an extra 30 characters for keywords
Wasting the Keywords field on spaces and phrases
Not utilizing the indexable fields' space to the fullest
Same keyword in different unequal (Title vs Subtitle/keywords) fields
Mentioning other brands' names in subtitle or description
Adding irrelevant search terms
Using stop words
Each one of these may result in notable drawbacks to your ASO success.
Low-effort localization
Some agencies use machine translations for meta and keywords and only work with the most typical countries for localization, ignoring ones that generate the major part of the app's traffic. This approach will never bring good results. Some countries may even need several locales for all the languages they use. Also, it is a good idea to facilitate user acquisition as an auxiliary instrument.
Disregarding graphic's importance
The icon must be relevant, minimalistic, and not feature a brand name unless it is a globally recognized star brand. The screenshots need to convey key selling points and remain uniform, informative, and comprehensible, not just stick to being aesthetically pleasing.
Not using additional traffic sources
The additional resources a marketing agency can reach out to are not only Search Ads, Google Ads, Facebook Ads, etc., but also SMM, guest posting, mailouts, expert reviews, articles, and targeted newsletter mailouts.
No continuous ASO analysis
Track the results of every data improvement iteration and quickly adjust both the short-arm plans and overall ASO strategy. Also, always stay on track with all the changes in the app stores' policies, rules, and search algorithms. Only the first ones to adapt to changes can always stay on top of their competitors.
Conclusion
Poor understanding of users' needs and expectations results in creating apps that no one will install or use. Only with a comprehensive marketing strategy does the app get visibility and new customers. To ensure the best visibility, highest conversion rates, and vigorous revenue growth, we at RadASO strongly recommend delegating your mobile marketing campaign to trusted professionals with proven experience in your specific field.