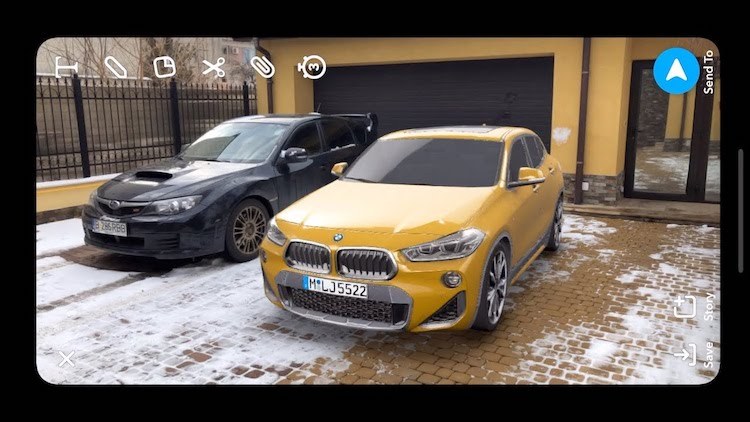 Snapchat has been big on Lenses for a while now. It is an integral part of the platform and one that makes it stand out from the rest. After all, almost everyone has seen these dog ears at least once.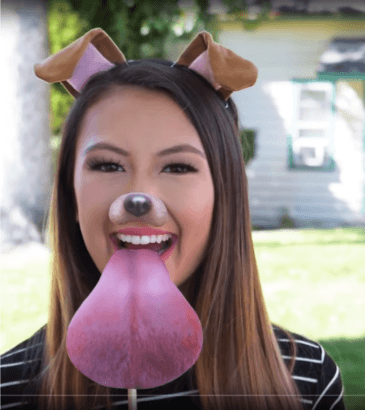 Snapchat Lenses provide a great way to entertain and engage their users and of course, any self-respecting marketer knows that anything that is engaging can be used to advertise a product or service.
Before we all live in a Virtual Reality world, the next step of innovation will be Augmented Reality and it will in fact become imperative for marketers and app companies that are looking to grow, to use this technology to reach their users.
Snapchat opened their lens feature to brands in early 2018. It worked with Netflix to create this super awesome lens that promotes The Stranger Things.
This is probably the single best promotional piece that Netflix has ever done. It's unique, non-intrusive and given the nature of it, the users naturally want to engage and find out more. When was the last time that you were excited to play with an advert? This lens demonstrates that AR technology will shape how we do marketing in the future. Sadly however, this feature is severely restricted. There are millions of highly engaged users that you could not reach through a Snap Lens for several reasons.
The first reason is that as impressive as the Lens is to view, it is just as complex and difficult to build it up. To build a full 3D model of a room, it requires a team of highly trained graphic designers and that's not something that most businesses have at hand.
The second one reason is price. These lenses can go up to $1 million according to Digiday and only the biggest brands in the world have those types of marketing budgets.
In fact this is what Campaign Live had to say about the price of Lenses on Snapchat.
"It used to be that a brand could not go viral on Snapchat unless they paid hefty fees for a Snapchat world lens. Most also think that Snapchat, due to its walled gardens, made it impossible to go viral organically, versus something like Twitter where you can trend.

However Snapchat marketing agency Fanbytes believes it's entirely possible to go viral organically on Snapchat. The key, they said, is to not promote your brand, but instead, to help Snapchat's users express their own individuality. This works particularly well with content that touches on social culture.

The full article can be seen here!"
Fanbytes has been helping brands reach a Gen Z audience on Snapchat since 2016. They have worked with the likes of Deliveroo, Boohoo, ZiMAD and various other app developers to drive attract quality engaged users from Snapchat.
Fanbytes recently has included Snap Lenses in its product roster and the results we have been seeing are impressive.
Plato, a mobile gaming app, wanted to stand out in the saturated mobile gaming market but it was getting harder and harder. The same audience that you're going after is also being courted by a variety of competitors apps. The advertising costs are going up at the same time as users are getting ad fatigue and just skipping ads left and right despite the creative time that went to produce the ad, not to mention the budget put behind it.
Plato thus wanted do something radically different and they came to us for a solution.
Taking a look at their app, one of the most popular games on the app, called Werewolf, had just launched. It's a mystery game where the goal is to find which character is an innocent villager and which character the werewolf. Fanbytes took inspiration from this game to create a "Haunted Cabin" lens, a virtual 3D environment that mimicked the setting and feel of the popular game.It looked something like this.
With the Lens done, it was time to put it out onto the world. Part of the hefty price tag of $1 million that Snapchat charges for this lens is made up by the cost of distributing the lens to Snapchat users. Fanbytes sought to mitigate this cost significantly by using a different and more organic form of distribution. The lens was shared with various meda channels on Snapchat. These are Snapchat accounts that have curated a dedicated community of Snapchatters around a specific topic, be it gaming, lifestyle and so on. The lens was inserted within the story of these media channels, to be consumed organically by their followers.
The Results
One week after the Lens was launched, we began to pull in all the relevant data and this is what we found out.


The stats across the board smashed the targets that we had set as well as the expectations of Plato. We wanted to dig deeper in order to understand why.
To provide some context, "Views" simply refers to the number of times that the Lens was viewed by Snapchat users. "Scans" refers to the number of people that actively chose to load the lens into their phones and play with it. "Shares" refers to the number of people that choose to not only play with the lens on their phones, but also share it on their Snap stories for all their friends to see.
We discovered that the large amount of people sharing the Lens was amplifying the other stats. Unlike other paid media campaigns, wherein you pay for each impression that you get, lenses work a bit differently. If the Lens is engaging and unique and users share it with their friends,  then their friends will share it with their other friends and thus the Lens can go viral.
This was clearly the case here since the Lens became the #1 Trending on Snapchat, gaining far more traffic and attention than the client was expecting.


From a creative perspective, the complexity and uniqueness of the Lens was also recognized as "The Haunted Cabin" was featured on Snapchat's own website as part of the "Snap Picks" list.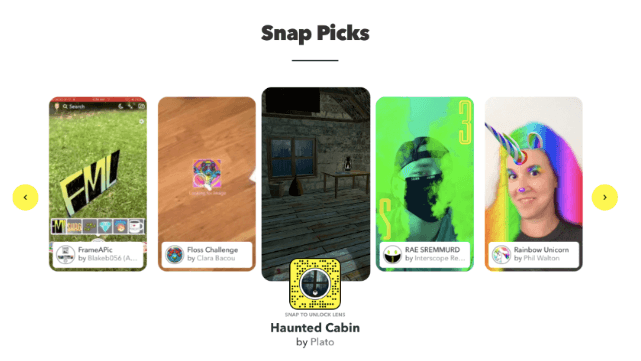 The big takeaway here is the power of Augmented Reality and Snap Lenses specifically to be unique and emotionally engage with an audience. As mentioned earlier, advertising costs are increasing at the same time when your audience is getting ad fatigue, skipping ads or just tuning them out. Because Snap Lenses almost do not feel like an ad, users are eager to scan, play with them and share them with their friends. When was the last time you shared an advert with your friends?
To find out what Fanbytes can do for your business, contact us at miri@fanbytes.co.uk today.