There are 2.8 million apps available for download on the Google Play Store and with the upsurge in the popularity of mobile app usage; this number is set to rise. However, the number also indicates intense competition among Android apps on the Google Play store. Google solves user's vows of choosing from millions of apps in each category by featuring the best ones and running several initiatives like Developer's Badge, Editor's pick. 
Most mobile app businesses intend to have a massive outreach, staggering download rates and a thriving ROI but it is all easier said than done. While app marketing strategies are a good starting point to popularize the app, being featured on the play store is a prolific way to increase the number of installs in a short span. A number of benefits come along with getting your Android app featured on the Google Play Store. 
We at Promatics Technologies, are a team of avant-garde mobile app developers with a mission to change the face of mobile app businesses. We centralize our mobile app design and development efforts to get the most in terms of revenue and growth. We follow all Google Play store optimization tips enlisted on the Google Play App description guidelines.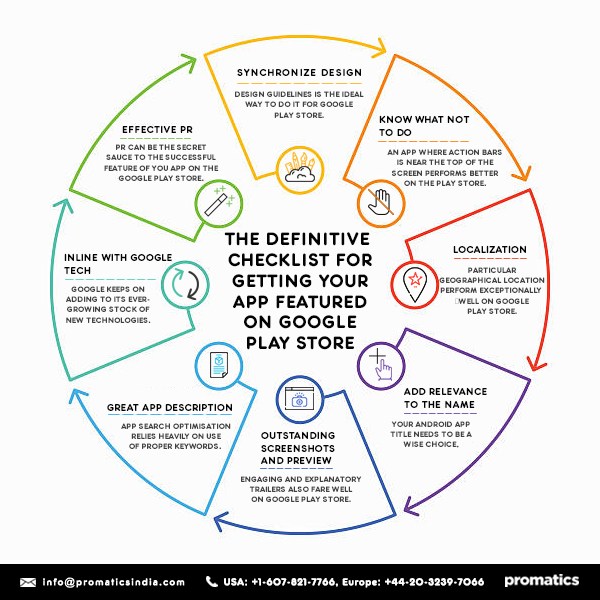 Here are some additional technical strategies that we use to get the Android apps we develop features on Google Play Store:
Synchronize UI, UX and Visual Design
Ideally, Google wants all Android apps to follow the prescribed Material Design guidelines for the UI. Not only does it ensure an interactive app experience for the users, it also raises the chances of the app getting featured on the Play Store. Best Android apps come with a seamless user interface along with engaging user experience and following Material Design guidelines is the ideal way to do it for Google Play Store. Make sure that before you upload the final APK file to the Google Play Store, you run a test of Android App Quality Guidelines on it. These guidelines are a boon for developers hoping to improve on the UX.  They aid mobile app developers with clues for what is necessary for an app to qualify for the Play Store's featured section. Also ensure that your app is available for every type of device that uses Google Play Do not overwhelm an app product by integrating numerous features, aim for simplicity. Features must be added after securing user feedback, as and when necessary.
Synchronize with Google Tech
Synchronizing the app product with latest google tech increases its chances of being featured on the Google Play store. Google keeps on adding to its ever-growing stock of new technologies and rewards products that are early adopters. For example; apps that are capable of being synced with Google Assistant stand a better chance if getting featured in the category they belong on the app store. Integrating Google Product Initiatives like Android Pay is a good way to bring your product to the limelight. Additionally, make it a point to take advantage of the different features of the Google Play Store. Have a dedicated developer page in place. We conduct A/B testing on different creative assets in the very beginning, to see which ones convert the best.
App Description
Answer basic questions like why should they use your app. Perfectly describe the problem you aim to solve and do so in first three lines of the description. Along with describing the basic functionalities, make a point to mention how your app will affect a user's daily life and eases pain points. Make it a point to mention any award or recognition that your app has earned.  App search optimization relies heavily on use of proper keywords and phrases in the description. 
Use Good Screenshots and a Trailer
At least six high quality screenshots on the store page can win a lot of interest from app store browsers. Engaging and explanatory trailers also fare well on Google play store. Make sure that the trailer is under 30 sec long and shut professionally enough to create credibility among users.
Add Relevance to the Name
Your Android app title needs to be a wise choice, so that it is catchy but still makes you stand out amidst competition. When faced with tough choices, users often pick up apps with names that are creative, clever and still relevant. You can use literary devices like puns, alliterations and wordplay to come up with something appealing. 
Localization
Keeping in mind the vast number of Android users scattered all over the world, apps that are not tied down to a particular geographical location perform exceptionally well on Google Play store. An app that is multilingual by nature and curates an engaging experience for users of different cultures of the world, earns a distinct advantage over others.

Know What Not to Do
Google is kind enough to let us know in very specific terms; what it likes and what it dislikes when it comes to mobile app design and development.  These are mostly style preferences that it wants developers to keep in mind to achieve a certain uniformity throughout the app store. For example, Google has an affinity towards buttons that are aligned with their style. It loathes bottom tab bars that are an iOS signature. An app where action bars is near the top of the screen performs better on the Play store. Google prefers when developers integrate Google as the payment provider. Ideally you shouldn't add a feature to your app to download other applications. 
Effective PR
PR can be the secret sauce to the successful feature of you app on the Google Play store. Various high-popularity platforms like Product Hunt, TechCrunch, Android Authority, and Android Central can be a good starting point. Pitch your stories to these sites and such media appearances often get noted by Google's editorial team. Additionally, be upbeat on various social networks as much as possible. Not only will all this promotion help you score more downloads for your app but will boost your app's credibility too.
Pay attention to the landing page for the app. AdWords is a good way to advertise the app and get noticed. You can also publish a press release to earn media coverage from outlets with high domain authority. In addition to such direct promotion, maintaining effective relationships with influencers in your industry also plays a key role in getting your app featured on the Play Store. Make it a point to connect with Google Play Store managers and editors via LinkedIn, and even regional mobile solutions lead. A strong network can give you an edge in a fairly crowded industry.
Conclusion
Google is clear in specifying what are the prerequisites of an ideal app for the platform.  So, it is the duty of a professional mobile app development company to ensure that the final app meets all of these requirements.  Our team at Promatics Technologies helps businesses develop app products that outshine on the play store and often get featured in various categories. To increase the odds of our apps being featured on Google Play, our team integrates TV support in every design we work on. Feel free to write in to us if you have an app idea that you would like us to work on.