There is no point in creating a path-breaking, innovative product or service if customers never get to know about it. The promotion process requires the same amount of time and effort that was spent on the creation process. The same concept applies to your mobile app.
There are over four million apps available for download from leading mobile app stores, so it is important to stand out among the millions of mobile apps – especially since consumers rarely download apps that aren't in the first three results in the list. Edging out your competitors in today's app market can be challenging; however, an effective marketing strategy can help you stand out.
It is a no-brainer that if your app is not up to the mark, then it will be rejected outright regardless of how brilliant your promotional strategy is. So, developing an app that functions properly and excellently is crucial for success. What we are trying to convey is that if users do not know that your app exists, then the effort that you put into developing the app becomes worthless.
How to market an app
To market your mobile app effectively, you should follow some basic steps:
Define your target audience.
Determine how to best reach and communicate with this target audience.
Measure the performance of your app by analyzing users' in-app behavior.
Remember, the goal of your mobile app marketing strategy is not just to acquire users and increase the number of your app's downloads. You should also work to ensure repeat engagement and make sure that users become loyal advocates of your brand. Loyal users are extremely crucial for achieving success as they recommend your app to others – and there is no more cost-efficient form of marketing than "word-of-mouth" marketing.
When it comes to a mobile app marketing strategy, there are three basic stages:
Awareness stage
Acquisition stage
Retention stage
This blog post will shed light on the initial phase, commonly known as the pre-launch stage.
Building brand awareness (The pre-launch stage)
This stage occurs before a product is launched, so it is also referred to as a pre-launch stage or awareness stage. As we mentioned earlier, the efforts that went into creating a brilliant product are worthless if users do not know about its existence. So, building brand awareness is very important for product visibility.
In the awareness stage, you need to determine how your target audience will discover your mobile app. For this, you need to have a good understanding of what message your brand conveys and what problems (e.g., identifying users' pain points) it aims to resolve. You need to define the purpose of your product since customers connect with a product or brand on a deeper level through its values and purpose.
#1. Conduct in-depth market research
At the end of the day, you need to know who your ideal customers are so you can effectively create a product to resolve their pain points. For this, you need to have a clear understanding of their needs. In-depth market research will help you understand your customers' requirements and their pain points. This will help you create a product that offers an ideal solution. Identify a pain point that has not been addressed before – or, at least, one that hasn't been addressed as well as you believe you can – and offer a unique solution for it. Try not to be a "me too" app that does what other apps might be doing better.
To understand your target users' problems and connect with them, you should look at the blogs, forums, websites, groups, and social media pages that their group tends to. Once you connect with them, you can guide them to your app.
You can also reach out to customers who have purchased something from you in the past or who have signed up for your newsletter. One way to do this is by sending an email to them, explaining the app you're about to launch. You can encourage them to give their feedback. This will help you identify any loopholes or gaps that you hadn't noticed, which you can fix in the pre-launch stage. This will build a strong connection between your brand and your customers and it will also ensure that your app perfectly fits the people you are catering to.
Conducting in-depth market research will help you deliver a seamless user experience.
#2. Develop user personas – A fictional depiction of your ideal customer
Building a user persona, a fictional representation of your ideal customer, makes it easier for you to discover your target audience, understand what they value, and identify their pain points. User personas can be created based on your prospects' demographics, general interests, mobile OS preferences, background, and so on.
User personas help you customize each and every aspect of your product according to your target users' preferences and requirements. Along with their pain points, user personas will also help you determine the content that appeals to your target audience, the influencers they follow, the social media platforms where they are active, and more. For instance, if your target audience is young tech-savvy men, your persona might have an Android phone and use Reddit; if your target audience is young women, the persona might have an iPhone and use Instagram instead.
User personas will help you attract the right customers to your product since they create a customized experience that matches your customers' expectations, address their needs, and resolve their problems.
#3. Reach out to influencers
Influencer marketing is undoubtedly one of the most effective ways to build customer trust. Influencers are social media users who have amassed a dedicated following in a particular niche, making them the perfect partner brands can collaborate with to promote their products and apps, as people often view such influencers as opinion leaders, experts, or trustworthy sources of information.
Over the years, influencers have been instrumental in helping brands reach the right customers, thereby making influencer marketing one of the most powerful and efficient ways to market products and services in the digital age. The power of influencer marketing can be significant, with the highest-reach influencers able to send crowds of their followers to your app and purchase goods and services they recommend.
Developing mutually beneficial relationships with relevant influencers can act as a significant promotional tool for your app. Do not collaborate with an influencer only based on the massive number of followers they have. You should also ensure that the influencer aligns with your user base and target audience.
Partnering with the right influencers can be highly beneficial for your app as it can drive massive traffic. Read our recent study to understand why influencer marketing has become so popular, and how businesses can plan and execute effective campaigns.
#4. Leverage your website or landing page
A website is the top source for app installation. A mobile-friendly website is one of the best ways to promote your app since most people who are interested in what you have to offer will definitely find their way to your website at some point in time. When they visit your website, they should know that you have an app, so it is important to include your app in your website.
If you have a blog, you can write blog posts about your app as well as other factors of interest to your audience (address those pain points!) and also include a call-to-action at the end of every blog post to allow your readers to click and download the app. While blogging about your app, make sure to explain the purpose of creating it and how the app can resolve their problems. Include images, screenshots, and videos to help your readers gain a better understanding of your app.
You can also invite bloggers to write guest posts on your site regarding your app or encourage them to craft a content piece on their blog or include your blog post link on their site for a wider reach.
Creating a full-fledged website can take some time and this could be a problem if your app's launch date is nearing. A pre-launch landing page and teaser video are good alternatives to a website to build hype around your app, which in turn will help you with some early marketing. The video can be later used for promotional purposes on social media platforms, paid ads, app stores, and so on.
While setting up a website or landing page, you need to inform your followers about the mobile app's launch date and keep them updated on the new features and updates. You should also encourage your users to leave reviews on your website. You need to ensure that the reviews are authentic, since the audience is smart enough to identify fake reviews and will immediately lose interest in your brand.
#5. Analyze your competitors
In the introduction part, we spoke about the importance of making it to the top three of the search results list, since users rarely select an app beyond the first three results. So, you will be competing with thousands of apps in your niche and you have to outdo them to make it to the top three. Sounds scary, isn't it?
Mobile app insights analytics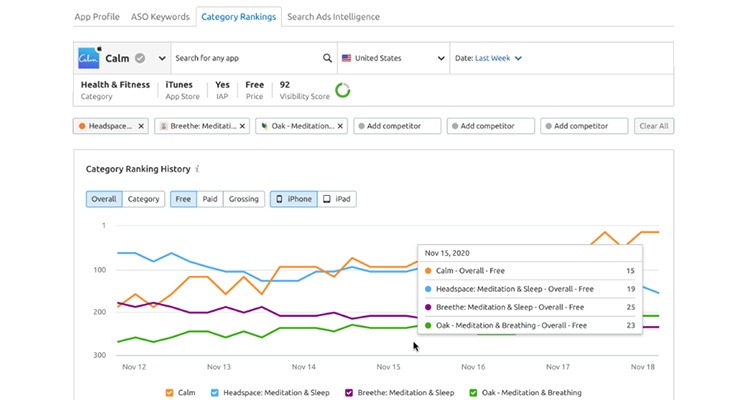 Source: Mobile App Insights
To outdo your competitors, you must first know about them. You need to make a list of your top 3-5 competitors, analyze their apps, and compare their offerings with yours. Compare their pricing model and features, such as design patterns, call-to-action text, and so on. You should also analyze their reviews, rankings, and user experience advantages and disadvantages.  Based on the comparisons and analysis, make sure not to include features that have been negatively reviewed. If you see features or UX elements that reviewers appreciate, make a note of them and take inspiration from them while designing your features. I repeat "take inspiration", do not copy as it is.
The main aim of doing competitive analysis is to determine what will make your app unique – and better – when compared to your competitors. The ultimate aim is to stand out in the crowd.
Final thoughts
Knowing how to market an app is one thing, implementing the marketing strategies effectively is another thing. It is important to ensure that your messaging remains consistent and relevant to your product. Do not try to oversell. In your attempt to oversell, you may end up making false promises. Unfortunately, false promises can be really bad for your brand, creating a bad impression on your customers – perhaps permanently.
The awareness stage of app marketing is a critical foundation for success in the highly competitive world of mobile applications. It sets the stage for subsequent stages. By effectively building awareness and a strong brand presence, you increase the likelihood of turning potential users into loyal app users. Remember that awareness is an ongoing process, and consistent efforts are needed to maintain and expand your app's presence in the market.