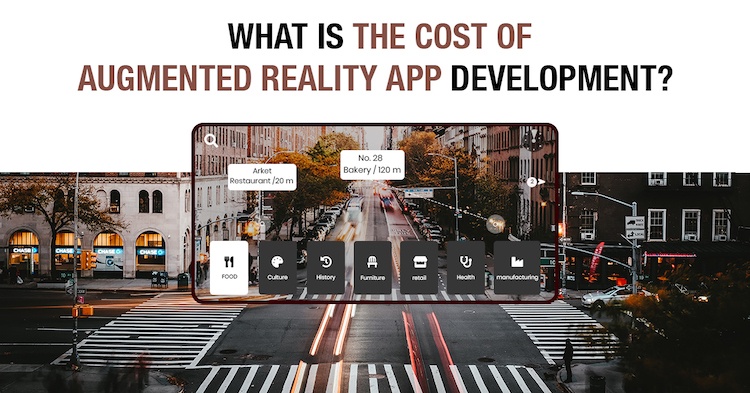 Augmented reality has come out as a groundbreaking technology among recent technological developments. As per the research by Digi-Capital, in the future AR could surpass $70-75 billion in revenue by 2023. Its sister technology VR is also going to generate around $10-15 billion. The numbers are self-explanatory.
The future will have a multitude of devices and mobile applications working on AR technology. Even, more and more AR mobile applications are published in the App Store and Play store.
In this article, we are going to talk about the much-discussed topic of AR app development. The cost of developing an augmented reality app.
After reading the article, you will be able to estimate the time and budget needed for AR app development.
But before that some basics.
What is Augmented Reality and how does it work?
I am sure you know the practical definition of Augmented Reality as most of you might have used the popular app called Pokemon Go which had created havoc among the users.
But to state it theoretically;
Augmented reality is a technology that imposes a virtual image over real-world objects. In simple words, it is an amalgamation of the real-world and computer-generated world. As the names suggest, augmented reality enhances the reality by superimposing CG images on the real world objects.
The hottest industries adopting an ar technology
Augmented reality is spreading its wings across a large number of industry verticals. Video games and Health Care is leading niches that are experiencing the wave of augmented reality. In fact, the majority of AR applications in the application stores are of these two verticals.

A pie chart of promising AR application in a particular industry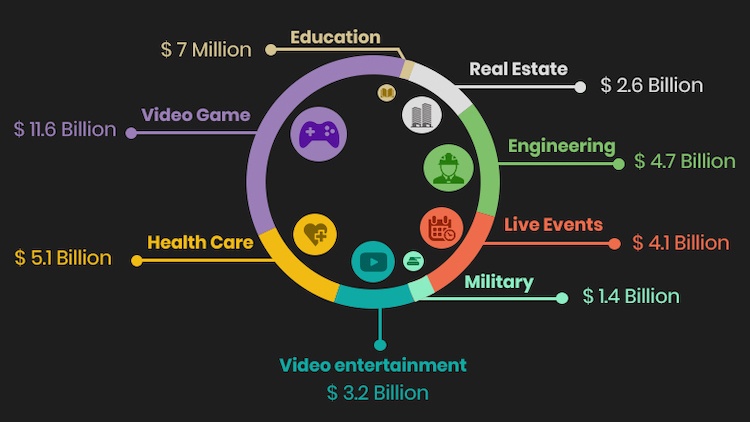 If you think you have an idea for AR app development or you want to make a clone app like some popular augmented reality app then it is advisable to know the ballpark cost of app development.
How much does it cost to make an AR app?
Once you decide to make an augmented reality app, you have to consider some factors that affect the development time and its cost. The AR app development cost depends on.
Types of the AR apps
There are three types of AR mobile app.
Marker-based AR apps
Location-Based AR apps
Slam Based AR Apps
Let's discuss them in detail so that you can decide on which type of app your business needs
Marker Based AR Applications
Marker-based Augmented reality applications allow you to scan the physical images called "markers" and provide a 3D model and another image. Let's take an example of one or two real-life examples so that you could grasp the concept.
Have you ever came across a business card, that allows you to scan it and displays a piece of important information about the company and call to action? Yes, there is such thing as augmented reality business cards.
This AR-recognized Business card works as an "AR marker."
Let's take another example of marker-based AR. Augmented reality wine label gives you needed information about the wine through the AR app which you have to install before applying it. Here, the label works as the marker.
There are high business opportunities and traction if you provide a marker-based AR app to your potential users. Marker-based apps are less costlier than location-based and Slam based tracking AR app.
Unlike Marker-based AR apps, these sort of apps doesn't need any physical object to scan for. This method collects the user's data from the GPS. The sensors provide information about the precise location and place a virtual object in the real world.
A famous example of such kind of app is Pokemon Go.
However, the integration of GPS, compass, and other sensors makes these applications a little bit costlier than marker-based AR applications.
SLAM ( Simultaneous Localization and Mapping) has been used since the late 80s but there were no enough supporting technologies to implement effective AR applications. Today, new technologies hold up with SLAM technology.
Businesses that are involved in the manufacturing of drones, self-driven vehicles, and robotics use SLAM technology.
Choosing SDK for AR app development
If you don't want to build everything from the scratch, SDKs (Software Development Kit) comes as handy options. It comes in Free and paid tools. You can select your tool according to your needs. Here we have given a comparison so that you can decide on SDK.

Complexity of app
Time & the difficulty of developing an AR mobile app affects directly to the final cost of app development. Some apps are easy to build and require fewer features and less efforts. E.g MVP of any app.
Some apps require trending features that are hard to develop and takes more time and cost you more than the MVP app. Let's find out how complexity affects your AR app development.
A simple MVP app
If you are not sure of your app idea and just want to test the water before fully investing in the app, you should go for the MVP option. MVP( Minimum viable product) app is developed considering the most important features into account. Only essential features are included in the app.
Check out the app called Block Tower AR. It is the AR version of the game called "JENGA". JENGA is the game in which you have to carefully remove the wooden blocks so that the wooden tower does not collapse. Block Tower AR is its mobile app version that doesn't have advanced features. It has only needed features like single-player and multiplayer and modes like tap or drag.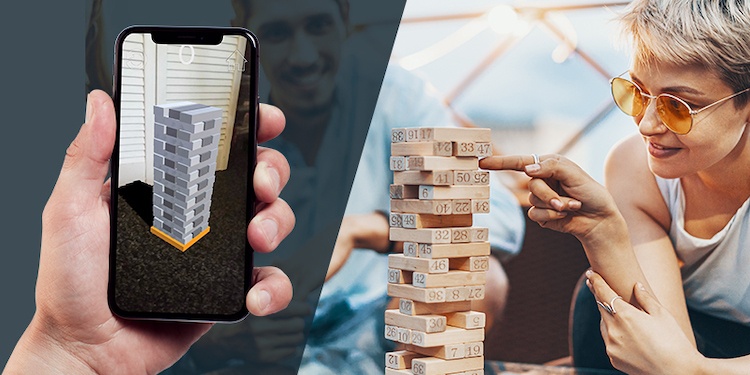 So, how much it will cost to make an AR app like Block Tower AR? Here's the cost breakdown

Customized AR app
A customized AR application is a little bit advanced in features compared to MVP. These apps have features that satisfy users' requirements. These kinds of AR apps can be utilized as a configurator or catalog which has the following features.
Select and item
Modify it (Color, resize, etc.)
Put them into your room virtually
Take photo
Share it with Family and friends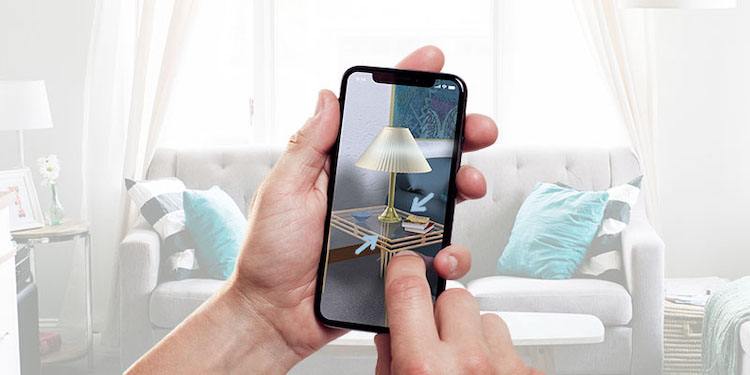 For example, an app called "Room Planner" allows users to select particular furniture and place it virtually in the room to see how would it look in reality so that he can figure out space accordingly in his home.
IKEA has its own AR app that helps its users in selecting the perfect size of furniture or any household items.
How much time it will take to develop these kinds of AR Apps? Let's find out!

Enterprise level AR apps
Health-care and manufacturing companies are the leaders in leveraging the benefits by developing AR apps. They have found it to be rewarding.
AR app can be used for staff training, demonstration, presentation, fault finding, knowledge distribution, etc.
Now, these apps are most advance in features and functionality. Which leads to more time and cost of app development. Keep in mind that enterprise-level AR apps often need special AR Goggles such as Microsoft HoloLens. So, when you start development for the AR app, keep in mind your target platform. Here's the cost breakdown.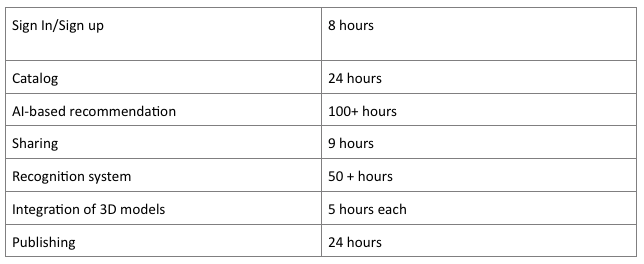 Demographic of the development agency
Whether it is an AR app, IoT apps, or simple mobile application apps, the development of apps will always rely on the country in which the development occurs. In the world, from west to east, development agencies and freelancers have different per hour rate.
In the West, North America has the highest rate of AR app development. As you move to the eastern side of the globe, European counties are divided into two parts for app development rates. Western Europe has a higher rate than eastern Europe. If we move further to the East, the Indian subcontinent has a reasonable per hour rate and skillful programmers. Australia and New Zealand have a higher per hour rate than Western Europe and lower than in North America.
Take a glance at an hourly rate of AR app development across the globe.

Maintenance & post production
Whatever the final cost is for your AR app, 20% of that figure will be the app maintenance app. Please, note that the maintenance charge may vary 2% up or down.
Apps need hosting for storing and saving important data. Different sorts of apps will have a different kind of requirement for hosting. Regular updates are also required to keep your users interested in your app and it will have its fixed cost that adds to the final app development cost.
Conclusion
The final cost of an AR app is affected by myriads of factors as discussed earlier. Small level AR apps will cost you less. Whereas Enterprise level Augmented reality apps are the most expensive.
Decide; in which country & development agency you want to build your app. It will have a major impact on the AR app cost. Apart from the development cost maintenance cost will also influence your AR app cost.
What are your views on AR technology? Do you think there are other factors that should be kept in mind while developing the AR App?