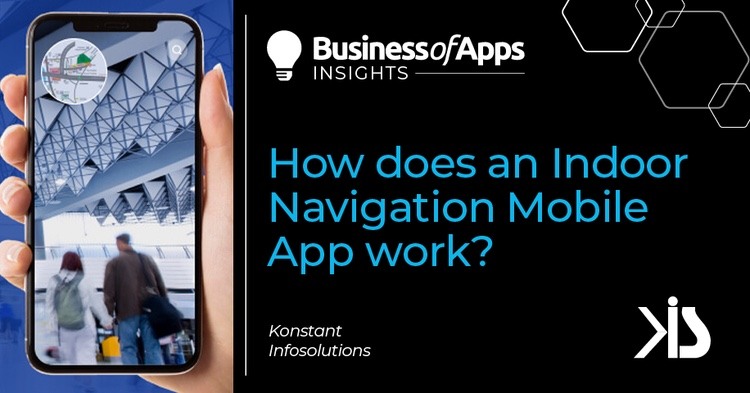 Learn why indoor navigation/indoor positioning systems are helpful.
Indoor mapping software acts as a map to trace the route to a specific office/shop located within a large premise. Such an application is installable within the mobile device, which helps find the shortest possible way/route to your destination inside a large building. Indoor navigation mobile applications use business rules like the Internet of Things and localization; to enable users to visualize spatial data with real-time indoor location intelligence. Let's understand its meaning, relevance, and applications further.
How does it work?
Indoor Navigation Systems help users identify their destinations within a closed premise. There are no special requirements, and users use it as a mobile application to reach their desired location. Such apps require a very high precision (inches vs. yards). It works on ultrasound, ultra-wideband, Bluetooth, and Wi-Fi technologies based on location accuracy. Instead of the satellite signals, it makes use of infra-red rays.
Is it device-dependent?
Indoor mapping can work on any mobile device. It uses indoor way-finding technology. It utilizes radio waves, acoustic signals, magnetic fields, and other sensory information that locates objects. These are adept with push notifications and associated analytics to keep users hooked and not miss out on any event. It also notifies users about potential risks, roadblocks, alternative routes with details to let them avert any mishappening.
How is it different from GPS?
Indoor way-finding technology is better off than global positioning systems as GPS signals get blocked by walls and ceilings. GPS chips receive signals from satellites to determine a location which is often not accurate.
Must Read: How to Build a GPS Vehicle Tracking System
Where is it used?
Indoor-Mapping is usable in Military and defence services, logistics and warehousing, manufacturing, sports, entertainment, Airports, shopping malls, universities, museums, conference halls, hospitals etc.
How to create an indoor navigation mapping software?
Installs Navigation SDK
Initialize the navigation map.
Locate the user and place it on the map.
Place the pointer at the correct location.
Calculate and trace the route.
Insert the navigation button.
Start navigating.
Personalize the mapping style.
Design the navigation view and route view.
The navigation solution is ready to use.
How much does it cost?
The total cost to design a navigation routing application can be around $40,000 – $60,000. It can scale up according to the complexity.
Learn More: How is the Indoor Navigation Mobile App Helpful?
In Conclusion: What features complete a navigation mobile application?
Indoor navigation systems follow eminent approaches like covering the area with various sensor types, exploiting radio signals, modulated infrared lights, perturbations of the Earth's magnetic fields, ultrasound etc. The resultant technology brings economic benefits to large businesses that do not wish to lose their potential customers and convert them somehow once they enter the building. Plus, the accuracy, reduced cost, numerous applications, various technologies act as add-ons to the emerging technology.
In comparison to GPS, the indoor navigation software is different. Locating a place outdoors works on a different algorithm than indoors. Additionally, the technologies on which these two functions work differ. Radio waves are inherently accurate than satellite signals that often get affected by atmospheric interference. Infrared lights require a clean line of sight, precise localization, and route planning mechanisms. If everything falls in place, you are good to go.