Macroscopic analysis of the mobile game market under the epidemic
The COVID-19 pandemic has changed the stage for every business. On the one hand, it has destroyed some businesses; on the other hand, it has helped others rise. The mobile gaming industry is one such industry that has gained an enormous benefit because of this situation.
As more and more people have been forced to stay at their home, the only significant means of their entertainment and communication are mobile phones. Mobile games, therefore, become the best way for people to communicate and great entertainment during the quarantine. The year 2020 might be the best time for mobile gaming.
But these games remain attractive for the users for a limited time, and then they simply download another one. Therefore we can say that mobile game industry is facing stiff competition, only the games with good graphics and quality stay popular for a long time. 
Competition in the mobile game industry:
This competition in the game industry is not just limited to the number of games being developed but also the marketing costs. Cost per click for many of the broadly searched terms has been skyrocketing in the current era. Where it's easier for people to launch a game, it has become difficult to market it in such a hyper-competitive environment.
In such a competitive environment, marketing strategies become more important.  Only by making high-quality mobile games and planning for a long-term operation can their games thrive. Let's take help in the marketing from SocialPeta's insights, which is one of the biggest advertising and ad cost intelligence platforms.
Importance of ad intelligence and cost intelligence
Ad intelligence uses artificial intelligence and big data to intelligently build the advertising strategies that work wonders. The ad intelligence tools keep an eye on brands in different niches and keep track of their advertising data. The collection of this big data can be later used with AI to create the strategies for an ad campaign; the data source can be your previous ads or the ads of the brands in your niche, i.e., your competitors. This can help in devising a better strategy in comparison to a strategy created using manual means.
Ad cost intelligence is an approximate measure of advertisement cost for your future ad campaigns based on the data from the sources that have already run similar ads in your niche. You can see the advertising cost trends for matrices like CTR, CPM, CPC, Placement, and countries. Ad cost intelligence can really help the advertisers and optimizers in estimating the budget for an ad campaign.
How to gain insight into the data of the mobile game advertising industry?
At this point, we understand the importance of artificial intelligence and big data in creating the advertising campaigns that work; now the question is how can we access all those insights? The one word anwer and a single stop solution is "SocialPeta."
SocialPeta is one of the world's largest advertisement intelligence tools. SocialPeta's data team gives you the perspective of mobile advertising data in global mobile game markets. Currently, SocialPeta has more than 200 enterprise clients, including Google, Fun Plus, NetEase, TikTok, Perfect World, etc
SocialPeta collects advertising data by sampling on a global scale. This powerful ad intelligence tool currently accumulates over 900 million pieces of advertising data and updates up to one million pieces of advertising data daily. Based on this huge database, you can gain insights into the overall trend of the advertising industry.
SocialPeta provides Ad creatives, Cost Intelligence, and Ad Intelligence for game advertisers to make the best marketing strategies.
"Compared with competitors, SocialPeta has an intelligent combination of advertising solutions," says SocialPeta CEO Rock Su, "It can help customers quickly formulate marketing strategy and verify it with detailed data."
Ad Intelligence
Using the collection of its massive database of millions of ad creatives from almost all the popular advertising networks, SocialPeta provides advertising information from multiple dimensions, such as advertising creativity, advertising data analysis, advertiser analysis, popular advertising lists, popular trend lists, etc. All this information can help the advertisers in getting inspiration from the competitors and learn from their mistakes.
Case: Top Advertisers Analysis
The chart of global top advertisers in the Q3 2020 generated with the help of SocialPeta shows that mid to hardcore games have become the mainstream while casual games take up only five places, three places less than the previous year.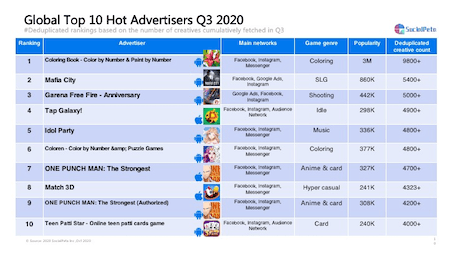 We can see that the SocialPeta has also shown other important pieces of information related to these advertisers. The report includes main networks, game genre, popularity, and deduplicated creative count. You can use these insights to see what are the current trends of the industry.
Case:Ad Analysis:
The ad analysis feature of SocialPeta helps in the analysis of the competitor's advertising strategy and their ad creatives in a very detailed manner. All the data of an ad can be accessed in the matter of a few clicks, from copywriting to publishing network, dimensions, creative type, and whatnot. Apart from this, you can also download the ad creative of your competitors.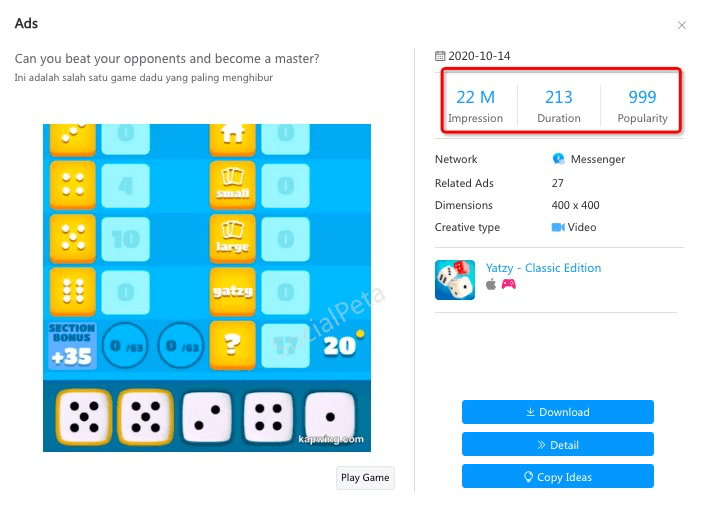 Above is the screenshot from SocialPeta showing detailed advertising data, including impression, popularity, and duration, to help you better grasp competitors' dynamics. If you click on details, you can also access the demographics data for the ad.
Cost Intelligence:
The cost intelligence feature of SocialPeta helps determine the estimated advertising cost for your ad campaigns so you can consider the estimated cost in your mind before crafting a strategy. You can use the inbuilt advanced search tool to search for different relevant keywords to see which one will be profitable for you.

The graphical representation of CPC trends, CTR, and CPM data is available for any given search query, which can surely provide help regarding advanced ad management.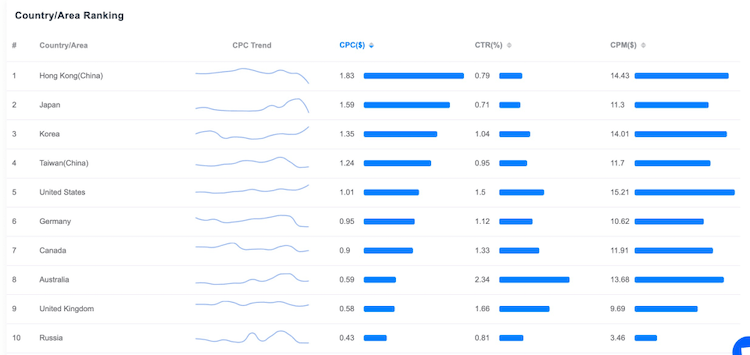 Moreover, the results of the query also include the country-wise ranking charts and CPC trends of the keyword apart from already mentioned CPC, CTR, and CPM values. So, if you're going to run an advertisement campaign or an early CTR test, you can always take help from SocialPeta.
Wanna learn more about mobile game market intelligence? 
Join our online meet-up where we will share insights on Global Media Buy and Creative Advertising for Mobile Games 2020: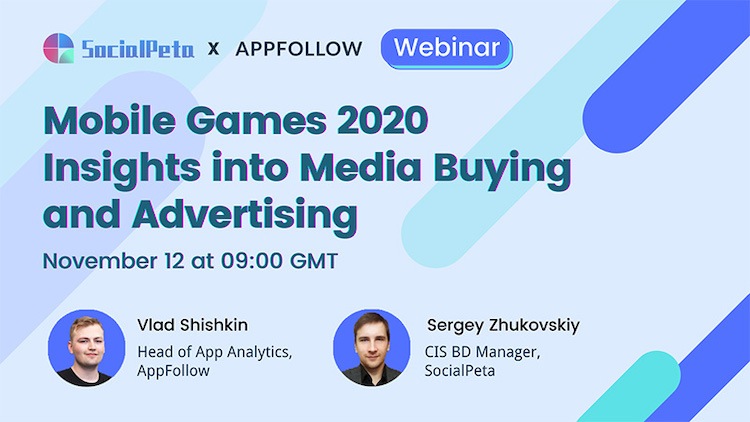 Global Market Analysis
Global Trend of Advertisers
Hot Advertisers across Q3
The situation on Facebook Networks
Observation:Media Buy in the US & CIS Market
Market Analysis
Hot Advertiser Ranking and Analysis
High-Quality Creative Appreciation
We hope this webinar will provide a more powerful reference for your advertising business growth, saving costs, and improving advertising effects.