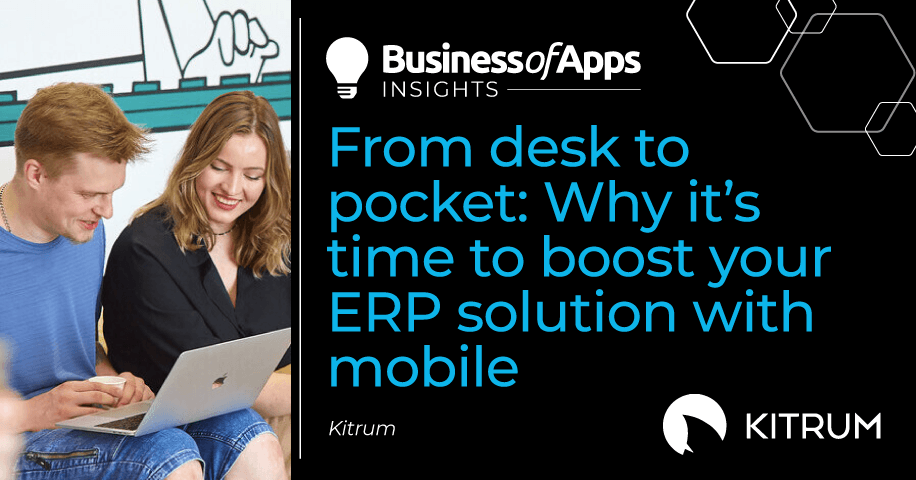 Do you feel like being tethered to your desk, chained to your computer to manage your business operations? Or do you find yourself longing for the freedom to access critical data on the go? If so, consider adding a mobile ERP system to your workflow.
But what exactly a mobile ERP is? How can it benefit your business?
If you're ready to take your business to the next level, let's explore a mobile ERP and why it's a game-changer for small and midsize companies. We will also highlight the benefits of mobile ERP and offer 5 mobile ERP solutions to help you get the most out of your system.
What is a mobile ERP?
A mobile enterprise resource planning (ERP) system is a software solution for mobile devices, such as tablets and smartphones, that provides users with real-time access to business data and processes.
It allows employees to access the ERP system and perform tasks, such as order processing, inventory management, or financial reporting, from anywhere, anytime, as long as they have an internet connection.
Mobile ERP solutions are typically accessed through a dedicated mobile app or standard mobile browser and work on iOS or Android. These systems improve productivity and efficiency by enabling employees to stay connected to business processes and data, regardless of physical location.
The benefits of mobile ERP
Meet Jane, the owner of a small manufacturing business that produces custom-made furniture. Jane has a team of designers, craftsmen, and salespeople who work together to make and sell her products.
However, as her business has grown, Jane has noticed that her team members struggle to stay connected and share information efficiently. Designers and craftsmen need to communicate regularly to ensure they meet customer expectations, while the sales team needs real-time access to inventory data to make accurate sales projections.
Jane implements a mobile ERP system to address these communication and data access issues. Here are the benefits that Jane's business acquires:

Improved productivity
With mobile ERP, Jane's team can access data and perform tasks from anywhere, anytime. For instance, her designers can easily update design specifications from their mobile devices while on the go, reducing delays in the production process;
Real-time data access
Mobile ERP provides real-time access to data, allowing employees to make informed decisions quickly. Now Jane's sales team can check inventory levels in real-time while meeting with customers, ensuring they provide accurate sales projections;
Enhanced collaboration
Mobile ERP enables teams to collaborate more effectively, regardless of location. For example, Jane's designers and craftsmen can communicate through the mobile app in real time, avoiding the need for back-and-forth emails and phone calls;
Better customer service
Mobile ERP provides businesses better customer service by enabling the team to access customer data and respond to inquiries more quickly. So, Jane's sales team can respond to customer inquiries in real-time through the mobile app, improving customer satisfaction and loyalty;
Greater visibility of business operations
The mobile ERP application gathers data from various sources, giving her up-to-the-minute details about what is happening and where allowing her to make informed decisions that drive her business forward.
5 Mobile ERP solutions for businesses
Now that we have comprehended the meaning of mobile ERP and its advantages, let's examine a few mobile ERP solutions.
SAP Business One
SAP Business One is specifically developed for small and medium-sized enterprises (SMEs). It empowers team members to access business information and perform tasks through a mobile device, regardless of location or time. SAP Business One suits businesses in various industries, including professional services, retail and wholesale distribution, consumer products, and industrial machinery and components.
This tool offers various features such as financial management, sales and customer management, inventory control, production planning, analytics, and reporting. SAP Business One offers both on-premise and cloud deployment options and comes with integrated business intelligence and integration with the SAP HANA platform. It is quick to deploy, available in 28 languages with 50 localized versions, and offers multi-currency support.
NetSuite
NetSuite is a cloud-based ERP software that offers various business solutions, including financials, inventory management, CRM, and e-commerce. Its ERP mobile app is designed with a mobile-first approach, offering a seamless workflow for iOS and Android users. It has features such as time tracking, call logging, and expense reporting, with push notifications for quick actions, enabling users to streamline work while on the go. According to NetSuite statistics, 84% of companies on the Forbes Cloud 100 List are NetSuite customers.
Acumatica
Acumatica is a cloud-based ERP software that provides a range of features such as commerce connectors, financial, construction, manufacturing, inventory, and warehouse management systems. It integrates seamlessly with Amazon, BigCommerce, and Shopify, enabling enterprises to connect their eCommerce storefront with Acumatica's financials, inventory, product information, and real-time fulfilment.
The app for mobile devices provides a range of features, including time tracking, task administration, push notifications for mobile devices, and the management of expenses and sales orders, and is available for iOS and Android.
Oracle JD Edwards EnterpriseOne
Oracle JD Edwards EnterpriseOne is a next-generation cloud-based ERP software that empowers businesses with applications such as CRM, manufacturing, financial management, project management, order management, supply chain management, reporting, and business intelligence. The mobile app for JD Edwards EnterpriseOne is designed for iOS and Android users and presents data in an intuitive graphical format, including pie charts and bar graphs.
Users can easily access detailed information with the feature list display and refine search results using custom filters and specific features. The mobile app offers a cutting-edge approach to accessing and visualizing business data.
Microsoft Dynamics 365
Microsoft Dynamics 365 Mobile is a cutting-edge mobile app that enables users to access ERP functions, such as financials, sales, and customer service, on the go. The app is available for iOS and Android devices, allowing users to stay connected and productive no matter where they are. With Dynamics 365 Mobile, users can easily manage their finances, view and update customer information, create and track sales orders, and access real-time insights into their business performance.
The app also features a user-friendly interface with customizable dashboards, so users can quickly access the information that matters most to them. Plus, it offers offline capabilities, enabling users to access critical business information even when not connected to the internet.
Bottom line
To wrap up, mobile ERP is not just a trend but a strategic investment in the future of a company's digital transformation. With the growing demand for remote work, mobile ERP became necessary for companies looking to stay competitive and agile.
Thus, businesses increase the whole team's productivity, streamline processes, and allow employees to access information and perform tasks from anywhere, anytime, which is so important in today's fast-paced business environment.