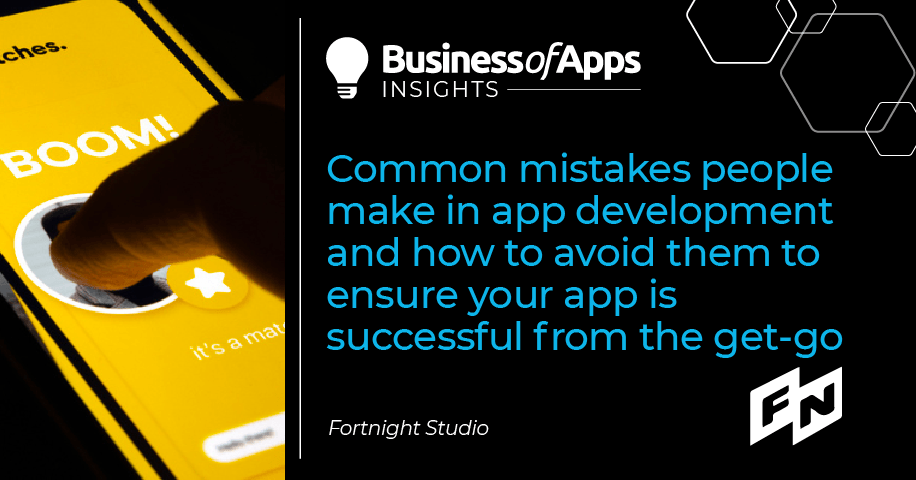 App-centric businesses have made billionaires of founders like Bumble's Whitney Wolfe Herd and have enabled physical product companies like Simba Sleep and Peleton to build engaged communities and create a steady stream of potential new customers. Mobile apps can be a great business. Apps are among the top three most profitable startup types alongside e-commerce and Chrome extensions. However, they can sometimes go wrong.
There are some high-profile failures, like Quibi for example. In 2018, a team of high-status tech and entertainment industry veterans armed with close to £1.2bn in investment built a short-form video rival to Netflix, iPlayer, and Amazon Prime Video. For every Quibi, there are many low-profile apps failing. Thankfully, there are ways to be more right than wrong when developing your app. Here, I'll outline the four key mistakes app buyers continue to make (often through no fault of their own) and show you how to increase your chances of app success.
Who knows, you might strike gold like Manchester billionaire, Johnny Boufarhat, whose meeting app Hopin's value quickly achieved unicorn status just last year.
Lack of product-market fit
As our world becomes increasingly mobile-centric, thousands of new apps go live every day, driven by the high market demand for new content and functionality. But that high volume means intense competition, which makes it harder for even "good" apps to make an impact. Some research shows that roughly one in every two apps installed gets uninstalled within 30 days, hitting your initial investment and ongoing spend. Often this is due to poor product-market fit. Take the 10-minute video app, Quibi, again; it lost more than 90% of its user base after their free trial ended, and media critics complained that "no one at Quibi even understands what Quibi is."
A product-market fit is a state when your app is positioned in the right market and can fulfill the specific needs or solve the pain points of the end-users. Take Fortnight Studio's client, Bumble. In the world of dating apps, pre-Bumble men typically made the first move causing women to feel out of control (and sometimes harassed), which Bumble solved by giving women control by ensuring only they could make the first move. This solved a huge pain point for women, but also men. By enabling women to feel comfortable on the platform, Bumble increased the chances of dating success for both parties. How do you find product-market fit? My other tips should help you answer that question.
Launch with the most complete vision – an all-singing, all-dancing version
You've probably heard that Mike Tyson quote: "Everyone has a plan until they get punched in the face." Well, the app version of this is getting knocked out by failing to be agile.
Many startups have a vision for where the product will end up, and it's usually the most fully-fledged version that has been successfully running for years with millions of users. But starting with a huge and costly fully-realized product that embodies the original vision might sound good, but can be deadly. It was for Quibi. Sure you can argue that to compete against Netflix and YouTube you need a finished, highly polished version rather than a minimum viable product ('MVP'). Alternatively, you could argue that it's a great way to lose £1.2bn if consumers don't like it. Many hopeful companies continue to repeat this mistake.
To be successful, it's better to start small and understand the market response, then adapt based on that response for the next step. Thinking about Fortnight Studio's client Simba Sleep, the online mattress company (with great product-market fit), they wanted to go beyond their amazing sleep products to become their customers' (and prospects') own personal sleep coach. So we developed their sleep coaching app. Our insights, to ensure our app had the same product-market fit that the physical products had, revealed the sleep problems to solve digitally. It was clear that the core functionality of the app would need to be tracking sleep.
Working in fortnightly sprints after establishing the concept, we quickly moved into creating wireframes, user journeys, and app flows. Every stage was done in two-week timeframes, enabling us to test component parts that would eventually add up to the full-blown vision and make sure it worked. We didn't want to work on something for months without ever testing it, only to find we've solved a problem no one had and built something no one actually wanted. At every iteration step, we could solve small problems faster than with a full-blown app and ensure that the launch version would be successful.

I'm not saying Quibi wasted £1.2bn on a hunch and inspiration, but they could have tested product-market fit and iteratively solved a series of small problems through so many development stages rather than attempt to solve one monster, unsolvable issue that resulted in a quick, spectacular demise. So the lesson is to start small and iterate frequently.
Prioritising monetization ahead of user value
I know you want your app to make the world a better place or get you filthy rich. And I want it to do that for you too. Don't worry, I'm not suggesting you don't make money. But if you start from a place of monetization, instead of user value, you probably won't have revenue.
I'd go as far as to say never build products with monetization in mind…at first. Instead, focus on building a product that people love and then figure out how to monetize it.
I'm a huge fan of freemium models, like Spotify, as they allow users to experience the product whilst making an upgrade to premium features allows you to maximize engagement. While Quibi had a free trial, there was no free content when the trial ended.
Spotify, on the other hand, prioritizes user value by offering you streaming music, discovery tools, playlists, and more for free, with the added bonus of ad-free listening, listening to music offline, and so on for premium subscribers.
Interestingly, Netflix is accelerating plans to reverse its premium model to an ad-supported option in order to shore up its shrinking user base. So even the biggest of the big are open to those sorts of models.
So before you think about turning your users into cash cows, grow your herd first by optimizing for a good user experience, high retention rate, and good engagement. Monetizing will be much easier then.
Short-term thinking
The pace of change in apps is intense, but you should still start with a long-term project in mind. Many projects abort when the founders or initial stakeholders lose interest or get distracted by other projects.
The relative ease of starting an app project these days comes with an unwanted side effect of making projects easy to drop, cease maintenance, or just stop marketing to grow the user base. Apple and other platforms don't like this and even remove apps that have not been updated within the last three years and fail to meet a minimal download threshold.
Commitment, on the other hand, can pay dividends. Thinking about Fortnight Studios client Simba Sleep again, it was a success – thanks to good product market fit and careful iteration and testing before developing the full version of the app – in just 6 weeks. It made it into the top 20 in the health & fitness category with a 4.8/5 score and over 10,000 downloads. Job done, right? Wrong.
Rather than say, "job done" my team and I continually improve it. This helps to drive around 15,000 monthly downloads and keepw users engaged as measured by monthly active sessions. 46% track their sleep every night using the app, and its daily retention rate is a whopping 52%.
Given that more sleep software continues to come onto the market, like with any other app category, you can't take a straight line from start to success; you have to take a long-term view and adapt in order to keep winning over a long period of time.