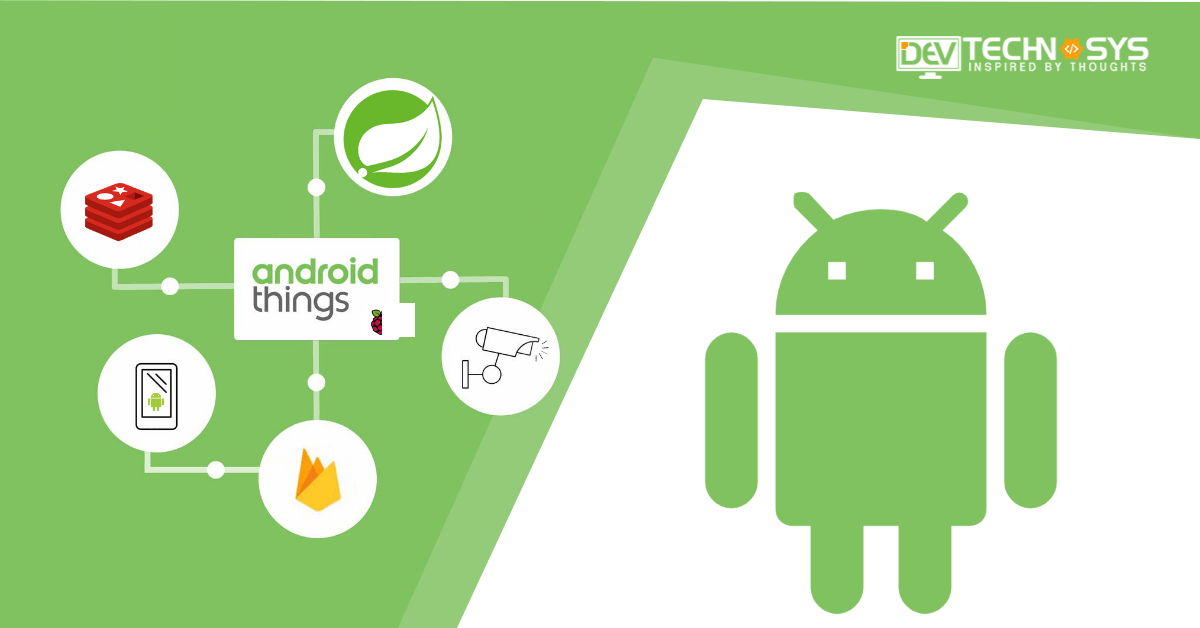 Internet of Things has been making the rounds of the internet as the next big thing in the world of technology. With applications like Google home and Alexa powered by IoT becoming a household name, the Internet of Things has been making its way into our lives slowly but surely.
Google is known to develop operating systems from time to time for various devices and in various fields. Why would the Internet of Things be any different? This is the reason why Google announced the launch of its own IoT operating system called Android Things sometime back.
What is Android Things and what does it do?
Android Things, as the name itself suggests, combines the power of Android with the Internet of Things. It is an operating system that is used to power the Internet of Things devices like smart locks, smart thermostats, routers, security cameras, connected speakers, etc. It can be used on all kinds of devices and not only IoT devices. From simple home appliances to complex manufacturing units, Android Things can be used on literally any device that can be connected to the internet or on devices that are currently powered by the Internet of Things.
Not only is Android Things used for operating devices but it can also be used for developing IoT enabled products and apps. It helps you in developing smart device applications that improve connectivity by manifolds. It is so because they are empowered by the internet. These applications are quite beneficial especially for large businesses and corporate houses given the huge number of people working there. It is better than other IoT app development systems because it is suitable for low power and memory constrained devices which can be as low as 32-64 MB of RAM.
Related Blog: Java vs Kotlin: As Programming Languages for Android App Development
Benefits of using Android Things
You must be thinking that why Android Things is better than other device applications building systems. Well, the answer to this is quite simple and can be summarized as follows:
For businesses –

Businesses have profited the most with the advent of Android Things. It helps them make use of IoT to create smart connectivity improving applications. This brings efficiency and economies of operation in the organization by way of improved coordination within the organization. Whatever be the purpose of your app development, be it small or large, Android Things is the go-to option for you.

For Android Developers

– Android Things are quite beneficial for Android developers as well as it simplify the process of IoT app development for them. 

Guaranteed Hardware support

– Google has extended its hardware support to new System-on-Modules (SoMs) with the release of Android Things. 

A platform for IoT

– IoT is a technology that is up and coming and said to revolutionize the world in the coming times. Android Things allows users to interact with the IoT technology and make use of it for developing smart apps.

Security

– Security is a big concern for Internet-connected devices. Google is a trusted operating system developer. Google's Android Things is all set to help tackle safety problems by providing provisions for regular security updates in the apps created by it along with a long term strategy for updating the software of the app from time to time. 

For Google

– Google is always experimenting with new technologies. Android Things broadens the scope of Google and allows it to get access to new users which increase its profits and popularity. It also allows it to understand user behavior better. 

All kinds of devices

– As already mentioned, Android Things works with all kinds of devices that are connected to the internet. It can also be used to develop apps for low power and memory devices and other Android-powered devices. 

Smarter devices

– Android Things helps you make your device smart by allowing it to handle its own task rather than relying on a server for processing. It also makes your device smarter by developing smarter apps and mobile app solutions. 
It must be clear by now that Android Things is quite beneficial when it comes to building smart and connected device applications. It makes the entire process of building an application a little less complex. However, having said that, it is not exactly very easy to navigate and use especially when it comes to learners who are developing an application for the first time. This is why companies often seek out professionals when it comes to building applications that increase connectivity and are strong, secure and reliable.
Related Blog: Advantages of Hiring a Mobile App Development Company
Developer's hub
The idea is as similar as that of the play store; on the contrary we call our ecosystem loT developer console. Basically, the developers are being provided with the console which is in order to build the same mechanism as that of Google play, i.e. you application can be uploaded in the console, circulating it to all the devices. The developers will not be rolling on the system individually in each of the devices by means of uploading them. The developers will be launching an air update, just as the system updates you get in your android phone. If you wonder how the entire system works, here it is.
The loT developer console will firstly behold your code, mixing and packing it up with the code they are meant to deploy and simultaneously launch an air update as the code is all of the core operating system. 

What to watch out for? 
What are the factors you must be referring to while in search for the perfect app development company? After all, you need to be sure the services are perfectly offered as per the ones you seek out for:
Experience

– The Company In Question must have relevant experience when it comes to developing futuristic mobile app development solutions. This experience is must when app development is being referred to as it takes lots of expertise to build and app, test it and successfully launch it in all the devices. 

Team

– A well built team with the personnel who have the relevant knowledge and skill set are highly aspires and demanded for, having years of industry experience under their belt.

Innovation

– Innovation is the key which beholds any company's survival in the market in present era. Hence, focus should entirely be on coming up with innovative technological solutions such as developing new app features. 

Superior technology

– If equipped with superior technology, developers help you create apps that make optimal usage of IoT technology. There has to be an amalgamation of technology with expertise which would create futuristic solutions.

Right prices –

Companies spend lakhs on developing apps that improve connectivity but the right focus must be on the solutions desired. Companies must always consider for developers who provide skilled solution with a price tag, not very high.
To know more about Android App Development Services reach us at +1(415)992-5493 or visit our website Dev Technosys. You can also reach us at the email info@devtechnosys.com