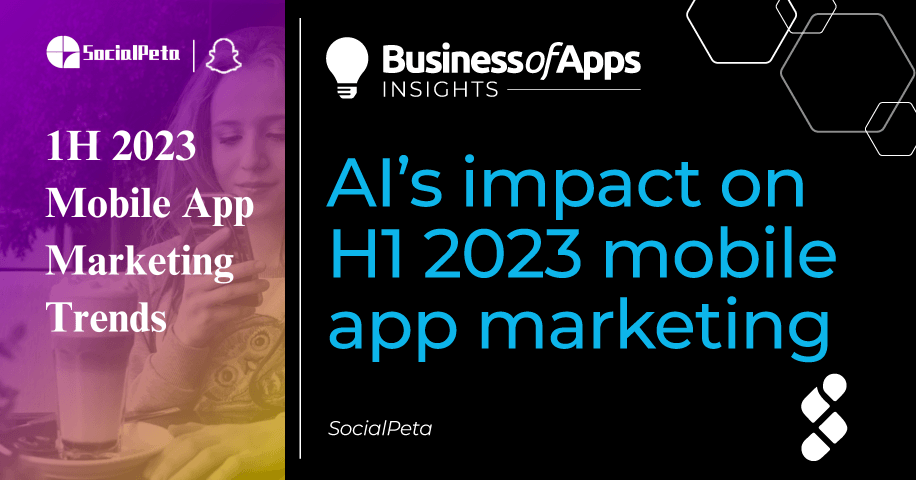 To explore what changes have taken place in the mobile app industry over the past six months, SocialPeta partnered with Snapchat to release the H1 2023 Mobile App Marketing Trend Insights report, aiming to help marketers stay on top of global marketing trends and facilitate rapid product growth.
AI became mainstream
AI growth has exceeded 100% YoY across various regions, positioning it at the top of all categories. Within the diverse AI mobile app category, products like ChatGPT, ChatOn, and Genie, have seen significant increases in downloads. Ad creatives often use video formats to personify AI characters, engaging with users to showcase product features. This trend is particularly dominant in T1 markets, with the United States at the top.
Tool apps increased significantly
Source: SocialPeta
Other functional utility apps like keyboard AI assistants and video/photo editing apps are also gaining popularity. ByteDance's short video editing tool, CapCut, has even begun its journey towards monetization by utilizing AI-powered templates.
ChatGPT and CapCut
Source: SocialPeta
More advertisers value ad quality over quantity
The number of advertisers followed a stable upward trajectory from last year, and this trend has persisted into 2023. Starting from Q1 2023, non-gaming app new creative advertisers have reached almost 170k, comprising over 93% of the total. However, in terms of overall creatives volume, the proportion of new creatives in Q1 and Q2 of 2023 was slightly lower than the peak in 2022. Advertisers are now opting for a strategy of producing high-quality, refined creatives instead of flooding the market with new ones.
Insights into global mobile app marketing
Source: SocialPeta
The competitive landscape for media buying in the T1 market remains intense, with Europe and North America still being the regions with the highest number of advertisers in H1 2023. However, it's clear that marketing competition has shifted to new markets. Aside from Southeast Asia, the Middle East, Africa, and even South Asia have gradually become battlegrounds for advertising efforts. Data collected by SocialPeta indicates that the African region recorded an average of 198 creative placements per advertiser per month in H1 2023, ranking at the top among all regions.
Insights into global mobile app marketing in different regions
Source: SocialPeta
Temu holds a dominant position in global mobile app rankings
Temu, belonging to the Chinese eCommerce giant Pinduoduo, not only offers affordable factory-to-consumer goods, but it has also stormed the advertising market with nearly 500k ad creatives across two app stores. This achievement has been hailed as a spectacular example of bold and impactful advertising. Currently, Temu holds a spot within the top five of the H1 2023 advertising leaderboard (second on iOS and fifth on Android).
Apps by advertising on iOS
Source: SocialPeta
Before Temu, various eCommerce platforms had adopted a "low-cost customer acquisition" strategy to enter the market. For instance, Wish gained 100 million monthly active users in 2020 with this approach but faced significant customer attrition subsequently, plummeting to just a quarter of its peak within two years. Similarly, ByteDance's Fanno and established cross-border e-commerce platform Shopee, which initially employed the "low-cost strategy" to enter European and American markets, eventually retreated from this approach. Therefore, while Temu's strategy has posed challenges for other global e-commerce platforms, analysts remain cautious about the long-term prospects of its "low-cost strategy."
The Middle East: Youthful demographics, high income, rapid growth
Since the outbreak of the global COVID-19 pandemic, content-oriented mobile products such as online social platforms, games, and short videos have experienced explosive growth in the Middle East market. This can be attributed to several factors:
Rapid growth in per capita GDP and leading digital advantages
Research from the World Bank indicates that the lower limit estimate for cumulative per capita GDP growth in the Middle East from 2017 to 2045 is 40%. According to IMF data from 2022, the per capita GDP in Gulf Cooperation Council (GCC) countries ranges between $23k and $84k.
Moreover, the Middle East region boasts a leading digital advantage globally. Indicators such as internet broadband subscriptions, social media penetration rates, and mobile smart device adoption rates have all seen significant increases alongside local GDP growth.
Youthful population: Over 60% under the age of 30
The overall population structure in the Middle East skews young, with approximately 60% to 80% of the population being under 30 years old. Notably, countries like Turkey, Saudi Arabia, and the United Arab Emirates have a median age of around 31, making them vibrant and promising markets.
Rich religious and cultural atmosphere, driving demand for online entertainment
Around 20% of the world's population adheres to Islam, creating a strong religious and cultural backdrop in the Middle East. Strict regulations and religious culture limit offline social and entertainment opportunities. In this relatively restricted social environment, the demand for online platforms has surged among young people in the Middle East.
Insights into the Middle East market
Source: SocialPeta
The report also integrates and analyzes advertising data from the Middle East market. It reveals that nearly 92% of advertisers in the region introduced new creatives in H1 2023, a percentage comparable to those in Japan and South Korea. This percentage is only surpassed by North America and Southeast Asia, establishing the Middle East as the third battleground for mobile app advertisers.
In this report, SocialPeta has also performed creative formula analysis on popular products across various categories (social, health, reading, tools, and entertainment). The featured material below, sourced from AirBrush's popular placements in H1 2023, demonstrates a successful formula that combines brush painting, simulated typing, and AI-based image enhancements to create impactful content.
Brush painting, simulated typing, and AI-based image enhancements for impactful content
Source: SocialPeta
Effective marketing undoubtedly relies on creative support. In this aspect, Snapchat and SocialPeta are aligned. Snapchat's summarized creative formula encompasses eliciting user emotions, demonstrating product functionalities, and incorporating prevailing trends. This translates to expressing user emotions through native user-generated content to foster empathy, showcasing application convenience in authentic scenarios to heighten user interest, and finally, introducing popular topics to engage the target audience.
Snapchat formula for ad creatives and best practices
Source: Snapchat
Understanding products, grasping market dynamics, and staying ahead of trends is pivotal for advertisers to stand out amidst intensifying competition. Leveraging SocialPeta's extensive backend data of over 1.3 billion mobile marketing entries and Snapchat's unique expertise in social marketing, we offer accurate data analysis and innovative services, enabling users to seize opportunities in the vast realm of mobile marketing. We hope that this report empowers advertisers to accelerate their efforts, expand their global reach, and achieve remarkable success.