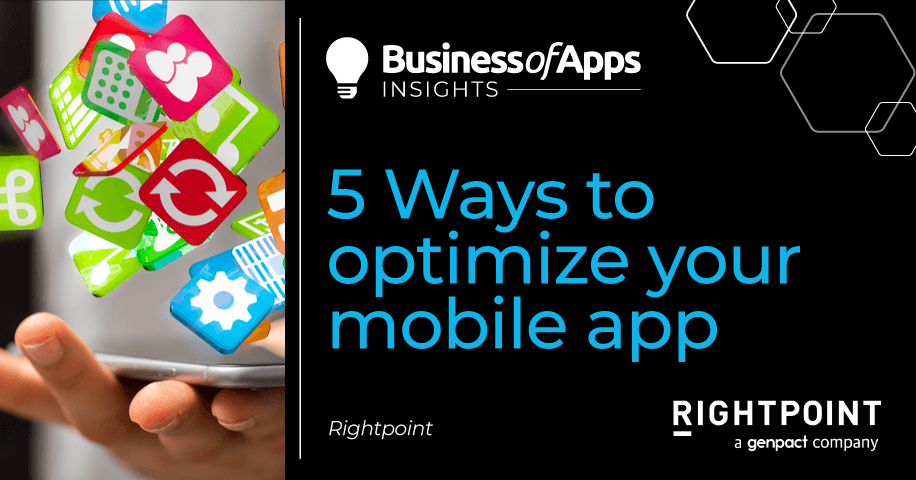 The mobile app market is quite mature now, which means the major innovations are few and far between. That said, there's no better way for a brand to cement customer loyalty than by prompting consumers to install a mobile app on their phones. Once installed, the barrier to usage is minimal.
Still, apps are uninstalled at alarming rates; according to one survey, 35% of new app users churn within two weeks. What's going on? Why are so many apps failing to meet the consumer's expectations?
This is actually a question the Google Play Store team recently put to the test. Using an assessment framework and scorecard built to evaluate apps, they aimed to help publishers understand what changes could be made to reduce churn.
The framework was based on six categories: app strategy, discoverability, onboarding, engagement, ability to meet a user's functional and emotional needs, and its ability to deliver data-driven insights for improvement.
More than 100 apps were evaluated – and the findings are alarming. On a scale of one to four, the aggregate score for all apps was 1.9. There are five key areas that deserve more attention and if addressed, will help reduce churn.
Don't hide your best side
A lot of apps offer great functionality, but a user wouldn't know it based on the app store experience. One of the problems is the store listing page can be restrictive on its own. You get one page with limited space to showcase an app's features and speak to all potential users. True, you can hone your message somewhat with A/B tests, but it's hard to speak to multiple audiences.
A mobile app landing page, on the other hand, provides much more flexibility, enabling you to include screenshots and explain benefits. You can also conduct more robust A/B testing to see which delivers the highest number of installations. If you want to see a great example of a mobile app landing page, check out the Nike App.
And take advantage of Google Instant apps, which let users try out an app before they download it. Google Play Instant lets users try an app while still in Google Play. If a user tries your app pre-installation and likes it, there is a much smaller chance of churn.
Onerous onboarding
On the whole, we've found the onboarding process for most apps to be needlessly onerous. Clearly, it's a turnoff, as Google research found that 25% of people abandon an app before the onboarding is even complete.
To mitigate this challenge, eliminate unnecessary obstacles in the onboarding process, such as requiring the user to register for the app, commit to a trial, select app preferences and so on. Out of the gate, this feels like a huge commitment when most users are still in the assessment phase.
The same is true for system-level pop-ups which can alarm users. Sure, your app may need to access a user's location, camera or microphone for a certain feature, but don't ask permission until the user opts to activate that feature. If I'm going to use my PictureThis app to identify a plant, I will understand why the app is asking me for permission to access my camera but I won't know why it ALSO wants to send me notifications. Provide the appropriate context and ask at the right time and users will opt in more.
People install apps because they want to accomplish a specific task and a specific app strikes them as a quick and easy way to succeed. To eliminate churn, ensure your onboarding process requires only what is absolutely necessary to complete a task.
Don't be pushy
The industry puts a lot of emphasis on push notifications as a strategy to re-engage users and prompt them to open their apps. But it's easy to overdo it. Take news alerts. According to an analysis from Press Gazette, 27 publishers sent 2,700 mobile push alerts in a two-week period.
Flooding users with notifications causes churn (just Google "popups" and you'll see a ton of articles on how to shut them off). There's an art to knowing when to send an alert in order to keep them engaged.
A smart strategy is to ask your users for permission first. If you're a marketplace app, enable your users to choose when they receive notifications, such as when an item on their wish list is back in stock or goes on sale. People like customization because it puts them in control of the experience.
Build loyalty into your mobile app
Loyalty points and rewards are compelling reasons to open an app. Right off the bat, McDonald's offers free fries to users who download the app and join MyMcDonald's Rewards. To promote loyalty, each purchase they make via the app earns rewards points, which can be used for free meals.
This is the key benefit of mobile apps. Loyalty and mobile apps go hand in hand. Consumers who install a mobile app are more loyal, (and loyalty program members prefer to use a mobile app to manage their loyalty program perks).
Clean up your app
Lastly, recognize when it's time to get rid of the cruft in your mobile app. It can be hard to prioritize removing things, but the truth is, apps tend to gather a lot of unnecessary features over time, and that can bog down the user experience.
Ask yourself: what would Marie Kondo do? If a feature no longer brings joy to users, it's time for it to go. It's never been easier to collect data about app usage, especially with analytics tools such as Mixpanel and Amplitude and in-app engagement tools like Apptentive.
Strive to keep your app simple and task-focused. A healthy app is one that doesn't look the same after two years because it was thoughtfully maintained and evolved over time.
Churn is the bane of every app publisher, but it's a problem that can be addressed by taking the time to view your app from a new user's point of view.