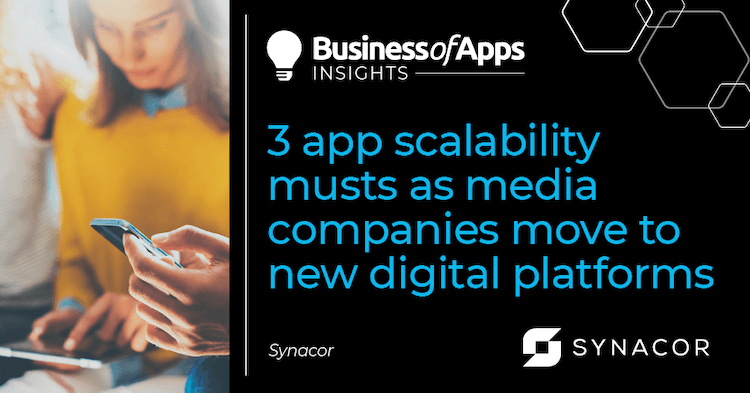 We saw an interesting trend materialize in our identity management business these past few months: Digital media companies that were once content serving customers through web or phone apps are suddenly eager to provide subscribers with more expansive device and software ecosystem support. In our estimation, we're about to see an explosion of new services coming to digital home assistants and connected TVs.
Synacor made its name in the identity management market helping major video streaming brands like HBO and Sling TV manage subscriber login processes for a dizzying number of devices. We're the ones they count on when millions are expected to sign into an app at the same time for a major streaming event or when they need to quickly launch on a new platform.
Now, digital services – from meditation apps to fitness subscriptions – want in on the digital device integration action.
Meeting customers where they're spending time
Today, connected TV devices are in 80% of U.S. homes. An estimated 8 billion digital voice assistants will be in use by 2023. And let's face it, for at least the short-term, we'll continue to spend more time at home than ever. That means consumers are growing accustomed to new experiences as industries pivot for their attention. This past Christmas, Disney+ subscribers got to enjoy the release of Pixar's Soul while HBO Max subscribers were treated to a digital release of would-be box office smash Wonder Woman 1984. Warner Bros will continue the direct-to-home trend for new releases throughout 2021.
Stakes are also higher than ever for retailers which recently had to reimagine what the shop-from-home experience looks like to keep the holiday shopping season on track. Business models are evolving and with them, the burden of ensuring digital services are ready to access wherever consumers desire.
As we've met with digital media companies eager to more quickly integrate with new devices and platforms, we've zeroed in on three critical realities that should drive key strategy considerations:
Seamless consumer sign-in experiences mean better adoption
Consumers have come to expect a certain level of ease when accessing digital services. Typical identity management approaches are biased toward rigid sign-in methods meant for employees on corporate networks. That's a problem because too many steps will drive subscribers away. We know from call center interactions that the harder a service is to access, the less sticky it will be. Adaptive authentication approaches bring balance by leveraging trust gained in a consumer's usage of other devices or account interactions to remove unnecessary sign-in friction for a new device they may be attempting to use.
Digital integrations no longer for the faint of heart
There was a time when successfully launching a digital service meant maintaining compatibility with just a few operating systems and form-factors. Today, compatibility requirements span dozens of generations of devices, hundreds of distribution partners and millions of potential subscribers. Consider the range of devices that stuffed stockings this holiday season or those rolling roll off assembly lines following this year's CES. Digital services operating in a competitive marketplace will want to support every last device, particularly those with IoT connectivity, right out of the box. Of course, each new device will bring new complexity and opportunity for the user sign-in experience. That means speed matters and companies no longer have weeks or months to sort integrations to the new devices end users want to use. Pursuing an approach supported by pre-integrations is no longer a luxury, it is table stakes.
Traffic spikes are the new norm
Whether a hot promotion that goes viral or a new service launch that takes the market by storm, the ability to support a surge of customers requiring identity validation and authorization at scale is a must. Sometimes, FOMO reigns supreme and shutting some consumers out of a hot moment can easily impact their feelings about the brand and likeliness of trying to engage again in the future. Capitalizing on cloud scale versus proprietary servers will be imperative for any service targeting a mass market audience.
While we all wish for a speedy arrival at the next normal, we know that some consumer behaviors developed over the past year will remain with us for the long-term. That will mean tighter integration with the home and all the devices in it. Beefing up identity management and authentication capabilities now will go a long way toward positioning for whatever comes next.