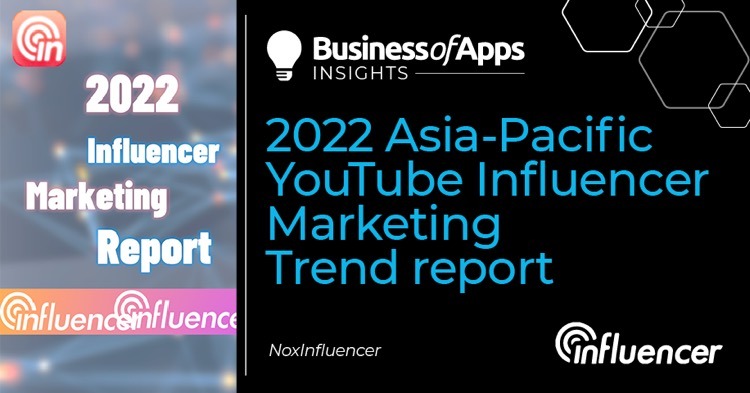 Preface: Influencer Marketing Ecology with Targeted Social Traffic
After the report of Indonesian YouTube Influencer Marketing Trends in 2021, NoxInfluencer announced the corresponding report of Asia-Pacific areas.
With the global social media industry continually growing over the last decade, we have seen a flourishing development in creator communities across the globe. Without any doubt, YouTube sits solidly on the king throne of video content platforms, with DAU (Daily Active User) of 122 million. Most people's attention has migrated from traditional media to social media, especially in the last two years of the pandemic. 
Asia, as the most crowded area on this planet, with a population of over 4 billion, is embracing its booming social influencer economy. In China, the market of live streaming e-commerce in 2020 reached about 1.2 trillion yuan and was estimated to reach 4.9 trillion yuan by 2023, per Statista. 
Being the hub of attention, social media platforms now are earning escalating traffic, which is seen as the new universal equivalent for businesses and influencers. Social media platforms, being new marketplaces for brands, mean a new monetization technique for influencers. While grasping the behind data of this field is crucial for marketers and creators to leverage social media effectively.
As a leading player standing at the forefront of the influencer marketing field, it is imperative for NoxInfluencer to make annual trend reports of social media for both brands and creators who aim to grow business through getting insights into deep stats of social media.  
Introduction: trend insight through stats and technology-empowering marketing
This report aims to provide new insights into influencer marketing on YouTube in the Asia-Pacific area for both brands and creators by grasping the hidden trends. For now and future, being informed of social media trends through deep data and technology powered by NoxInfluencer is one of the most key things. With broad research and analysis, we dive deep into surveyed channels and try to reveal the 2021 Asian trend on YouTube and provide new insights for influencer marketers.
NoxInfluencer explores over 1.3 million YouTube channels (with more than 1,000 subscribers) from 16 countries or areas in the Asia-pacific area. New 20,363 influencers joined YouTube and 74,153,339 videos were created over the first 11 months in 2021.
In the first half, we discuss the new Asian YouTubers' trend analysis in 2021. Among all explored new YouTube influencers, we compare all different YouTube categories' channel counts, video counts, average subscriber growth. Also, the top 10 fastest-growing new YouTubers from Asia-pacific in 2021 are also shared.
In terms of the rate of views to subs, a key indicator of the level of content influence and exposure, new influencers have a much higher views/subs rate. Such as new influencers of pets and animals, the total rate of views to subs under pet contents is nearly 988, indicating each subscriber contributes 988 views to new pet channels in Asia-pacific. Brands should try new channels more to do influencer marketing due to the lower cost of exposure. And among new channels, nearly 28% of new videos in 2021 were created by gaming influencers, who only contributed 19% of total videos in 2020. Gaming content is most popular and what new Asian YouTubers most would like to create in 2021.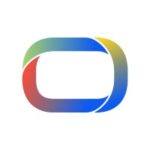 In the second half, NoxInfluencer discusses all YouTubers' channels in the Asia-Pacific area and analyzes their stats in total. Similarly, we compare different categories' channel counts, average subscribers, video growth in 2021, and lists of most popular Asian YouTubers and fastest-growing Asian YouTubers.
In Asia, 24.89% of YouTube channels are under the category People & Blog. Channels of News & Politcs have the largest average following of over 70 thousand subscribers. Gaming channels lead the rate of views/subs, indicating that their cost to garner viewing is lower. Collaborating with gamers would be a better marketing option. In 2021, the Asian most popular and fastest-growing YouTuber is T-series with 200 million subscribers and 34 million of growth. 
In addition to this overall report for the Asia-Pacific area, the breakdown covers Europe, North America, and areas of Africa, the Middle East, and Latin America will be covered later separately.
Trend stats and analysis
All the statistics, as of Nov 15, 2021, are powered by NoxInfluencer global YouTube academy. All data used in statistics and analytics include but are not limited to factual data and estimations. 
2021 YouTube Trend analysis for new channels from Asia-Pacific
55 new Asian channels became Elite channels in 2021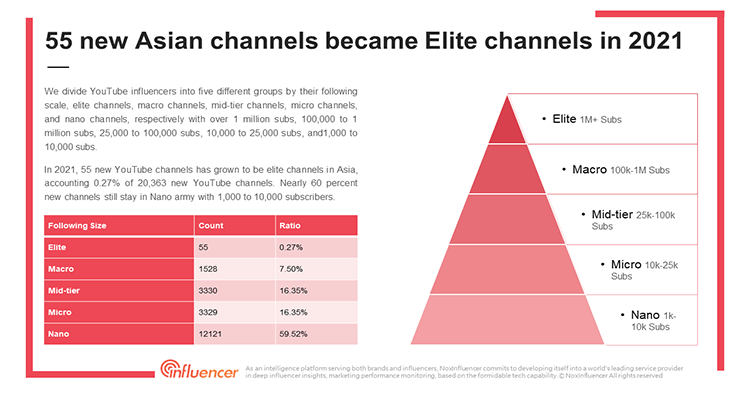 Climbed to 21.69%: Gaming channel ratio surpassed Entertainment with a strong momentum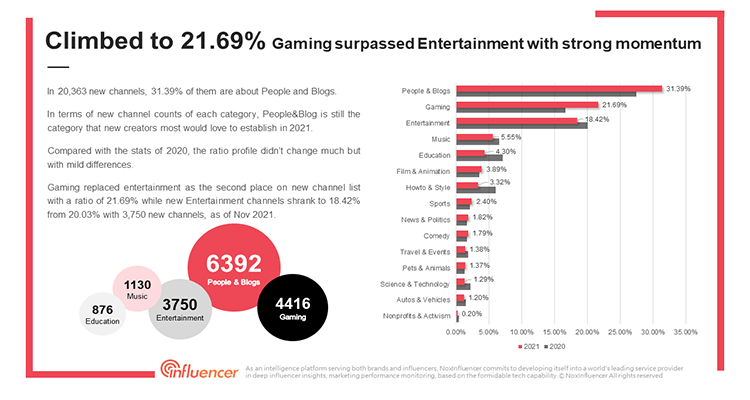 27.84% of videos by new Asian channels are created by gamers in 2021
110,091 plays per video: Film & Animation content led the popularity among Asian new channels
990 views per sub: Pet content most likely to go viral in 2021 for new Asian influencers
30,952 subscribers per channel, new Education channels grew fastest in 2021
2021 Top 10 fastest-growing new Asian channels, by sub growth
2021 YouTube Trend analysis for all Asian channels
0.78% of Elite channels in Asia

 

25% of YouTube channels from Asian-Pacific are People & Blog
70,736 subs per channel: News & Politics channels enjoy the largest audience in Asia
103,894 plays per Comedy video
75.47 views per sub: Gaming channels' viewing has stronger potential to grow in the long term
207% of Growth: News & Politics videos grew sharply in the Asia-Pacific area

 
The Video growth rate of each category in 2021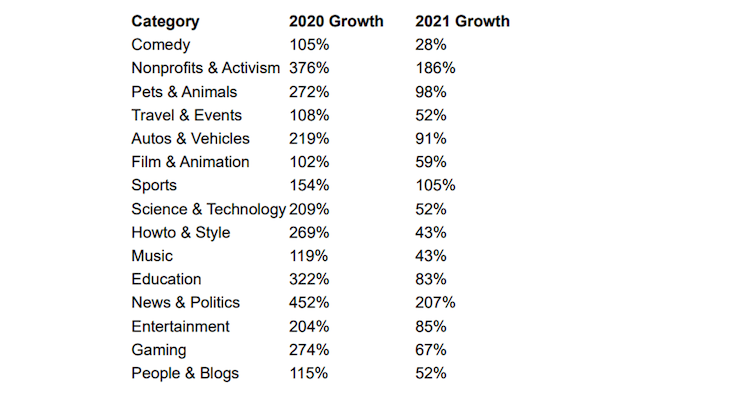 2021 Top 10 YouTuber channels from Asia-Pacific

2021 Top 10 Most Subscribed YouTube Channels from Asia

2021 Top 10 Fastest-growing YouTube Channels from Asia
Download the full report of 2022 YouTube Influencer Marketing Trend Report in Asia-Pacific