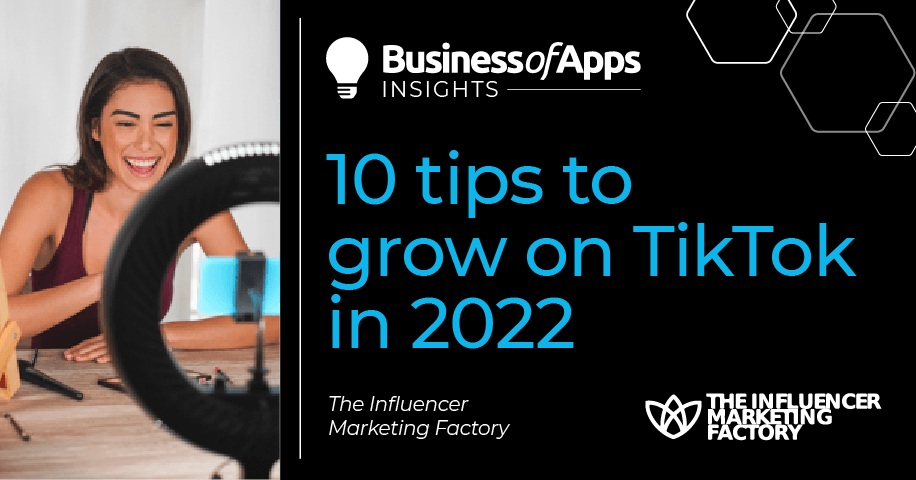 Did you know that TikTok users spend more than 850 minutes on the app each month? This means the average user spends just over 14 hours per month on the app. This gives brands a unique opportunity to position themselves and get discovered by both current and new customers. Furthermore, more users with purchasing decision power now use the app more than ever. If you're ready to learn how to grow on TikTok, we have some tips for you to follow.
There are more than 100 million monthly active users in the United States alone on TikTok. To succeed on TikTok, you need to nurture an extensive presence on the platform. When you have a larger audience, you'll get more attention for your brand so you can increase:
Brand awareness
Sales
Lasting relationships with your target audience
To increase these 3 things for your brand, you need to first grow your account. We have created a list of 10 things you need to do for your brand to grow on TikTok:
Know your audience
Knowing your target audience is a key component to any successful marketing campaign. If you can identify who you want to reach and what appeals to them, you're already halfway there.
A lot of brands miss the mark and solely focus on general demographics such as hobbies, age, and general shopping habits. To really connect with your audience, you'll need to go much deeper than that. You'll want to understand what makes them feel good, what marketing format resonates best with them, what excites them, what upsets them, and what are the psychographics of your ideal buyers.
This is especially important for TikTok marketing since there are a billion users across the globe. These users certainly don't all have the same interest. The more you know about your audience, the better for your TikTok growth.
Make creative, relatable, and quality content
TikTok is known for its fun trends and challenge videos. Joining in on the latest trends can help you get more views and reach a wider audience. However, with each trend you need to be unique to stand out and be creative. If your audience can't relate to you, they likely will not be coming back for more.
When it comes to being relatable in your videos, it's important to know your target audience's demographic. TikTok users are people of all ages and backgrounds who are looking for new ways to connect. They're not just seeking a way to share what they love with their friends or family, but also to learn from others in their community and to discover what they will purchase next. Therefore, you have to create content that resonates with your audience in order to be relatable.
The biggest factor in growing your TikTok account is the quality of your content. It's important to post videos that are interesting and engaging, as well as visually appealing. You don't necessarily need fancy equipment or editing software, you just need to start by making sure that your videos aren't blurry or pixelated. Once you have this foundation, you can then move on to other aspects such as transitions, filters and adding other elements available both in-app and with some editing programs.

To create engaging content, you'll want to start your video with a strong hook, share your story and end with a simple call to action. We often see brands miss an opportunity by sharing videos that have quality content, but they don't include a hook or call to action. You need to capture your audience's attention and hold it long enough to get your message across without making your videos too long. TikTok users have short attention spans, so aim for videos that are 30 seconds to a minute long.
Use hashtags
Using hashtags on TikTok is really effective, it is likely not what will make you go viral, but it is a great way to get discovered by your niche audience. However, don't just use any old hashtags. Use hashtags that are specific to your niche and audience. Since TikTok recently increased the video description limit to 500 characters, we recommend using this space to once again include a hook, the story of your video and some hashtags. Use all the space you can so you can get discovered when users are searching for various topics and hashtags on the platform.
Be consistent and engage with your audience
The key to success on any social media platform is consistency. You should be posting regularly if you want to grow your following and build a strong community. It's not just all about the number of posts, you should be posting quality content consistently. If your videos are creative and engaging, people will keep coming back for more.
Aim to post at least once per day and make sure your videos are high quality. If you stay consistent, you'll be able to grow your account quickly.
In the world of TikTok, it is necessary to show up every single day for engagement. At the end of the day, social media is all about connecting with people. Our users want us now, and nothing burns more than leaving a comment on an account you admire and not receiving a reply. You'll also want to engage with other TikTok creators, both in your niche and accounts that you find inspiring.
Respond to your audience's comments on your posts and go the extra mile by leaving likes and comments on their posts. This will encourage them to do the same for you. You can even reply with a video or a stitch. It's a great way to leverage user-generated content. From this, you'll build a strong community of engaged followers. So make sure you're responsive to your audience, it'll pay off in the long run.
It's normal for creators to have moments where they are slower to respond, life happens after all, but consistency is key. If you can't engage, hire someone to do it for you.
Consider leveraging influencer marketing
You've probably heard that influencer marketing is the wave of the future. But have you attempted to get in front of that wave? If not, it's time to do so!
TikTok followers are typically at least moderately well-known within a specific niche and have developed a strong relationship with their fan base. From this relationship, their fan base trusts them and looks to them for advice on products, fashion, music, and more.
When considering influencer marketing for both organic or paid ad campaigns, you increase the chances of generating more brand awareness and meeting the goals you have for your campaigns.
This is partly due to these influencers having an audience that trusts in what they have to share. It's also because most of these influencers are managed by agencies like The Influencer Marketing Factory who can create effective campaigns and help you measure your ROI effectively.
Collaborate with other users
TikTok is all about community and collaboration is a great way to grow your account. When you collaborate with other users, you get the opportunity to reach an entirely new audience that you wouldn't have had access to otherwise.
This is as simple as finding users that have a similar-sized follower count and reaching out to them about doing a collab video together. There are different types of collabs you can try, such as a themed challenge video or series.
Don't be afraid to go out of your comfort zone and collaborate with other users.
Post at the right time
TikTok is a global platform, so it's important to post your videos at the right time for your audience. Different regions will have different peak times for viewing and this is worth considering if you want to get more views. There's no magic time to post, but doing some research on when your audience is most active will help you get more views.
Use analytics to track your progress
If you want to grow your account successfully, you need to keep track of your progress using TikTok's built-in analytics. This will help you stay on track and keep pushing forward.
In the built-in analytics, you can see things like how many views and likes you're getting, as well as which videos are performing the best. This data is valuable because it helps you understand what's working and what's not. Using this information to your advantage will help you grow your account faster.
Work with a reputable agency
Running ads is a great way to grow your account and reach your target audience. However, you should work with an agency with a proven track record that will help you grow your account to its fullest potential.
It's not enough to just run any ad campaign with no concrete goal or strategy, because it won't be effective if it's not targeting the right audience for your content. Furthermore, running an ad without a creative strategy is a surefire way to waste your advertising dollars. A reputable agency can make sure that doesn't happen by creating ads that are tailored specifically for the audience who would be interested in what you have to offer.
Another benefit of working with an agency is the access they provide to their own network of influencers that are already vetted. They also have extensive experience in running campaigns for other brands similar to yours, so not only will you get better results from advertising efforts, but also get exposure to new markets where there may be potential customers waiting!
The Influencer Marketing Factory is a globally recognized leading provider of influencer marketing and social media management services. The Influencer Marketing Factory knows what it takes to grow a social media account and they can help you do it. Grow your TikTok following today!
Have fun!
Last but not least, remember to have fun with TikTok. Don't take yourself too seriously, and don't be afraid to experiment. Try new things and see what works for you. So most importantly, have fun!
The platform continues to increase in popularity with 8 new users joining TikTok every second and an average of 650,000 new users joining daily. If you're ready to grow and get more followers on TikTok, there's no time to waste. The Influencer Marketing Factory ran a campaign on TikTok to promote Otrium. In this campaign, Otrium went from 0 followers to 10,000 followers in 10 days, and The Influencer Marketing Factory can do that for you as well. Contact The Influencer Marketing Factory to see how they can help you.