Executive Summary
Approximately 61% of the world's population have a social media account. In 2022, the number of accounts surpassed five billion.
Which social networking company makes the most revenue?
Meta Platforms, by a lot. In 2022, Meta made $116 billion in revenue, more than the combined total of every other social app.
What platform experienced the most user growth in 2022?
TikTok achieved the most user growth in 2022 at 32%, adding 389 million users.
What social app has the highest user gender parity?
Instagram has the closest gender parity, with 50.8% male and 49.2% female. The highest disparity comes from Twitter, with 57.2% of its userbase being male.

The Social App Report – Research, Insights and Statistics is provided as downloadable PDF document with all data presented as charts and tables. So you can easily extract graphics and individual data.  It provides an overview of the company's financials, as well as data on demographics and user breakdowns.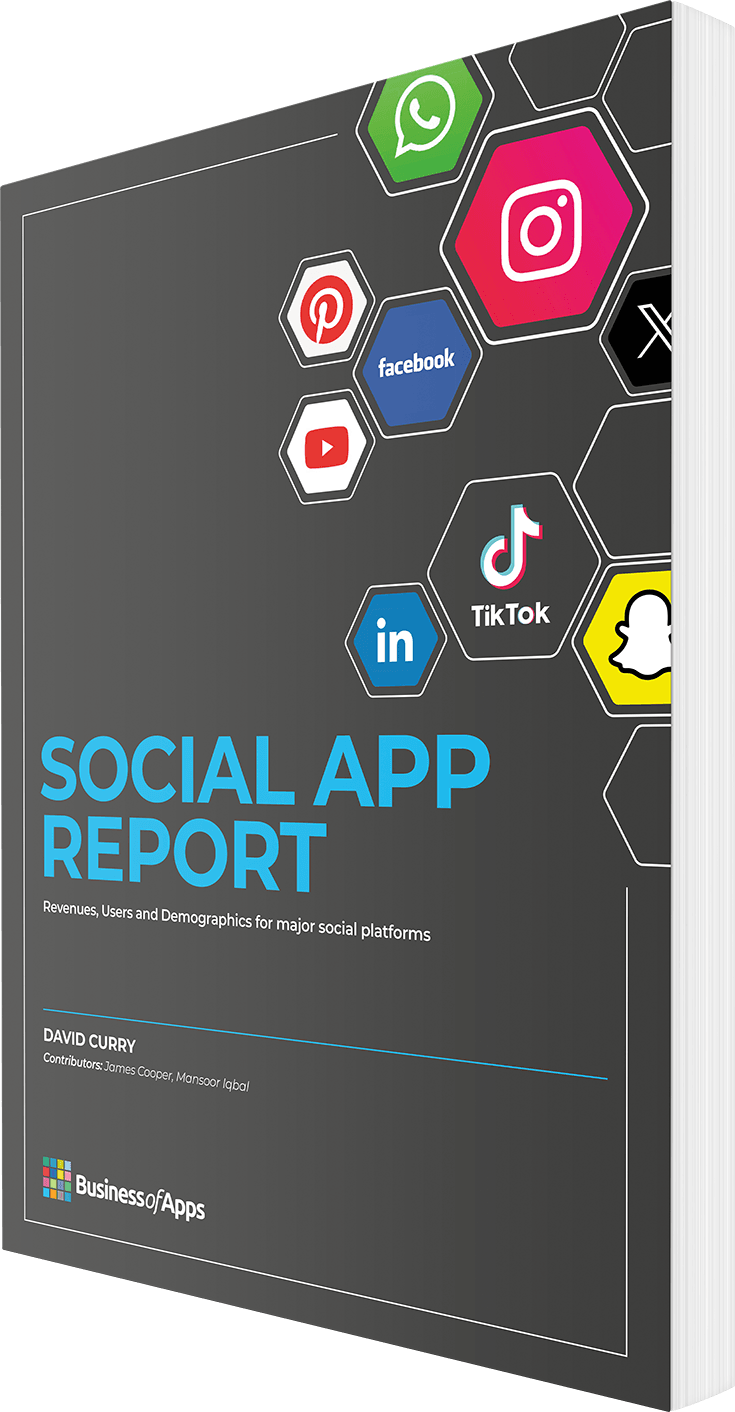 What's included? 
Document: PDF
Charts: 97
Data Points: 1745
Pages: 107
Don't waste time searching the internet for app data – get all the main analysis in this report in one package, sourced and analyzed from multiple validated sources.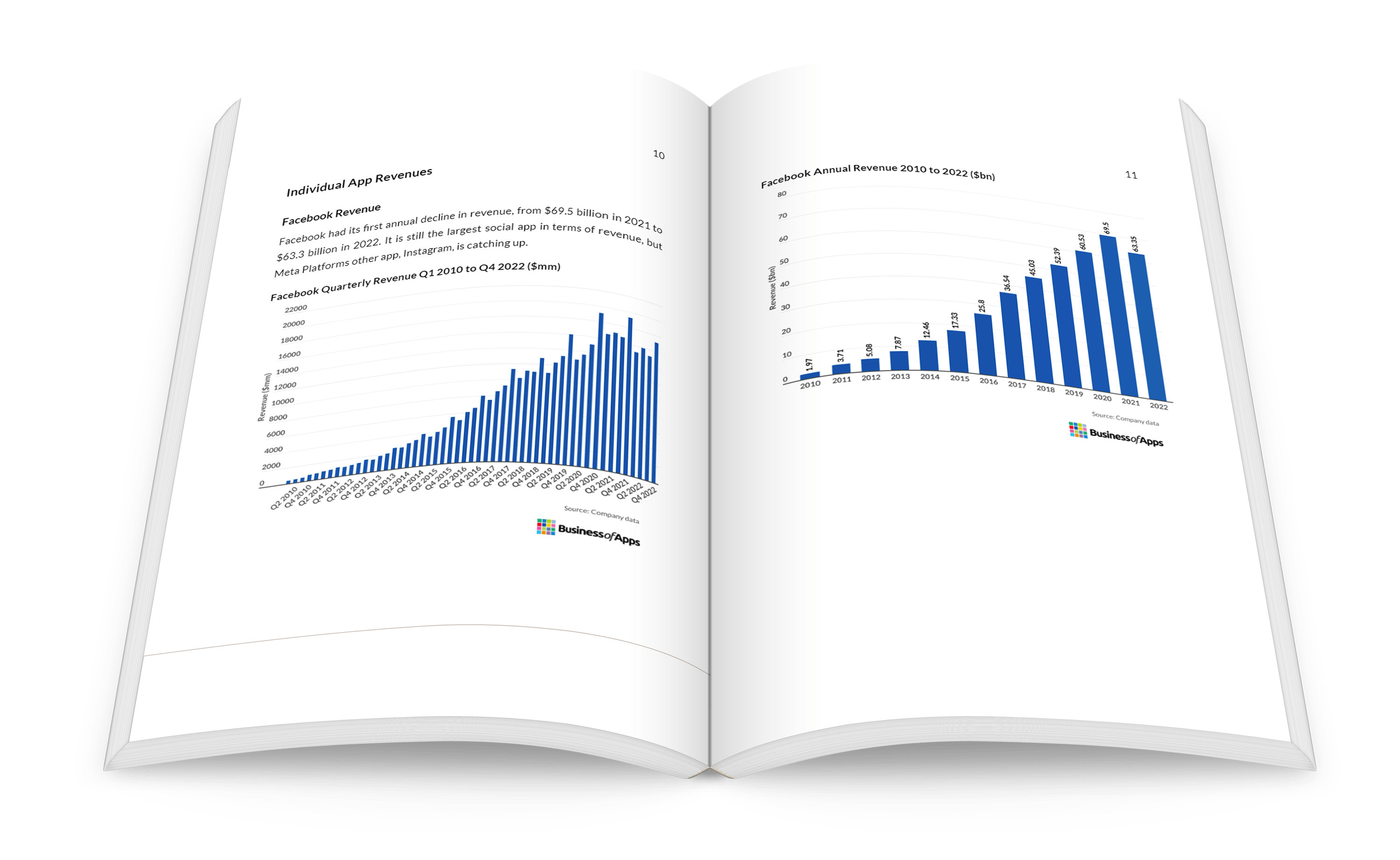 List of Charts
Social App Financials
Social App Revenues
Quarterly and Annual Revenues
Facebook Revenue
Instagram Revenue
Instagram and Facebook Revenue
WhatsApp Revenue
YouTube Revenue
LinkedIn Revenue
Twitter Revenue
Snapchat Revenue
TikTok Revenue
Pinterest Revenue
Average Revenue Per User
Annual ARPU Growth
Facebook Profit
Twitter Profit
Snapchat Profit
Pinterest Profit
Social App Usage
Social App Users
Facebook Users
Instagram Users
WhatsApp Users
YouTube Users
LinkedIn Users
Twitter Users
Snapchat Users
TikTok Users
Pinterest Users
BeReal Users
Average Time Spent
Social App Downloads
Facebook Downloads
Instagram Downloads
WhatsApp Downloads
TikTok Downloads
YouTube Downloads
LinkedIn Downloads
Twitter Downloads
Snapchat Downloads
Pinterest Downloads
BeReal Downloads
Social App Demographics
App Users by Country
Facebook Users by Country
Instagram Users by Country
WhatsApp Users by Country
YouTube Users by Country
LinkedIn Users by Country
Twitter Users by Country
Snapchat Users by Country
TikTok Users by Country
Pinterest Users by Country
App Users by Age
Facebook Users by Age
Instagram Users by Age
YouTube Users by Age
LinkedIn Users by Age
Twitter Users by Age
Snapchat Users by Age
TikTok Users by Age
Pinterest Users by Age
BeReal Users by Age
App Users by Gender
Facebook Users by Gender
Instagram Users by Gender
WhatsApp Users by Gender
YouTube Users by Gender
LinkedIn Users by Gender
Twitter Users by Gender
Snapchat Users by Gender
TikTok Users by Gender
Pinterest Users by Gender
BeReal Users by Gender
Engagement Rate by Following
Engagement Rate with Influencers by Platform
Micro-Influencer Engagement by Platform
Influencer Lead to Purchase by Platform
Marketers Planning to Use Platform
Content Sharing Type by Platform
Click Through Rate
Cost Per Thousand Impressions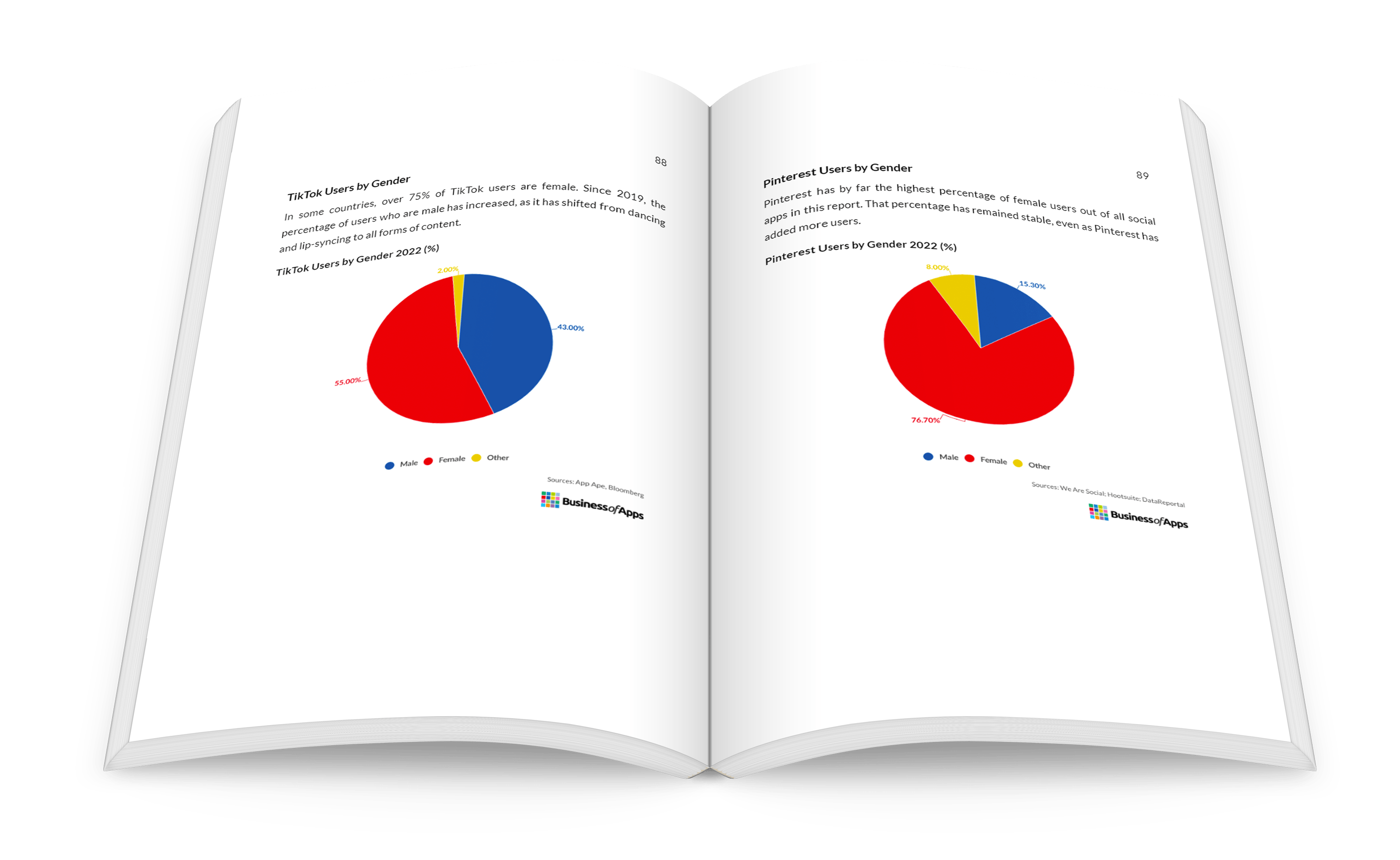 How does it work?
To get access to the Social App Report – Research, Insights and Statistics hit the buy now button above. After payment you will be taken to the download page to access your Social App Report PDF – Research, Insights and Statistics. If you need any help email data@businessofapps.com.
We have joined Treeapp, an incredible organization dedicated to reforesting the world. They will plant one tree for your data report purchase.
WHAT OUR CUSTOMERS SAY ABOUT OUR REPORTS
"Your report gave us some very useful insights on app statistics. As we are starting to develop apps it's crucial information"
"This report is great work, it helped us get a better understanding of revenue and growth to include it in our analysis for LatAm. It has been very useful."
"We have found Business of Apps data to be most accurate and complete on the web."
"All the metrics and KPIs I was looking for are in one document for a very good price. The report was exactly what I expected."
"There was an abundance of excellent information in the report, well worth the money. There were areas which had information I haven't seen anywhere else."
"Money well spent as far as I am concerned. A clear, well-written report"
More Downloadable App Data