Executive Summary
The food delivery industry has been on a 20 year journey, from the first online menus provided by Just Eat and Grubhub to apps providing their own delivery services.
What was the biggest trend in food delivery in 2022?
The incorporation of more grocery services by DoorDash, Deliveroo and Uber Eats, which has dampened the market for rapid delivery services such as Getir, GoPuff, and Gorillas.
Are food delivery apps still unprofitable?
In terms of net income, most are still unprofitable. Adjusted EBITDA, which some companies report instead of net income, has allowed Uber and Just Eat to say they are profitable.
How much did the coronavirus pandemic impact food delivery?
Almost every major food delivery service saw its gross merchandise volume increase by over 75% in 2020. Grocery delivery services, such as Instacart, saw "five years of growth in five weeks" at the start of the pandemic.

Table of contents
The Food Delivery App Report – Research, Insights and Statistics is provided as downloadable PDF document with all data presented as charts and tables. So you can easily extract graphics and individual data.  It provides an overview of the company's financials, as well as data on demographics and user breakdowns.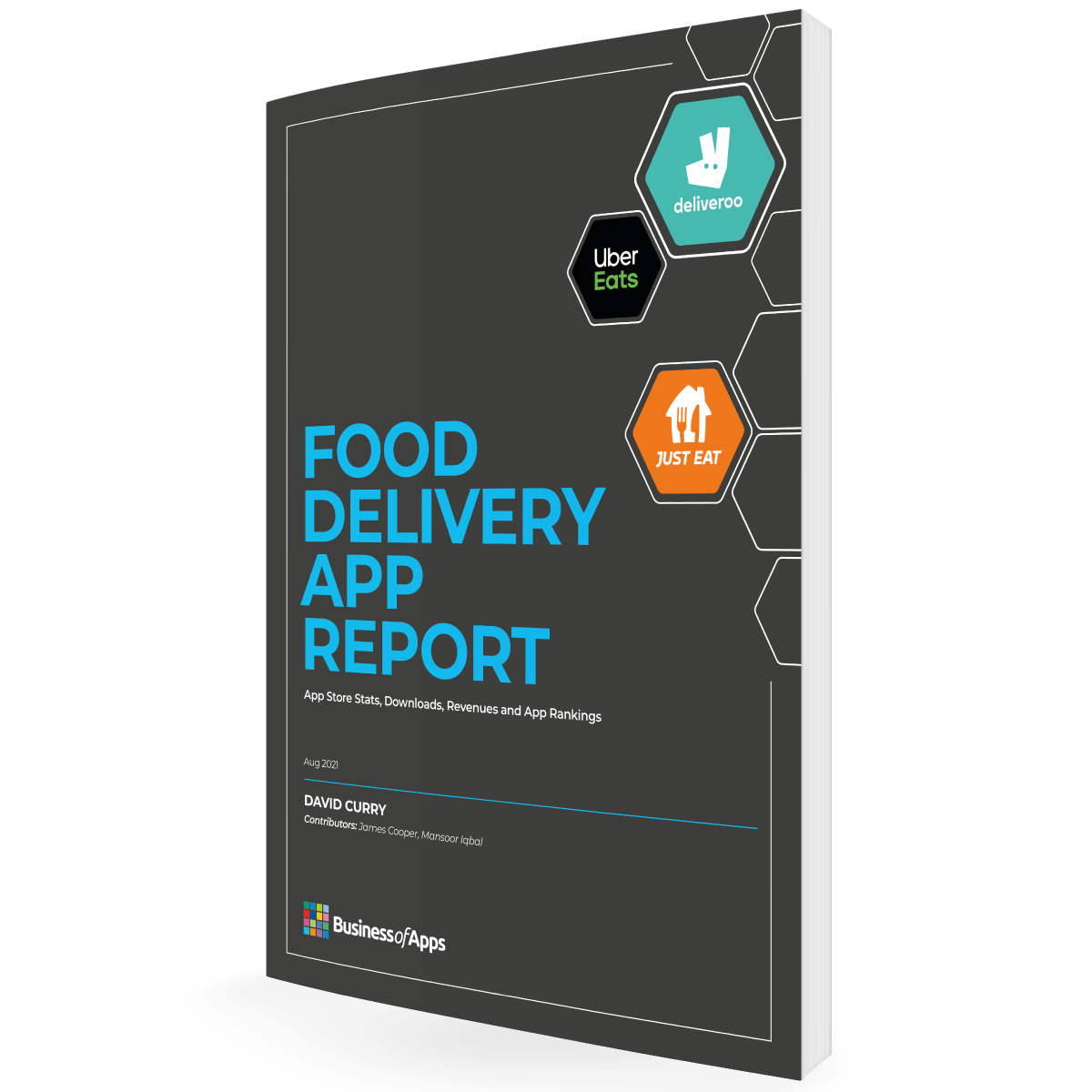 What's included? 
Document: PDF
Charts: 128
Data Points: 668
Pages: 139
Don't waste time searching the internet for food delivery app data – get all the main analysis in this report in one package, sourced and analyzed from multiple validated sources.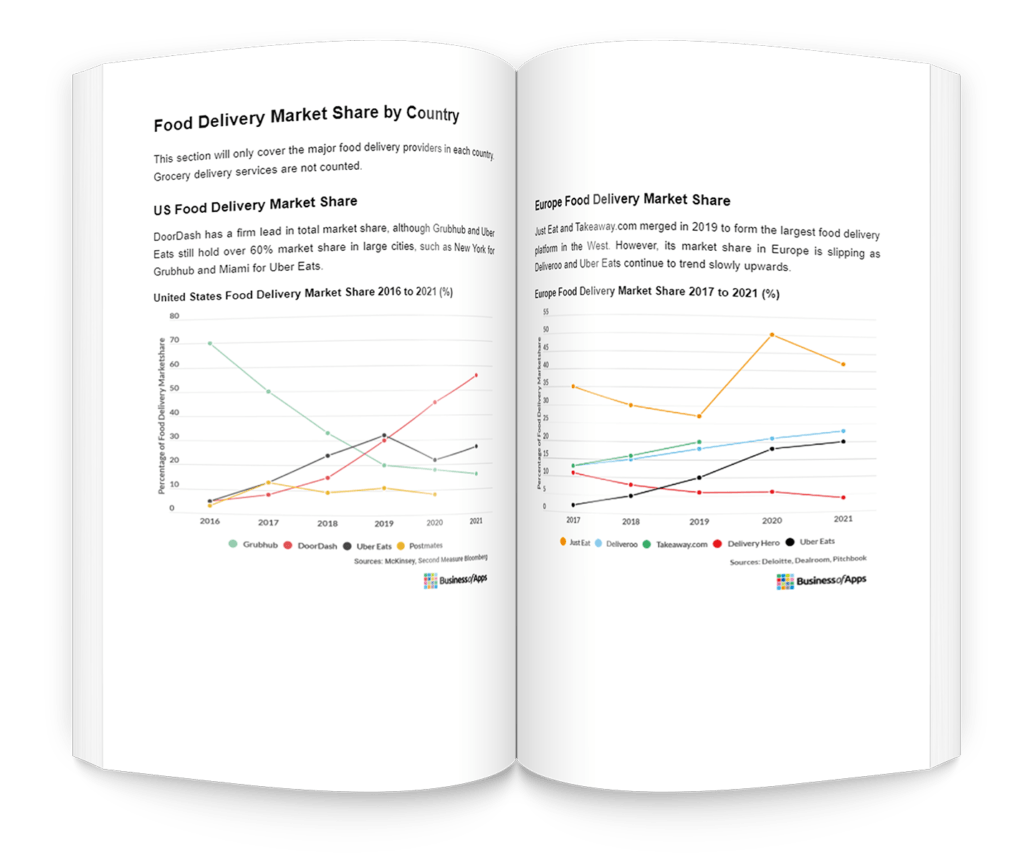 List of Charts
Food Delivery Global Revenues
Food Delivery Revenues by App
Uber Eats Revenue
Uber Eats Revenue by Region
Just Eat Takeaway Revenue
Just Eat Takeaway Revenue by Region
DoorDash Revenue
Deliveroo Revenue
Deliveroo Revenue by Region
Meituan Revenue
Delivery Hero Revenue
Delivery Hero Revenue by Region
Zomato Revenue
Swiggy Revenue
iFood Revenue
Rappi Revenue
Grab Revenue
Grocery Delivery Global Revenues
Grocery Delivery Revenues by App
Instacart Revenue
Pinduoduo Revenue
Dingdong Revenue
Missfresh Revenue
Getir Revenue
Glovo Revenue
GoPuff Revenue
Food Delivery Revenues by Country
Food Delivery Projected Market Value
Food Delivery Valuations
Food Delivery Annual Funding
United States Revenue
United Kingdom Revenue
Europe Revenue
China Revenue
South-east Asia Revenue
India Revenue
South America Revenue
Food Delivery Profits
Uber Eats Profit
Just Eat Takeaway Profit
DoorDash Profit
Deliveroo Profit
Delivery Hero Profit
Zomato Profit
Instacart Profit
Pinduoduo Profit
Dingdong Profit
Missfresh Profit
Food Delivery Gross Transaction Value (GMV)
Uber Eats GMV
Just Eat Takeaway GMV
DoorDash GMV
Deliveroo GMV
Meituan GMV
Delivery Hero GMV
Zomato GMV
iFood GMV
Food Delivery Annual Orders
Uber Eats Annual Orders
Just Eat Takeaway Annual Orders
Delivery Hero Annual Orders
Deliveroo Annual Orders
iFood Annual Orders
Zomato Annual Orders
US Food Delivery Market Share
Europe Food Delivery Market Share
China Food Delivery Market Share
UK Food Delivery Market Share
India Food Delivery Market Share
South-east Asia Food Delivery Market Share
South America Food Delivery Market Share
Food Delivery Global Users
Food Delivery Platform-to-Consumer Users
Food Delivery Restaurant-to-Consumer Users
Food Delivery Users by App
Uber Eats Users
Just Eat Takeaway Users
Delivery Hero Users
DoorDash Users
Deliveroo Users
Meituan Users
Ele.me Users
Zomato Users
Swiggy Users
Instacart Users
Grab Users
Rappi Users
Food Delivery Users by Country
Number of Restaurants by App
Food Delivery Global App Downloads
Uber Eats Downloads
Just Eat Downloads
Delivery Hero Downloads
DoorDash Downloads
Deliveroo Downloads
iFood Downloads
Getir Downloads
Instacart Downloads
GoPuff Downloads
Food Delivery Retention Rate
Food Delivery Install Rate
Food Delivery Action Rate
Food Delivery Churn Rate
Food Delivery Conversion Rate
Food Delivery Usage Rate
Food Delivery Average Sales Per Merchant
Food Delivery Advertising Spend
Food Delivery Service Fees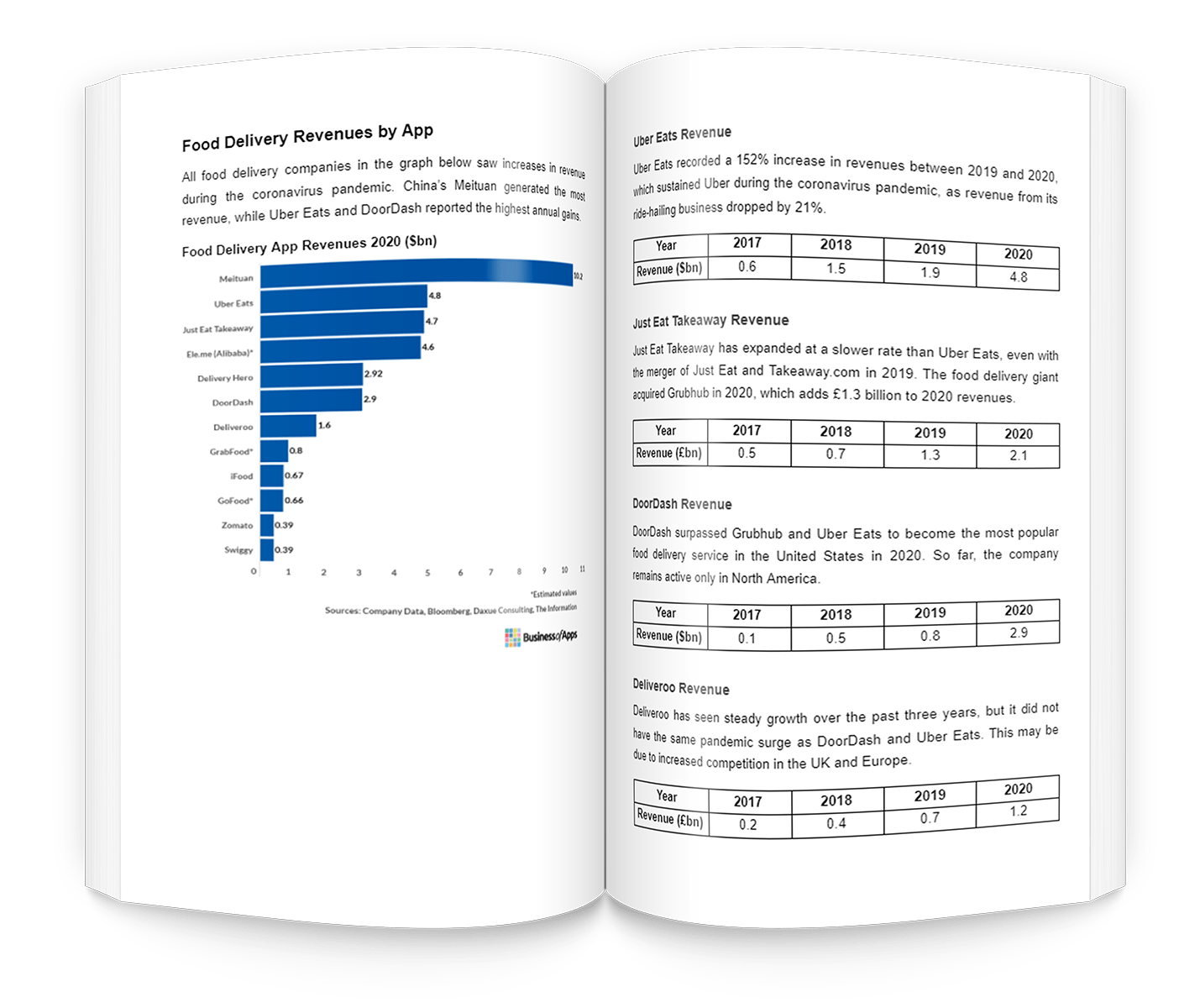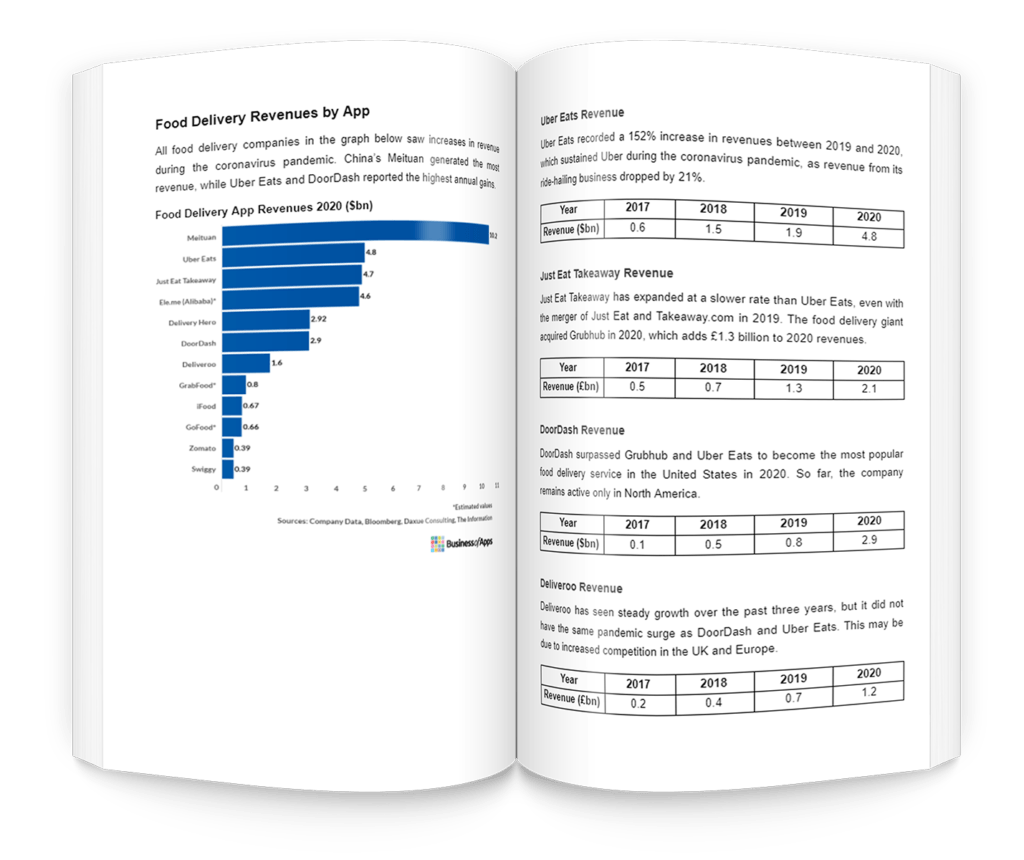 How does it work?
To get access to the Food Delivery App Report – Research, Insights and Statistics hit the buy now button above. After payment you will be taken to the download page to access your Food Delivery App Report – Research, Insights and Statistics PDF. If you need any help email data@businessofapps.com.
We have joined Treeapp, an incredible organization dedicated to reforesting the world. They will plant one tree for your data report purchase.
WHAT OUR CUSTOMERS SAY ABOUT OUR REPORTS
"Your report gave us some very useful insights on app statistics. As we are starting to develop apps it's crucial information"
"This report is great work, it helped us get a better understanding of revenue and growth to include it in our analysis for LatAm. It has been very useful."
"We have found Business of Apps data to be most accurate and complete on the web."
"All the metrics and KPIs I was looking for are in one document for a very good price. The report was exactly what I expected."
"There was an abundance of excellent information in the report, well worth the money. There were areas which had information I haven't seen anywhere else."
"Money well spent as far as I am concerned. A clear, well-written report"
More Downloadable App Data